Gregory Klages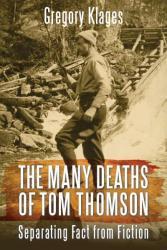 Sessional Instructor, Guelph-Humber campus
Email:
gregory.klages@guelphhumber.ca
Education
Ph.D.: York University, 2009
Graduate Diploma in Democratic Admin.,
    Political Science, York University, 2009
M.A.: University of Guelph, 2002
B.A.: (Hons. with Distinction), Fine Arts:
   University of Guelph, 1994
Professional
Postdoctoral Research Fellow, Rogers School of Management, Ryerson
     University, 2008-2009
Research Director, Great Unsolved Mysteries in Canadian History Project,
    University of Victoria, 2007-2008
Researcher, Osgoode Hall Law School, York University, 2003-2004
Researcher, Office of Research and Innovation, York University, 2003
Research
Development of Canadian and international public policy addressing the arts and culture
Canadian public history (particularly: myth-making, heritage & identity, auto/biography)
Canadian cultural, social and political history: 1957-1984
Canadian involvement in voluntary associations and 'secret' societies (such as the Freemasons)
Publications
    book-length projects:
The Many Deaths of Tom Thomson: Separating Fact from Fiction. Toronto: Dundurn Press, 2016. 
Death On A Painted Lake: The Tom Thomson Tragedy/Portrait d'une Tragédie: la mort de Tom Thomson. Victoria, BC: Great Unsolved Mysteries in Canadian History, 2008. www.canadianmysteries.ca/sites/thomson/
    chapters and articles:
with J. Easter and S. Bailey, "How Two Librarians and One Faculty Member Developed an Information Literacy Strategy for Distance Education Students," Journal of the Distance Library Services Association (Fall 2014). 
"Making available greater opportunities: Rethinking creation of the Saskatchewan Arts Board and the Canada Council," Saskatchewan History (Spring 2012), 38-49.
"The Many Deaths of Tom Thomson," in Archives & Canadian Narratives, edited by C. Verduyn & K. Garay (Black Point, NS: Fernwood Press, 2011), 274-297.
"Shortening Arm's Length: From the Canada Council to the SSHRC," Asian Journal of Canadian Studies 17, no. 2 (Winter 2011), 33-72.
"Freemasonic and Orange Order membership in rural Ontario during the late 19th-century: A Micro-Study," Ontario History CIII, no. 2 (Fall 2011), 67-88.
    reviews:
"Review of Northern Light: Tom Thomson and Woman Who Loved Him by Roy MacGregor," American Review of Canadian Studies (Fall 2011).
"Review of What A Mighty Power We Can Be: African American Fraternal Groups and the Struggle for Racial Equality by Theda Skocpol, et al.," NeoAmericanist 4, no. 2 (Spring/Summer 2009).
"Review of Rockefeller, Carnegie, and Canada: American Philanthropy and the Arts & Letters in Canada by Jeffrey Brison," NeoAmericanist 1, no. 3 (Spring/Summer 2007).
"Review of Federalizing the Muse: United States Arts Policy &the National Endowment of the Arts, 1965-1980 by Donna Binkiewicz," NeoAmericanist (Fall 2005).
"Review of The History of the Book in Canada: Vol. I - Beginnings to 1840 edited by Patricia Lockhart Fleming, Gilles Gallichan, and Yvan Lamonde," Canadian Historical Review 86, no. 3 (September 2005).
Presentations
"Policy-Makers Meet Creators: The Origins of the Canada Council and Arts Sector Advocacy," Mapping Nations, Locating Citizens conference, Toronto, ON, 2015.
with D. Napoli, "'Mad' History, Heritage Policy, and Urban Development: Forgetting and Remembering Toronto's Lakeshore Psychiatric Hospital Cemetery," at The Public's Health: A Symposium on Public Health Histories, Toronto, ON, 2015.
"CSI Canadian History: The Tom Thomson Tragedy and Other Mysteries," Invited presentation, University of Guelph-Humber, Toronto, ON, 2012.
"The Great Unsolved Mysteries in Canadian History as a Teaching Tool," Invited presentation, Manitoba Social Science Teachers' Association conference, Winnipeg, MB, 2010.
with K. Webb, "Canadian & Australian Approaches to Socially Responsible Mining," at Rethinking Extractive Industries: Regulation, Dispossession, & Emerging Claims, York University, Toronto, ON, 2009. 
with K. Webb, "Corporate Social Responsibility at Kinross Maricunga - Preliminary Results for a Collaborative, Multi-perspective Case Study," at Canadian Embassy 'CSR: Governments,  Corporations & Non-Governmental Organizations' meeting, Santiago, Chile, 2008. 
"The State of (and in) Canadian and US Culture," Invited presentation at Indiana Canadian Studies Association Annual Roundtable, Franklin College, Franklin, Indiana, 2005.
"My Toronto Does Not Include Tent City: Democratic Administration of Heritage Preservation," at Canadian Historical Association annual meeting, University of Western Ontario, London, ON, 2005.
"Canada's Federal Cultural Agencies & the 1984 amendments to the Financial Administration Act," at the Biennial Meeting of the Mid-West (United States) Association of Canadian Studies, University of Nebraska, Omaha, 2004.