James E. Fraser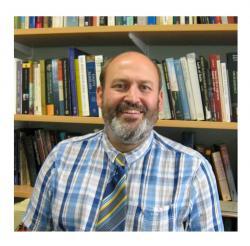 Education
Ph.D. University of Edinburgh, 2003
M.A. University of Guelph, 1999
B.A. University of Toronto, 1997
 
Professional
University of Guelph, Scottish Studies Foundation Chair, 2015-
University of Edinburgh, Senior Lecturer in Early Scottish History, 2011-14
University of Edinburgh, Lecturer and Senior Lecturer in Early Scottish History and Celtic, 2002-11
 
Research
early medieval northern Britain and Ireland, especially:
the transition from the Roman Iron Age
Pictish history
the Gaelic province of Dál Riata
political culture, ethnicity and social history
    areas of research for graduate supervision
textual sources and early medieval northern Britain
links between Ireland and northern Britain
early medieval society
the historiography of early medieval northern Britain
 
Publications
   books
From Caledonia to Pictland: Scotland to 795 - The New Edinburgh History of Scotland, Volume 1 (Edinburgh: Edinburgh University Press, 2009)   
    > shortlisted for Saltire Society History Book of the Year (2010)
co-editor with Wilson McLeod and Anja Gunderloch, Cànan & Cultar/Language & Culture: Rannsachadh na Gàidhlig 3 (Edinburgh: Dunedin Academic Press, 2006)
The Roman Conquest of Scotland: The Battle of Mons Graupius AD 84 (Stroud: Tempus, 2005)
The Battle of Dunnichen 685 (Stroud: Tempus, 2002)
   articles and book chapters
"St Patrick and barbarian northern Britain in the fifth century," in F. Hunter and K. Painter (eds.), Late Roman Silver and the End of the Empire: The Traprain Treasure in Context (Edinburgh: Society of Antiquaries of Scotland, 2013), 15-27.
"Warfare in northern Britain, c.500-1093," in E. M. Spiers, J. A. Crang and M. J. Strickland (eds.), A Military History of Scotland (Edinburgh: Edinburgh University Press, 2012), 65-93.
"From ancient Scythia to the problem of the Picts: Thoughts on the Quest for Pictish Origins," in S. T. Driscoll et al. (eds.), Pictish Progress. New Studies on Northern Britain in the Early Middle Ages(Leiden: Brill, 2011), 15-43.
"Early Medieval Europe: The Case of Britain and Ireland," in D. Bloxham and A. D. Moses (eds.), The Oxford Handbook of Genocide Studies (Oxford: Oxford University Press, 2010), 259-79.
"The Three Thirds of Cenél Loairn, 678-733," in W. McLeod et al. (eds.), Bile ós Chrannaibh: A festschrift for William Gillies (Brig O' Turk: Clann Tuirc, 2010), 135-66.
"Adomnán and the Morality of War," in J. M. Wooding et al. (eds.), Adomnán of Iona: Theologian, Lawmaker, Peacemaker (Dublin: Four Courts Press, 2010), 95-111.
"Rochester, Hexham and Cennrígmonaid: The Movements of St Andrew in Britain, 604-747," in S. Boardman et al. (eds.), Saints' Cults in the Celtic World (Woodbridge: Boydell and Brewer, 2009), 1-17.
"Bede, the Firth of Forth, and the Location of Urbs Ludeu," Scottish Historical Review 87, no. 1 (2008): 1-25.
"St. Columba and the Convention at Druimm Cete: Peace and Politics at Seventh-Century Iona', Early Medieval Europe 15, no. 3 (2007)" 315-34.
"Dux Reuda and the Corcu Réti," in W. McLeod et al. (eds.), Cànan & Cultar/Language & Culture: Rannsachadh na Gàidhlig 3 (Edinburgh: Dunedin Academic Press, 2006), 1-9.
"Strangers on the Clyde: Cenél Comgaill, Clyde Rock and the Bishops of Kingarth," Innes Review 56, no. 2 (2005): 102-20.
"Adomnán, Cumméne Ailbe, and the Picts," Peritia 17-18 (2003-2004): 183-98.
"The Iona Chronicle, the Descendants of Áedán Mac Gabráin, and the "Principal Kindreds of Dál Riata'," Northern Studies 38 (2004): 77-96.
"Northumbrian Whithorn and the Making of St Ninian," Innes Review 53, no.. 11 (2002): 40-59.
"A Swan from a Raven: William Wallace, Brucean Propaganda, and Gesta Annalia II," Scottish Historical Review 81, no. 1 (2002): 1-22.