Jesse Palsetia
Description
Education
Ph.D. University of Toronto, 1996
M.A. University of Toronto, 1989
B.A. University of Toronto, 1987
 
Professional
University of Guelph, 2002-
Visiting Assistant Professor, University of Guelph, 2001–2002
Visiting Assistant Professor, University of Toronto at Mississauga, 2001–2002
Research Scholar and Associate, Centre for South Asian Studies, University of Toronto, 1997–2002
 
Research
South Asia
British imperialism
Parsis (Zoroastrians) of India
    areas of research for graduate supervision
south Asia
 
Publications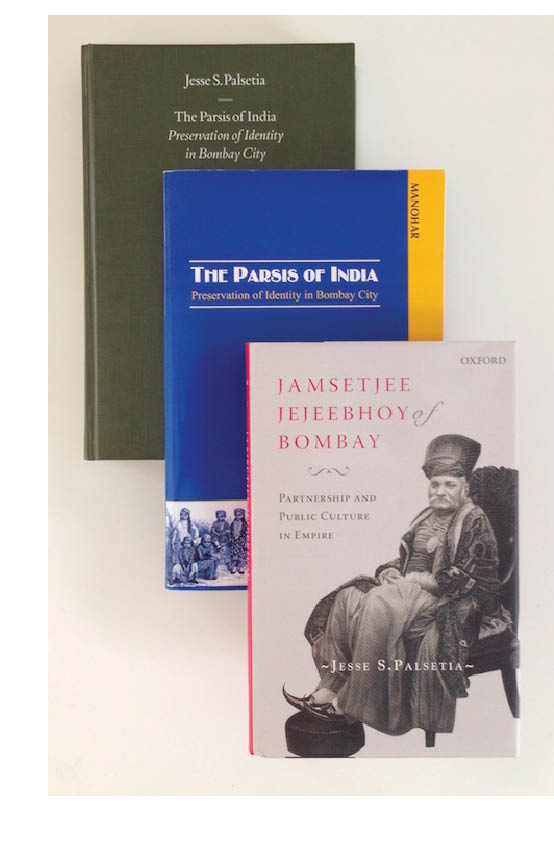 books
Jamsetjee Jejeebhoy of Bombay: Partnership and Public Culture in Empire (New Delhi: Oxford University Press, India, 2015).
The Parsis of India: Preservation of Identity in Bombay City (Leiden: Brill, 2001; reprint, New Delhi: Manohar Publications, 2008).
with N.K. Wagle, Rights and Privileges: Fifty Years of the Indian Constitution, South Asian Studies, no. 15 (Toronto: University of Toronto, Centre for South Asian Studies, 2003).
    articles and book chapters
"Zoroastrianism in India," in Religions of India: A Microcosm of World Religions. Ed. Meenaz Kassam (New Delhi: Manohar, 2017), 225-46.
"The Parsis of India: Rise, Prominence, and History," in Parsis of India: Themes Old and Contemporary, edited by Shalini Bharat and Armaity S. Desai (New Delhi: Sage Publications, in press).
"Parsi Charity: A Historical Perspective on Religion, Community, and Donor-Patron Relations Among the Parsis of India," in Iranica 24: Holy Wealth: Accounting for This World and the Next in Religious Belief and Practice. Festschrift for John R. Hinnells. Eds. Almut Hintze and Alan Williams. Wiesbaden: Harrassowitz Verlag: The Harrossowitz Publishing House, 2016, 175-92. https://www.harrassowitz-verlag.de/title_1014.ahtml
"The Parsis of Bombay and Christian Conversion." In World Christianity, 3 vols., edited by Elizabeth Koepping (New York: Routledge, 2010), vol. 2, part 8.
"Parsi Dress and Identity," in Peonies and Pagodas: Embroidered Parsi Textiles Tapi Collection, edited by Shilpa Shah and Tulsi Vatsal (Surat: Garden Silk Mills Ltd., 2010), 168–75.
"Parsis and the Opium Trade in China," Contemporary Drug Problems 35, no. 4 (Winter 2008), 647–78.
"Partner in Empire: Jamsetjee Jejeebhoy and the Public Culture of Nineteenth Century Bombay." In Parsis in India and the Diaspora, edited by J.R. Hinnells and Alan Williams (London: Routledge, 2007), 83–101. 
"Parsi and Hindu Traditional and Nontraditional Responses to Christian Conversion in Bombay, 1839–45," Journal of the American Academy of Religion 74, no. 3 (September 2006): 615–45.
"Merchant Charity and Public Identity Formation in Colonial India: The Case of Jamsetjee Jejeebhoy," Journal of Asian and African Studies 40, no. 3 (June 2005): 197–217.
"'Honourable Machinations': The Jamsetjee Jejeebhoy Baronetcy and the Indian Response to the Honours System in India," South Asia Research 23, no. 1 (May 2003): 55–76.
"Mad Dogs and Parsis: The Bombay Dog Riots of 1832," Journal of the Royal Asiatic Society, series 3, vol. 11, no. 1 (April 2001): 13–30.