Kevin James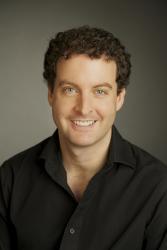 Scottish Studies Foundation Chair & Professor of
Education
Ph.D. University of Edinburgh, 2000
M.A. McGill University, 1997
B.A. McGill University, 1996
 
After completing my BA at McGill, where I was awarded the Governor-General's Medal for highest standing in the undergraduate Arts programme, I completed my MA under Professor John Zucchi. I was awarded a Commonwealth Scholarship for PhD study in the United Kingdom, which I took up at the University of Edinburgh in order to work with Professor R.J. Morris in the Department of Economic and Social History. I have been on faculty at the University of Guelph since 2000 and in 2020 was appointed to the externally endowed Scottish Studies Foundation Chair.
Professional
University of Guelph, 2000 -
 
Research
My teaching and research focuses on Ireland and Britain during the long nineteenth century, and also encompasses trans-national themes such as travel, tourism, and the history of the modern hospitality sector. I focus on the experiences of Scotland and Ireland, and interactions and comparisons between them.
My current research, drawing on old hotel books, explores the social and cultural history of the inn and hotel in Victorian Scotland, Ireland, Wales, England and the Isle of Man. It extends my previous research programme, which examined 'tourist development' projects in nineteenth-century Ireland and the intersections of gendered, racial and class identities in Irish travel writing. I have longstanding interests in comparative modern Scottish and Irish social history and connections between them through tourism.
I am also deeply engaged in public outreach, through diverse media, public talks, digital communication, and partnerships with civil society.
Both my current work on hotel and inns and my previous projects on Irish and British tourism and travel history have been funded through SSHRC grants and numerous other external funding bodies. One of my current international collaborations explores the history of the guestbook in Switzerland, in a project led by Professor Patrick Vincent at l'Université de Neuchâtel.  For details, please visit: http://swissguestbookproject.ch/
In addition to my ongoing research programme on the visitors' book in hotel culture, I am leading a developing project exploring hotels in Britain during and after World War I. For details of that SSHRC-funded project, please visit its website: http://hotelsinhistory.com/ 
I am also excited to be co-edting, with Eric G.E. Zuelow of the University of New England, the Oxford Handbook of Tourism History, intended to be a landmark publication and definitive resource for scholars in the field.
      areas of research for graduate supervision:
I especially welcome graduate students with interests in tourism and travel history in Ireland and Britain. You will find excellent archival resources here and a collegial environment in which to work with many faculty and students with interests in these fields, as well as competitive financial support, including the Alastair J. Durie Research Travel Grant, to support research in travel and tourism history.
Publications
    (since 2007 only - for a fuller list, please visit:
    https://uoguelph.academia.edu/KevinJames )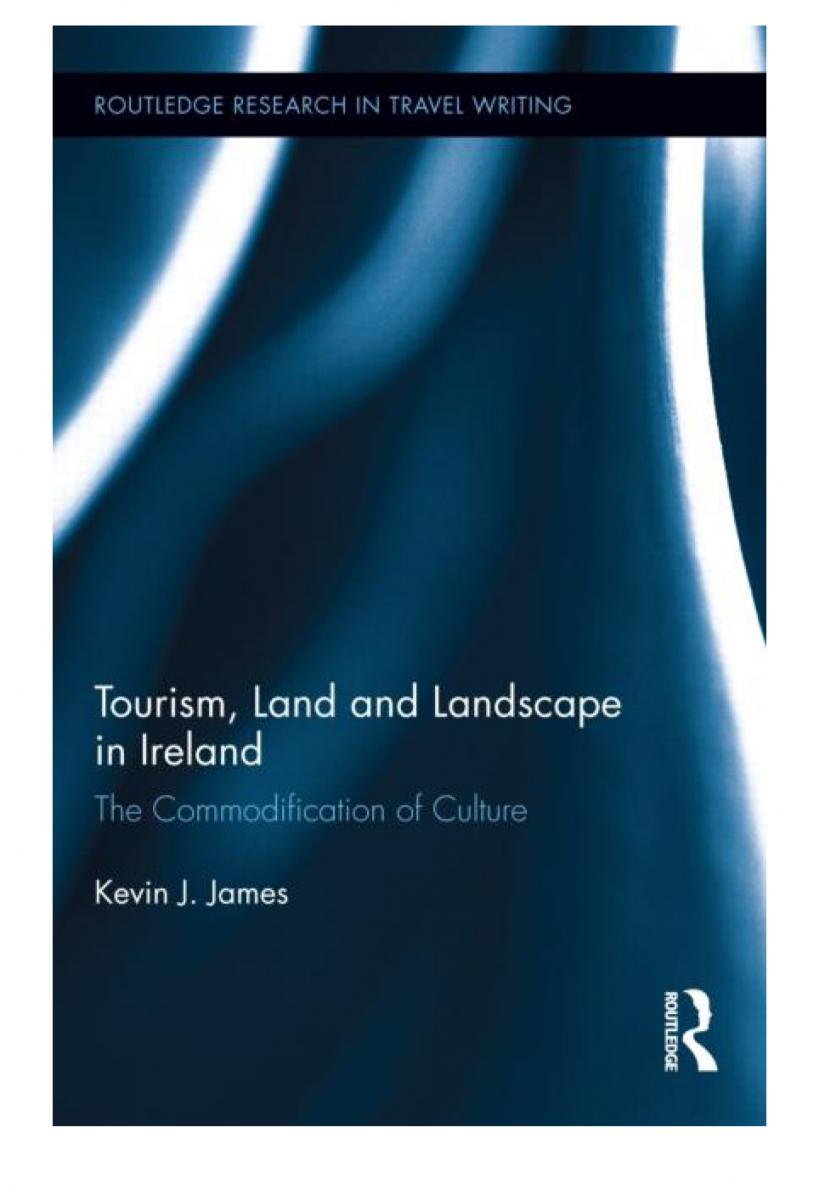 books
Histories, Meanings and Representations of the Modern Hotel. Bristol: Channel View Publications, 2018.
Tourism, Land and Landscape in Ireland: The Commodification of Culture. New York & London: Routledge, 2014.
editor, with Eric G.E. Zuelow, Tourism Histories in Ulster and Scotland: Connections and Comparisons, 1800-1939. Belfast: Ulster Historical Foundation, 2013.
Handloom Weavers in Ulster's Linen Industry, 1815-1914. Dublin: Four Courts Press, 2007.
    articles and book chapters
"The Album of the Fathers and the Father of All Albums: Inscribing Wonder and Loss at the Grande Chartreuse," in Continental Tourism, Travel Writing, and the Consumption of Culture, 1814-1900, edited by Benjamin Colbert and Lucy Morrison (Cham: Palgrave Macmillan, 2020), 41-60.
"Hotel History," in The Future Past of Tourism: Historical Perspectives and Future Evolutions, edited by Ian Yeoman and Una McMahon-Beattie (Bristol: Channel View Publications, 2020), 133-145.
"'Take my advice, go to Mongan's Hotel': Barrenness and Abundance in the late-Victorian Connemara Landscape," in Empty Spaces: Perspectives on Emptiness in Modern History, edited by Courtney J. Campbell, Allegra Giovine and Jennifer Keating (London: University of London Press, 2019), 15-32.
"Hospitality," in The Routledge Research Companion to Travel Writing, edited by Alasdair Pettinger, Tim Youngs (Abingdon and New York: Routledge, 2019), 265-79.
"The British Hotel in the First World War," in Tourisme et Grand Guerre: Voyage(s) sur un front historique méconnu (1914-2019), sous la direction de Yves-Marie Évanno et Johan Vicent (Plœmeur: Éditions Codex, 2019), 171-82.
"The 'McAutocrat of the Breakfast-table': Highland Hospitality in Nineteenth-century Travel Writing." Hospitality & Society 2, no. 1 (2019): 161-81.
"Foreign and Home Tours in 1830s' Manuscript Culture," The Yearbook of English Studies 48 (2018): 124-47. 
"Aliens, Subjects and the State: Surveillance in British Hotels during World War I," Immigrants & Minorities 36, no. 3 (2018): 199-231.
"Afterword," in Anglo-American Travelers and the Hotel Experience in Nineteenth-Century, edited by Monika M. Elbert and Susanne Schmid (London: Routldge, 2018), 269-81.
"Tourism Histories," in Sage Handbook of Tourism Management, edited by Chris Cooper, Serena Volo, William C. Gartner and Noel Scott (SAGE Publications: Thousand Oaks, CA, 2018), 69-85.
and Patrick Vincent, "The Guidebook as Historical Source," Journal of Tourism History 8, no. 2 (2016): 147-66.
and Evan Tigchelaar, "Cultures of Recreation in Victorian Snowdonia: Travelling, Climbing and Inscribing at the Pen-y-Gwryd Hotel," Welsh History Review/ Cylchgrawn Hanes Cymru 28, no. 1 (2016): 87-114.
"'Doing the Gap': Sociability and Tourism Networks at Killarney, 1850–1914," in Cultural Histories of Sociabilities, Spaces and Mobilities, edited by Colin Divall (London: Pickering & Chatto, 2014), 151-63.
"Sober Debates and Whimsical Inscriptions: Critics, Visitors and the Rise of the Grand Hotel," in Grand Hotel: Redesigning Modern Life, edited by Jennifer M. Volland and Bruce Grenville with Stephanie Rebick (Vancouver & Ostfildern: Vancouver Art Gallery & Hatje Cantz, 2013), 40-45.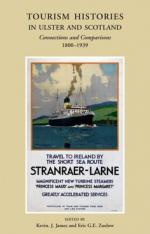 "The Little Big House at Gweedore: Inscribing Sociality and Space in North-West Ireland, 1842–1859," Irish Geography 45, no. 3 (2013): 235-56.
"The Irishness of the Irish Inn: Narratives of Travel Accommodation in Ireland from Union to Home Rule," Studies in Travel Writing 17, no. 1 (2013): 22-42.
"'[A] British Social Institution': The Visitors' Book and Hotel Culture in Victorian Britain and Ireland," Journeys: The International Journal of Travel Writing 13, no. 1 (2012): 42-69.
"Meeting Kate Kearney at Killarney: Gender, Sexuality and Performances of a Literary and National Subject, 1850-1914," in Travel Writing and Tourism in Britain and Ireland, edited by Benjamin Colbert (Houndmills: Palgrave Macmillan, 2012), 181-200.
"Constructing the Donegal Seaside at Rosapenna: Imagining Norway in Victorian and Edwardian Ulster," in Art and Identity at the Water's Edge, edited by Tricia Cusack (Farnham: Ashgate Press, 2012), 211-28.
"In No Degree Inferior": Scotland and 'Tourist Development' in Late-Victorian Ireland," in Ireland and Scotland in the Nineteenth Century, edited by James McConnel and Frank Ferguson (Dublin: Four Courts Press, 2009), 11-22.
"Outwork in Ireland: New Perspectives," in Essays in Irish Labour History: A Festschrift for Elizabeth and John W. Boyle, edited by Fintan Lane, Francis Devine and Niamh Puirseil (Dublin: Irish Academic Press, 2008), 103-17.
"'Wilds of Ireland': Tourism and Western Terrain in the Late-Nineteenth and Early-Twentieth Centuries," in Irelands of the Mind: Memory and Identity in Modern Irish Culture, edited by Richard C. Allen & Stephen Regan (Newcastle: Cambridge Scholars, 2008), 12-31.
"A Royal Route through Irish Holiday-Ground: Marking and Marketing the Duke of York Route, 1897,"  in Royal Tourism: Excursions around Monarchy, edited by Philip Long and Nicola Palmer (Clevedon: Channel View Publications, 2007), 62-79.
 
Funding
My research has been supported by visiting fellowships at the Research Institute of Irish and Scottish Studies at University of Aberdeen and the Northrop Frye Centre, Victoria College, University of Toronto.
It has also been funded by the following external sources: 
*  Special Collections Research Center, Swem Library, William & Mary College Libraries Fellowship
*  SSHRC Insight Development Grant
*  E. Peter Mauk, Jr. / Doyce B. Nunis, Jr. Fellowship at the Huntington Library, San Marino, California  
* Swiss National Science Foundation (project partner with principal investigator Prof. Patrick Vincent) 
* Travel-to-Collections Grant, Special and Area Studies Collections, George A. Smathers Libraries, University of Florida
* Harry Ransom Center Research Fellowship in the Humanities, supported by the Andrew W. Mellon Foundation Research Fellowship Endowment, University of Texas at Austin
 * SSHRC Insight Grant
* St Andrews University Special Collections Visiting Scholarship
* Strathmartine Trust research award
* Moore Institute Visiting Fellowship from the National University of Ireland -- Galway
* SSHRC Standard Research Grant with Research Time Stipend 
* Collaborative funding with the University of Ulster's Institute of Ulster-Scots Studies
* Ireland-Canada University Fund