Stuart McCook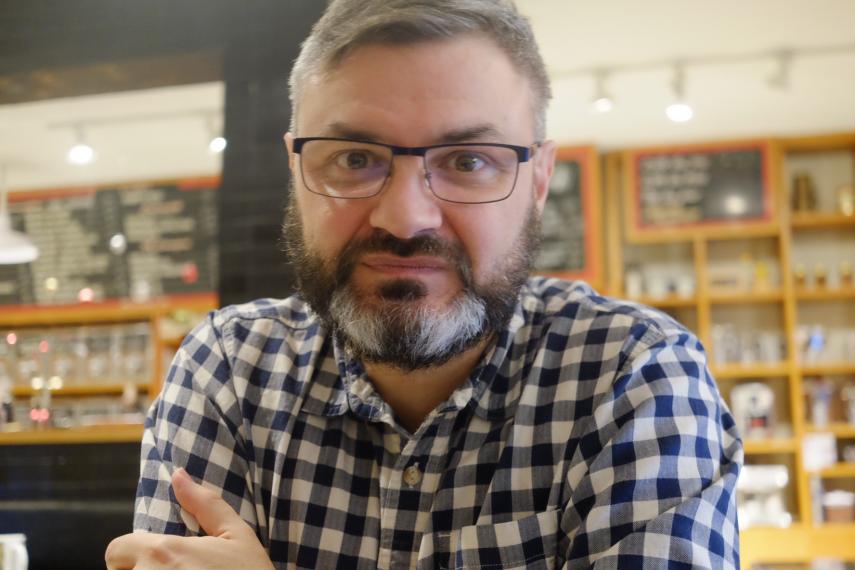 Education
Princeton University
PhD (History), 1996
MA (History), 1992
Rensselaer Polytechnic Institute
MS (Science and Technology Studies), 1990
The University of Toronto
BA (History and Philosophy of Science), 1988
 
Professional
The University of Guelph
Assistant Vice President, International, since 2019
Professor of History, since 2018
Associate Dean (Research & Graduate Studies), College of Arts, 2009-2015
Associate Professor of History, 2003-2018
The College of New Jersey
Associate Professor of History, 2002-2003
Assistant Professor of History, 1997-2002
The University of Minnesota
NSF Postdoctoral Research Associate in History of Science and Technology, 1996-1997
 
Research
I am interested in the history of tropical agriculture, especially export commodities. My doctoral research (which became my first book) explored botany, agriculture, and nation-building in the Greater Caribbean. This project led me to an interest in the environmental history of tropical crops — especially to a series of catastrophic plant diseases that afflicted almost every major tropical crop, starting in the mid-nineteenth century. Following these diseases led me to expand my geographical focus from Latin America to the global tropics. I decided to write about one of the most important of these diseases: the coffee leaf rust. This disease first broke out in Ceylon (Sri Lanka) in 1869, and has since spread to virtually every coffee-growing region in the world. It caused the collapse of arabica coffee cultivation in Ceylon and Java, and continues to disrupt production around the world. The history of the epidemic is a history of ecological globalization, and of the complex interplay between economic, environmental, social, and cultural forces. This is the subject of my second book: Coffee is Not Forever: A Global History of the Coffee Leaf Rust, published in 2019.
My other research and teaching interests include global history, commodity history, the history of science, technology, and medicine, disease and history, the history of natural disasters, and Latin American history.
Books
Coffee is Not Forever: A Global History of the Coffee Leaf Rust (Ohio University Press, 2019)
States of Nature: Science, Agriculture, and Environment in the Spanish Caribbean, 1760-1940 (Austin: University of Texas Press, 2002).
Articles and Book Chapters
with Paul D. Peterson. 2020. "The Geopolitics of Plant Pathology: Frederick Wellman, Coffee Leaf Rust, and Cold War Networks of Science." Annual Review of Phytopathology 58 (1): 181–99. https://doi.org/10.1146/annurev-phyto-082718-100109.
"Greater Caribbean: Mexico, Central America, and the West Indies." In Modern Science in National, Transnational, and Global Context, edited by Hugh Richard Slotten, Ronald L. Numbers, and David N. Livingstone, 1st ed., 8:782–98. The Cambridge History of Science. Cambridge: Cambridge University Press. https://doi.org/10.1017/9781139044301.040.
"Prodigality and Sustainability: The Environmental Sciences and the Quest for Development." In A Living Past: Environmental Histories of Latin America, edited by Claudia Leal, John Soluri, and José Augusto Pádua, 226–45. New York: Berghahn Books, 2018.
"Environmental History of Coffee in Latin America", Oxford Research Encyclopedia of Latin American History, June 2017.
"'Squares of Tropic Summer': The Wardian Case, Victorian Horticulture, and the Logistics of Global Plant Transfers, 1770-1910." In Global Scientific Practice in an Age of Revolutions, 1750-1850, edited by Patrick Manning and Daniel Rood, 199–215. Pittsburgh, PA: University of Pittsburgh Press, 2016.
with John Vandermeer. "The Big Rust and the Red Queen: Long-Term Perspectives on Coffee Rust Research." Phytopathology, September 3, 2015,
"Ephemeral Plantations: The Rise and Fall of Liberian Coffee, 1870-1900." In Comparing Apples, Oranges, and Cotton: Environmental Histories of the Global Plantation, edited by Frank Uekotter, 85–112. Frankfurt am Main: Campus Verlag, 2014.
"Prodigality and Sustainability: The Natural Sciences and the Environment." In New Environmental Histories of Latin America and the Caribbean, edited by Claudia Leal, José Augusto Pádua, and John Soluri, 89–94. RCC Perspectives 7. Munich: Rachel Carson Centre.
"Global Currents in National Histories of Science: The 'Global Turn' and the History of Science in Latin America." Isis 104.4 (2013): 773–76. 
"The Ecology of Taste: Robusta Coffee and the Limits of the Specialty Revolution." In Coffee: a Comprehensive Guide to the Bean, the Beverage, and the Industry, edited by Robert W Thurston, Jonathan Morris, and Shawn Steiman, 248–261. Lanham, Md.: Rowman & Littlefield, 2013.
"The Neo-Columbian Exchange: The Second Conquest of the Greater Caribbean, 1720-1930." Latin American Research Review 46, (2011): 11–31.
"La roya del café en Costa Rica: epidemias, innovación, y ambiente, 1980-1995. [Coffee rust in Central America: Epidemics, Innovation, and Envrionment, 1980-1995]." Revista de Historia [Costa Rica], no. 59-60 (2009): 99-117.
"Nature, God, and Nation in Revolutionary Venezuela: The Holy Thursday Earthquake of 1812." In Aftershocks: Earthquakes and Popular Politics in Latin America, edited by Jürgen Buchenau and Lyman Johnson, 43-69. Albuquerque: University of New Mexico Press, 2009.
"'The World Was My Garden': Tropical Botany and Cosmopolitanism in American Science, 1898-1935." In Colonial Crucible: Empire in the Making of the Modern American State, edited by Alfred McCoy and Francisco Scarano, 499-507. Madison: University of Wisconsin Press, 2009.
"Chronicle of a plague foretold: crop epidemics and the environmental history of coffee in the Americas." Varia Historia 24, no. 39 (2008): 87-111.
"Global rust belt: Hemileia vastatrix and the ecological integration of world coffee production since 1850." Journal of Global History 1, no. 02 (2006): 177-195.
"Plantas, petroleo, y progreso: las ciencias agrícolas y las ideologías de desarrollo en la época de Juan Vicente Gómez, 1908-1935," in Estudios Interdisciplinarios de América Latina y el Caribe 14:1 (January-June 2003): 67-88.
"Las epidemias liberales: agricultura, ambiente, y globalización en Ecuador, 1790-1930" in Estudios sobre historia y ambiente en América Latina, Vol. 2, Norteamérica, Sudamérica, y el Pacífico, edited by Bernardo García Martínez and María del Rosario Prieto (México, El Colegio de México/Instituto Panamericano de Geografía e Historia, 2002), 223-246.
"'Giving Plants a Civil Status': Scientific Representations of Nature and Nation in Costa Rica and Venezuela, 1885-1935," The Americas: A Quarterly Review of Inter-American Cultural History 58 (April 2002): 513-536.
"Promoting the 'Practical': Science and Agricultural Modernization in Puerto Rico and Colombia, 1920-1940," Agricultural History 75 (Winter 2001): 52-82.
with Angel L. Viloria, Franco Urbani, and Bernardo Urbani, "De Lausanne aux forêts vénézueliennes. Mission géologique de François de Loys (1892-1935) et les origines d'une controverse anthropologique," Bulletin de la Société Vaudoise des Sciences Naturelles 86 (September 1999): 157-174.
"Creole Science: Botanical Surveys of Costa Rica, 1880-1940," Endeavour 23 (1999): 118-120.
"'It may be truth, but it is not evidence:' Paul du Chaillu and the Legitimation of Evidence in the Field Sciences," Osiris 11 (1996): 177-197; reprinted in Science, Race, and Ethnicity: Readings from Isis and Osiris, edited by John P. Jackson, Jr. (Chicago: University of Chicago Press, 2002), 341-361.
"Cosechas inciertas: la investigación agrícola bajo la dictadura de Juan Vicente Gómez (1908-1935)," in Ciencia, Tecnología y Sociedad en América Latina ed. Hebe Vessuri (Caracas: ALAS/Nueva Sociedad, 1994), 129-140.