Tara Abraham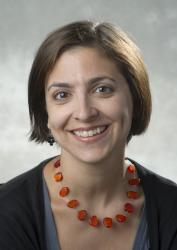 Associate Professor | Curriculum Chair
Education
Ph.D. University of Toronto, 2000
M.A. University of Toronto, 1996
B.Sc. (Honours) McMaster University, 1992
 
Professional
University of Guelph, Department of History, 2006-
York University, Programme in Science and Technology Studies,
   Assistant Professor, 2004-06
Max Planck Institute for the History of Science, Berlin, Germany,
   Postdoctoral Research Fellow, 2002-04
Dibner Institute for the History of Science and Technology, MIT,
   Postdoctoral Fellow, 2000-02
 
Research
history of biomedicine
history of American science
history of psychiatry
 
Publications

    books
Rebel Genius: Warren S. McCulloch's Transdisciplinary Life in Science (Cambridge, MA: MIT Press, 2016).
    articles and book chapters
editor, "Warren S. McCulloch and His Circle," a guest-edited issue of Interdisciplinary Science Reviews 37, no. 3 (September 2012).
"Transcending Disciplines: Scientific Styles in Studies of the Brain in Mid-Twentieth Century America," Studies in History and Philosophy of Biological and Biomedical Sciences (2012) 43: 552-68.
"Brain" in Eine Naturgeschichte für das 21. Jahrhundert: Hommage à, zu Ehren von, in Honor of Hans-Jörg Rheinberger, edited by Safia Azzouni, Christina Brandt, Bernd Gausemeier, Julia Kursell, Henning Schmidgen, and Barbara Wittmann (Berlin: Max-Planck-Institut für Wissenschaftsgeschichte, 2011), pp. 239-240.
"The Role of Negative Feedback in Cybernetics," in Peter Hammerstein, Manfred D. Laubichler, and Hans-Jörg Rheinberger, ed., Regulation: Historical and Current Themes in Theoretical Biology (Cambridge, MA: MIT Press, forthcoming 2013).
"Nicolas Rashevsky's Mathematical Biophysics." Journal of the History of Biology 37, no. 2 (2004): 333-385.
"From Theory to Data: Representing Neurons in the 1940s." Biology and Philosoph 18, no. 3 (2003): 415-426.
"Integrating Mind and Brain: Warren S. McCulloch, Cerebral Localization, and Experimental Epistemology," Endeavour 27, no. 1 (2003): 32-36.
"(Physio)logical Circuits: The Intellectual Origins of the McCulloch-Pitts Neural Networks." Journal of the History of the Behavioral Sciences 38, no. 1 (2002): 3-25.