Associations, Talks & Conferences

Photograph: Large group before clapboard home, Stephen Sylvester Main collection, University of Guelph Library, Archives, and Special Collections, Agricultural History (XA1 MS A230 #120)
---
The Centre for Agrarian History wants to study, preserve, secure and make accessible the history and heritage of agriculture, food and rural life in Flanders and Brussels since 1750. It highlights tangible and intangible heritage in its national and international context and pays particular attention to the interaction between past, present and future. For more information, please consult the link below.  
https://cagnet.be/s/en/page/home
There are a number of Rural History organizations worldwide and many hold conferences. The following is a list of associations: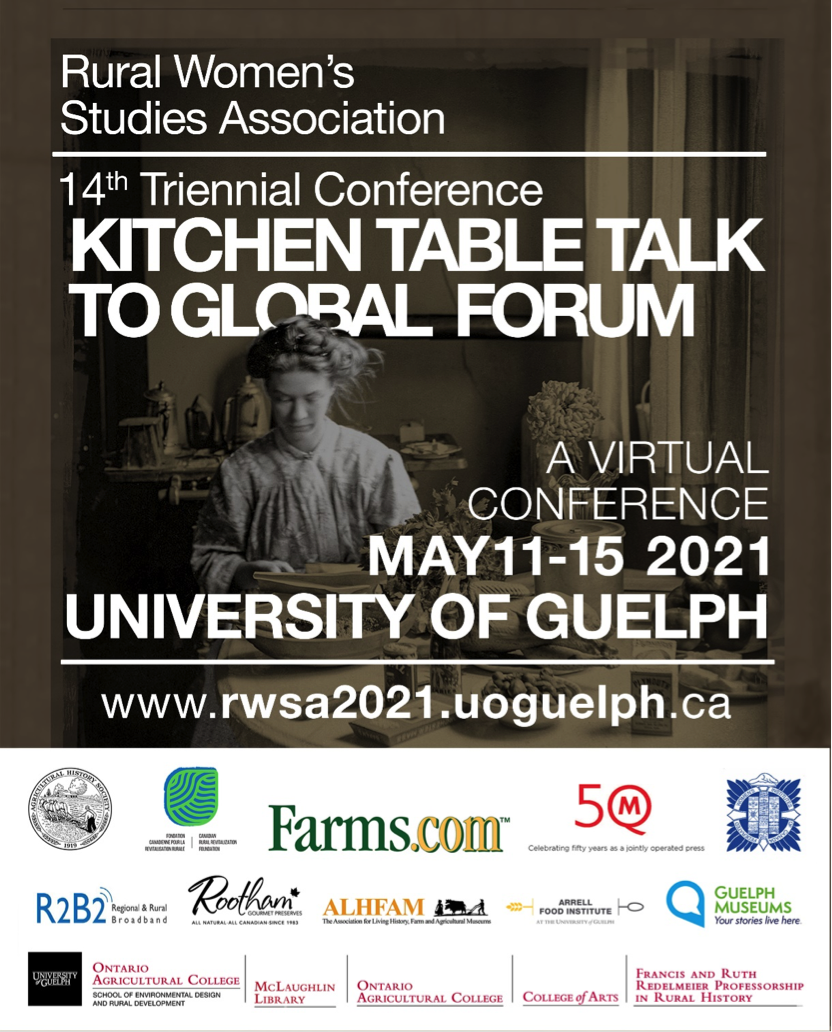 North America
Agricultural History Society (AHS) – USA
The AHS was founded in 1919 to promote research and study in the history of agriculture. They publish a journal called Agricultural History and hold annual meetings/conferences.
    
Rural Women's Studies Association (RWSA) – USA
The RWSA was founded in 1998 and is an international association for the advancement and promotion of farm and rural women's gender studies in historical perspective. The association encourages research, promotes existing and forthcoming scholarship and maintains links with contemporary farm and rural women's organizations.
Abroad
European Rural History Organisation (ERHA)
The EURO is a non-profit organization concerned to promote the study of all aspects of rural history in Europe and beyond. It organizes a bi-annual international conference and publishes a newsletter.
British Agricultural History Society (BAHS) – UK
The BAHS is a national society that studies the history of agriculture, rural society, and landscape of Britain and Ireland. They publish a magazine called Rural History Today and a scholarly journal called Agricultural History Review. They also hold conferences.
L'Association d'Histoire des Sociétés Rurale – France
The Association was founded in 1993 and aims to bring together professional and amateur rural historians, as well as geographers and agronomists. The Association publishes a bi-annual magazine called Histoire et Sociétés Rurales. They also publish for a collection in the Universitaires de Rennes press called Bibliothèque d'Histoire rurale.
CORN: Comparative Rural History of the North Sea Area – Belgium
CORN is a research network founded in 1995 by scholars from Ghent University, the University of Leuven, and in collaboration with Utrecht University. The network consists of a number of different research units that aims to study the long-term developments of rural societies from the Middle Ages to the twentieth century and focuses on the North Sea area. The network organizes a number of conferences, workshops, and research and exchange programs.
Swiss Rural History Society (SRHS) – Switzerland
The SRHS was founded in 2009 and aims to emphasize the importance of the countryside in historical research.  The SRHS initiates and supports research on rural history. They organizes workshops and conferences.
The following is a list of upcoming conferences:
Rural Women's Studies Association 14th Triennial Confernce: Kitchen Table Talk To Global Forum
A Virtual Conference at the University of Guelph, Ontario, Canada
May 11-15, 2021
Website: https://www.uoguelph.ca/arts/history/events/rural-womens-studies-association-14th-triennial-conference
Agricultural History Association 2018
St. Petersburg, Florida
May 24-26
Website: http://www.aghistorysociety.org/meetings/
European Social Science History Conference 2018
Belfast, Northern Ireland
April 4-7, 2018
Website: https://esshc.socialhistory.org/networks/rural
Rural Women's Studies Association Conferences
2018- Ohio University, Athens, OH, USA
2021- University of Guelph, Guelph, Ontario, Canada
Website: https://www.ohio.edu/cas/history/institutes-associations/rwsa/futureconferences.cfm