Chamber Choir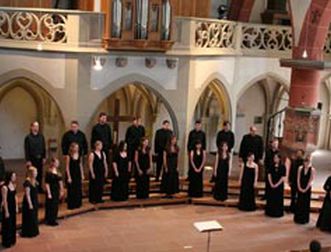 Recent winners in the Collegiate Catogory of the 2011 ACCC National Amateur Choir Competition, the University of Guelph Chamber Singers also recently travelled to Germany where they won Third Prize in the 2012 Mosbach International Chamber Choir Competition!
Comprised of students and alumni who specialize in fields as diverse as Veterinary Medicine, International Development, Languages, Applied Sciences, and Music, the choir performs at University functions, national events such as Podium 2002, University Voices* [conducted by: Robert Sund (2002, 2004), Martin Neary (2006), Maria Guinand (2008) and Tonu Kaljuste (2010)], and international festivals, such as Festival 500 (2005) in St. John's, Newfoundland, Kathaumixw International Choral Festival (2006) in Powell River, British Columbia, and the Elora Festival (2006).
*University Voices is a 4-day event, sponsored by Soundstreams Canada, offered to the top University choirs in Canada.
In 2002, we recorded a CD entitled "The Bells of Peace" in order to fundraise for War Child Canada. In 2005, the choir joined the internationally renowned Elora Festival Singers for a full week of rehearsals and a joint concert led by Noel Edison. UGCS also gave their own concert at the Elora Festival in July 2006. In 2007, we were chosen to perform the choral works of John Weinzweig at a gala concert in his honour, recorded at Glenn Gould Studio and later broadcast on CBC radio.In both 2006 and 2008 the Chamber Singers were heard in the semi-finals of the CBC Radio Amateur Choir Competition, and in 2010 were finalists in the same national competition, now under the auspices of the Association of Canadian Choral Communities. In 2011, the choir received First Place in the ACCC National Amateur Choir Competition for the Collegiate category.