Women's Chamber Choir (Siren)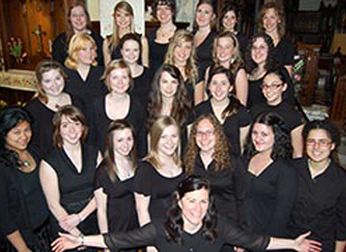 Recently returned from representing the University of Guelph at Podium 2012 in Ottawa, Siren is a diverse group of women from the University of Guelph community. The choir was founded by a student and often provides a teaching forum for young conductors.
The choir has toured the Northeastern United States, recorded CDs, and regularly performs at community events. In the fall of 2004, Siren was featured at the National Conference of the Voice of Women for Peace and the Canadian Peace Alliance in Toronto. The choir won third place from 78 entries across Canada in the Contemporary category of the CBC Radio Amateur Choir Competition in 2006.
Our repertoire, which includes chant to avant-garde, vocal jazz and world music to Renaissance polyphony, tends to reflect our mutual interest in social justice and peace. We commissioned Sparrow by Leonard Enns in 2005. In 2008 and 2011, Siren performed at the Winter Conducting Symposium of the Ontario Vocal Festival, and acted as the 'lab' choir for Dr. Mark Sirett (2008). They were chosen to perform at Podium in Ottawa from among 50 of Canada's top choirs.