Featured MFA graduate
Melanie Mah (2007 cohort)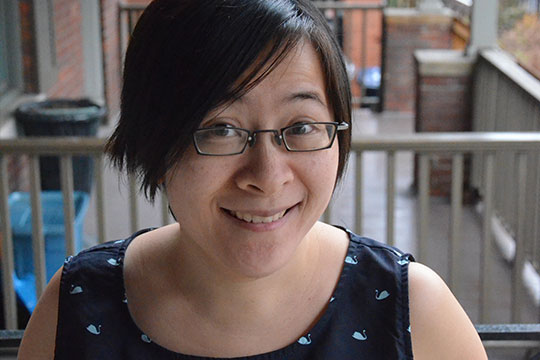 In April 2007, I was in Japan on holiday and my life was about to change in colossal ways I wasn't aware of at the time. Earlier in the year, I'd applied to master's programs in English lit, journalism, and creative writing. I was going to try being either an academic, a journalist, or a writer. With regards to the first option, I already had areas of interest I was passionate about and profs in mind who I thought could help me learn about them. For the second, I had a dream—to be a radio producer—and ideas about what I was going to produce radio about. For the third, I had an idea for a novel, some pages written, and a different sort of dream altogether.
I'd heard back from most of the universities I applied to earlier in the year. Some of the envelopes I'd received had scholarship offers enclosed. By the start of April, the best offer I'd gotten was from Ryerson; they were offering me five figures to come do my masters of journalism. So why was I standing outside a shopping mall in the Akihabara district of Tokyo, plugging hundred yen coins into a payphone calling the University of Guelph? Because my dream of writing seriously was one I'd had since I was a very small child, and I still didn't know if the Guelph MFA would have me. Before I left for Japan, I had called them. "You've been waitlisted," the person on the other end of the phone line said.
So I waited. I kept calling. The deadline to respond to Ryerson approached. A couple days before the deadline came, I got the news that I'd been accepted to Guelph. Thank fucking god.
Not everyone needs to get into an MFA program to write seriously, but I did. As far as my writing went, I have always been, at least until about a year ago, riddled with doubt. Back in the day, I barely submitted to magazines, I'd never published anything until my novel in 2016, and anything that required a portfolio to get in was daunting. I kept asking myself questions about my writing. Was I any good at it? Was this something I should pursue? Every time a sign from the universe that I should continue writing came, I was grateful and incredulous. So you can imagine how it felt to start the MFA at Guelph with its faculty filled with famous, excellent writers.
In workshops, I was surrounded by super talented colleagues. Did I really belong amongst them? I guess I must have. Did one of those super talented people just say something nice about a piece I was workshopping? I heard them, so they must have! Those few years I spent at Guelph were some of the best years of my life. Being there was one of the first times I consciously felt a really strong sense of belonging. I'd never been somewhere where in some basic but important ways, so many others were like me. We loved reading; a lot of us loved solitude, stories, ideas, details. I think most of us shared a sense of ambition, of wanting to craft and recraft our work until it was as good as we could make it. In class, it felt like my brain and talents were vibrating in tune with so many others.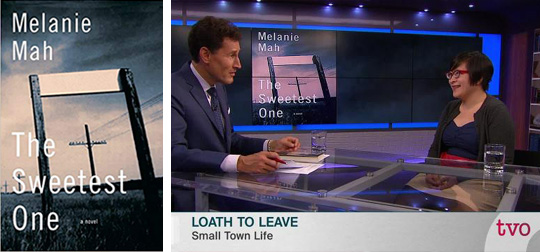 It's been eleven years since I was admitted to the program. Man, time flies! But things have been going pretty well for me. I have a published novel—it's a version of my thesis, something I may never have finished if it weren't for the MFA. I got the book deal because one of my instructors recommended me to my publisher—such a great turn of events for someone who has long been bad at networking and self-promotion. But now I have an agen; I'm more sure of myself as a writer; I've published essays; I get grants; I'm partway finished my second manuscript—a memoir: scary!—and I may well be on my way to what one may deem a successful career in my dream field of writing. Of course, things are still hard, but now things are hard and wonderful. The latter I attribute in large part to my time at Guelph.
Novel Excerpt: Rice Paper magazine, 2016
Interview: Rice Paper magazine, 2016
Interview: Brick magazine online series, 2018
Interview: CBC Books online series, 2017
Melanie Mah won the 2017 Trillium Award for her debut novel, The Sweetest One. The Trillium Prize jury citation reads: "With lines and imagery that are as unique as they are beautiful, Melanie Mah has crafted a story of under-told Canadian experience with deft, humour and so much grit… Mah's work is exciting and exacting and precisely what was missing from CanLit." Melanie was included on CBC Books' 2017 list of writers to watch and the Sweetest One was on the Writers' Trust of Canada's list of the best books of the year. She has performed at festivals and reading series all across Canada and has been interviewed on TVO and by the CBC. Her work has been published in Brick, Prism International and Ricepaper, and she is currently at work on an intergenerational memoir inspired in part by the wild lives of her parents. Originally from the foothills of Alberta, and now based in Toronto, Melanie holds an MFA from the University of Guelph.
[featured: fall 2018]