Ensembles
Concert Winds Instrumental Ensemble
The University of Guelph Concert Winds is a fifty piece concert band that rehearses once a week and performs two to three concerts a year. The Concert Winds cover a wide range of music in both style and difficulty. A variety of orchestral transcriptions, marches, standard concert band material , music from film and Broadway arrangements are included in our rehearsals and concerts.  Students from all disciplines are encouraged to audition. Students may audition for a credit or non credit position.
This ensemble rehearses on Wednesday from 7:00 pm to 9:30 pm in the MacKinnon Building room 203.
For more information please refer to the  Undergraduate Calendar  MUSC*2530 or contact John Goddard.
Check out the Concert Winds Ensemble web page at /arts/concert-winds-ensemble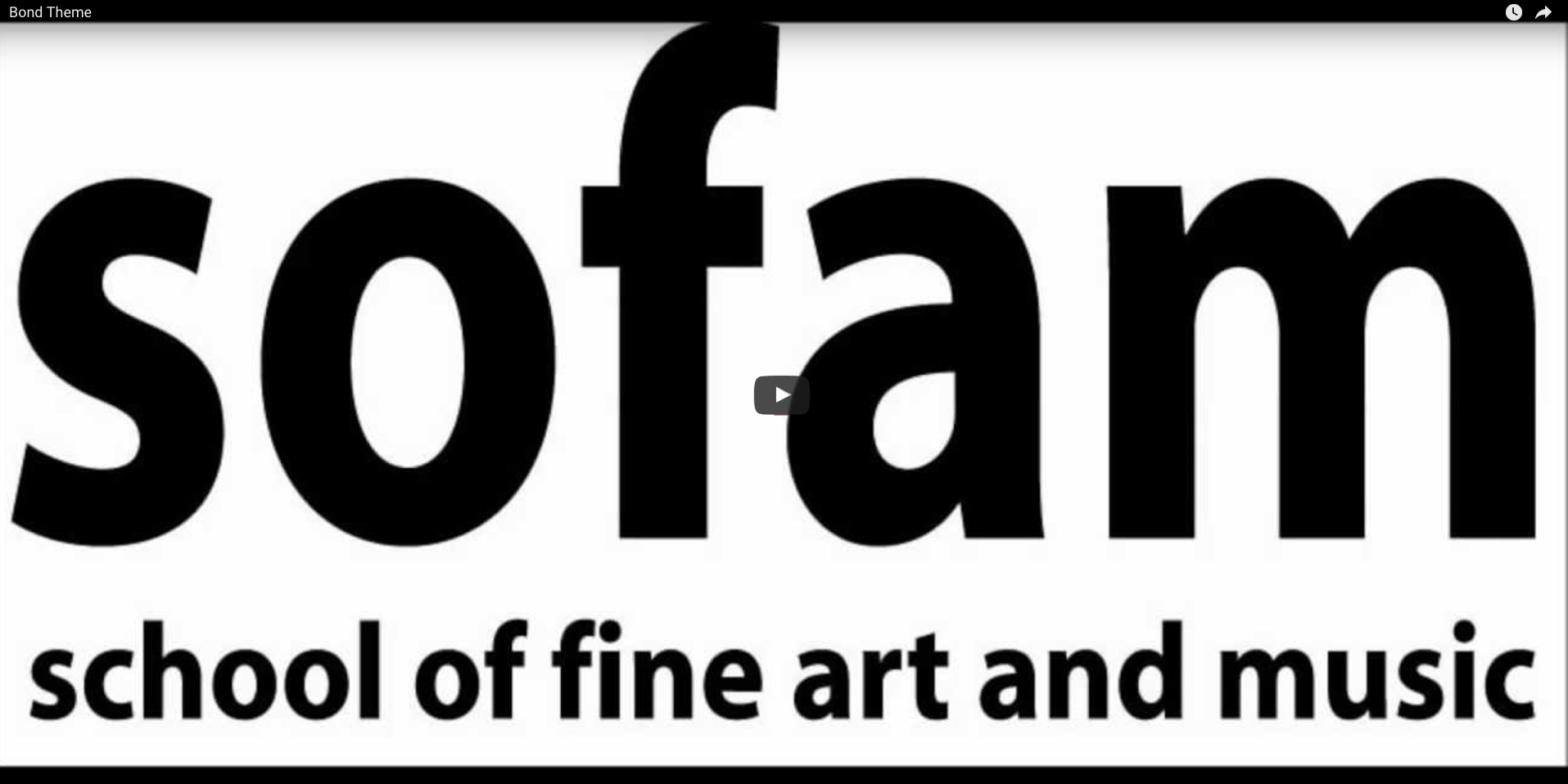 CHORAL ENSEMBLES
The University of Guelph Choir consists of four prominent organizations, offering to students and to the entire University Community an opportunity to enrich their lives through choral artistry. As you can see from the biographies of the choirs, the programme enjoys a rich tradition, emanating from the strong foundations laid by the Ontario Agricultural College. The number of choirs and the membership of each have grown considerably over the years; having received numerous accolades from the national community, the Chamber Singers and Women's Chamber Choir now sport an international reputation. Yet they have not lost their commitment to enriching the lives of the citizens of Guelph – they perform regularly at local events such as the University Remembrance Day Service, the United Way, World AIDS Day Candelight Vigil, National Peace Alliance, the Alzheimer's Society of Guelph, and by entertaining the residents at the St. Joseph's Health care centre.
To arrange an audition, please contact the director, Dr. Marta McCarthy.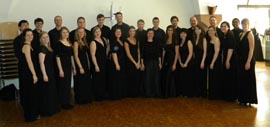 University of Guelph Chamber Singers
The most recent winners in the Collegiate Catogory of the 2011 ACCC National Amateur Choir Competition, the University of Guelph Chamber Singers also just returned from Germany where they won Third Prize in the 2012 Mosbach International Chamber Choir Competition. Comprised of students and alumni who specialize in fields as diverse as Veterinary Medicine, International Development, Languages, Applied Sciences, and Music, the choir performs at University functions, national events such as Podium 2002, University Voices* [conducted by: Robert Sund (2002, 2004), Martin Neary (2006), Maria Guinand (2008) and Tonu Kaljuste (2010)], and international festivals, such as Festival 500 (2005) in St. John's, Newfoundland,  Kathaumixw International Choral Festival (2006) in Powell River, British Columbia, and the Elora Festival (2006).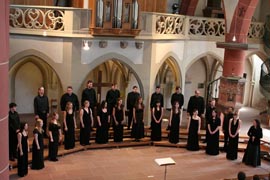 *University Voices is a 4-day event, sponsored by Soundstreams Canada, offered to the top University choirs in Canada.
In 2002, we recorded a CD entitled "The Bells of Peace" in order to fundraise for War Child Canada. In 2005, the choir joined the internationally renowned Elora Festival Singers for a full week of rehearsals and a joint concert led by Noel Edison. UGCS also gave their own concert at the Elora Festival in July 2006. In 2007, we were chosen to perform the choral works of John Weinzweig at a gala concert in his honour, recorded at Glenn Gould Studio and later broadcast on CBC radio.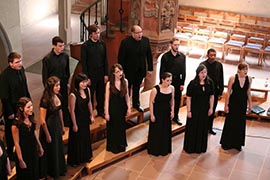 In both 2006 and 2008 the Chamber Singers were heard in the semi-finals of the CBC Radio Amateur Choir Competition, and in 2010 were finalists in the same national competition, now under the auspices of the Association of Canadian Choral Communities. In 2011, the choir received First Place in the ACCC National Amateur Choir Competition for the Collegiate category.
University of Guelph Women's Chamber Choir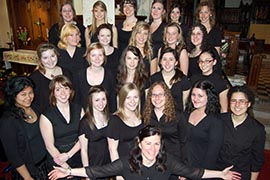 Recently returned from representing the University of Guelph at Podium 2012 in Ottawa, Siren is a diverse group of women from the University of Guelph community. The choir was founded by a student and often provides a teaching forum for young conductors. The choir has toured the Northeastern United States, recorded CDs, and regularly performs at community events. In the fall of 2004, Siren was featured at the National Conference of the Voice of Women for Peace and the Canadian Peace Alliance in Toronto. The choir won third place from 78 entries across Canada in the Contemporary category of the CBC Radio Amateur Choir Competition in 2006. Our repertoire, which includes chant to avant-garde, vocal jazz and world music to Renaissance polyphony, tends to reflect our mutual interest in social justice and peace. We commissioned Sparrow by Leonard Enns in 2005. In 2008 and 2011, Siren performed at the Winter Conducting Symposium of the Ontario Vocal Festival, and acted as the 'lab' choir for Dr. Mark Sirett (2008). They were chosen to perform at Podium in Ottawa from among 50 of Canada's top choirs.
University of Guelph Men's Choir
The men of the University Choirs rehearse together, building camaraderie and musical skill, while enhancing the concert programmes with their warm tone and exciting repertoire. A barbershop quartet has formed with this group, and the men hope to collaborate with a University of Ottawa choir in the near future.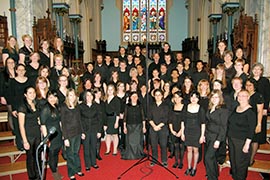 University of Guelph Symphonic/Philharmonic Choir
The Symphonic Choir has a long and illustrious history as a representative of choral music in the Guelph community. An auditioned ensemble consisting of students, staff, community members, and faculty from all disciplines, the choir has been supported by the College of Arts since 1969, when it emerged from a previous choral tradition in the Ontario Agricultural College that began just after World War Two. Our repertoire focuses mostly on the choral-orchestral masterworks, but also includes some world music, Spirituals and songs from folk traditions, as well as ground-breaking compositions such as École Polytechnique by Hildegard Westerkamp and 10,000 Rivers of Oil, by Leonard Enns, commissioned by the choir in 2010.  Recent choral-symphonic performances have featured: Mozart's Requiem and Vespers, Handel's Messiah, and Hospital Foundling Anthem, Orff's Carmina Burana, Bernstein's Chichester Psalms, Fauré's Requiem, Haydn's Creation and Lord Nelson Mass, Rossini's Petite Messe Solennelle , Honneger's King David, and Bach's Wachet auf  and Magnificat. Past conductors include Dr. Gerald Neufeld, Dr. Kathryn Laurin, Dr. Nicholas Goldschmidt, Dr. Robert Hall, and the late Ralph Kidd with the assistance of his wife, Edith. The choir particularly enjoys collaborating with other ensembles. Our joint performance of the Brahms Requiem in 1998 and 2011, and Beethoven's Ninth Symphony in 2007 with the Guelph Chamber Choir, our numerous performances with the Guelph Symphony Orchestra, and our performance of Haydn's Creation under the baton of Henry Janzen have been highlights.
Dr. Marta McCarthy, Conductor
Dr. Marta McCarthy, Conductor, is an Associate Professor at the University of Guelph, where she has been directing the choirs and teaching musicianship for fifteen years. She also conducted the University of Waterloo Choir for five years, and taught choral techniques at Wilfrid Laurier University and at the University of Toronto. A graduate of Westminster Choir College of Princeton (M.Mus), the Royal Conservatory of Music (ARCT, piano performance) and of the University of Toronto (B.Mus, B.Ed., Ph.D.), Marta was awarded the 1999 Elmer Iseler Conducting Fellowship. She also received an Ontario Volunteer Service Award, was named a member of the June Callwood Circle of Caring and, in 2005, was named a Woman of Distinction for Arts & Culture in Guelph.
Donations, always deeply appreciated, could support any of the following:
Major collaborations with other choirs and orchestra.
Touring (an exceptional opportunity for students, while also the enhancing the reputation of the University internationally!)
Scholarships.
Recording.
Chamber Ensembles
To audition for the Chamber Ensembles please contact Henry Jansen.
Henry Writes:
In this course I try to accommodate all those individuals who express an interest and take an audition for the Chamber Music ensembles.  The ensembles are formed on the basis of my perception of competency and compatibility.  For this reason I need each person to perform a work or a portion of a work not more than 5 or 6 minutes of their own choice, which best exemplifies their current skill level.  I will also ask them to do some sight work for me so that I can ascertain the ability of the individual to think in musical terms and how quickly they can respond to a fluid situation.
The steps I take to determine weekly coaching sessions are as follows.  Who forms the group; what repertoire is to be learned, and; when can we all meet for coaching.  Therefore it is imperative that when you audition that you come with a copy of your updated time commitments (courses) including any extra curricular activities such as work or regular volunteerism and your contact information.
My feeling is that there is little point in working in a vacuum so each semester culminates in a performance of all the ensembles.  Groups meet at least once a week outside of coachings to work on the selected repertoire.  Closer to the concert date the requirement for extra time together often arises.  Be prepared to work early in the semester or to do lots of extra work prior to the concert.  Your choice.  The coaching schedule, however, will not change except by mutual agreement.
Preformance Sample: Introduction and Allegro. Maurice Ravel (1875-1937)