A Day in the Life of Cara Cargo-Froom, MSc Student
Cara Cargo-Froom is a first year master's student in the Department of Animal Biosciences, specializing in animal nutrition. Her research is focused on the digestibility of minerals provided from different ingredients, such as animal and vegetable proteins, in canine diets lacking direct mineral supplementation. When not working on her research, Cara is involved in raising future dog guide puppies for the Lion's Foundation of Canada Dog Guides. Learn what a typical day is like for Cara by clicking the arrows below.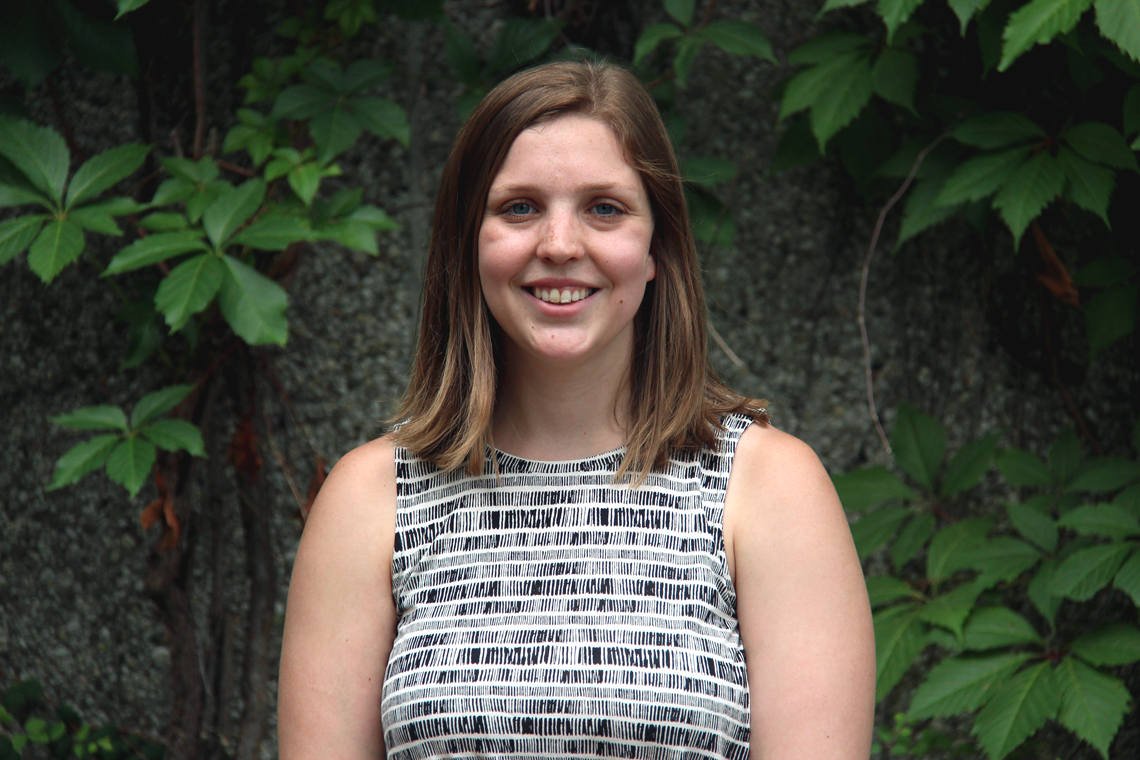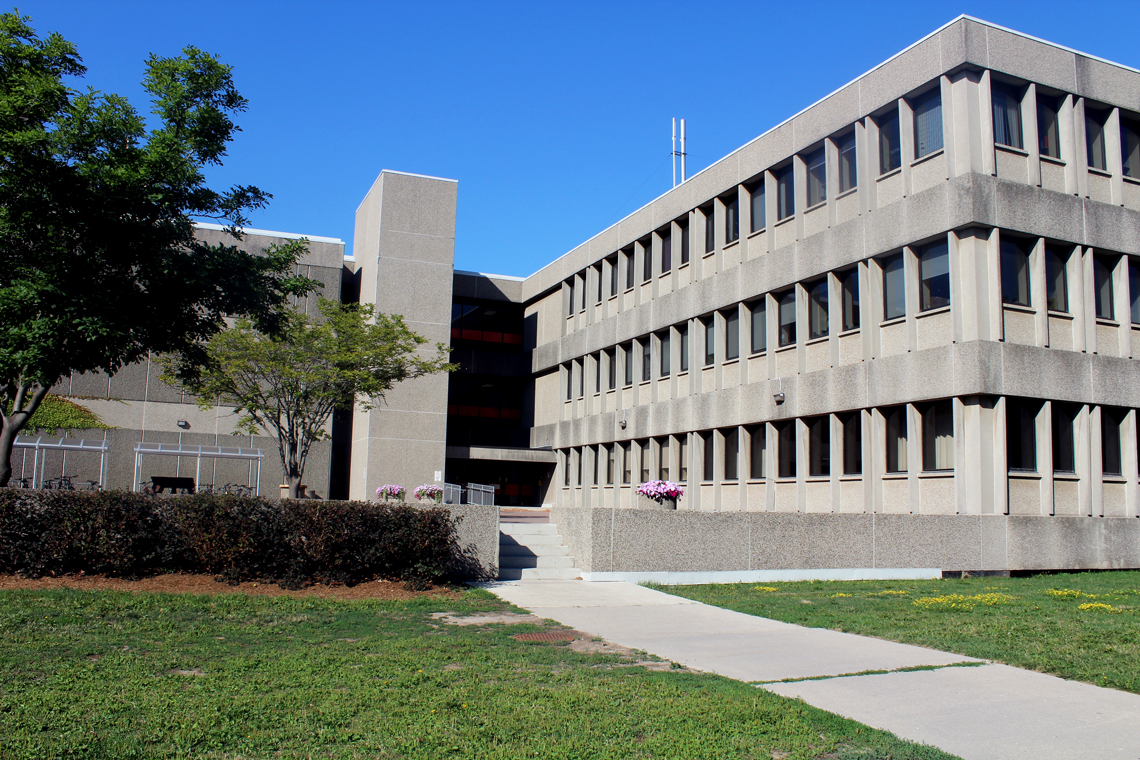 8:30 a.m.
When I get to campus in the morning, my first stop is the Animal Science and Nutrition (ANNU) building. This is where my office is located, and where most of my in-lab research is conducted. My research consists of two parts. The first is a feeding trial, which involves directly working with the animals, and the second is the in-lab analysis of the samples collected from the trial.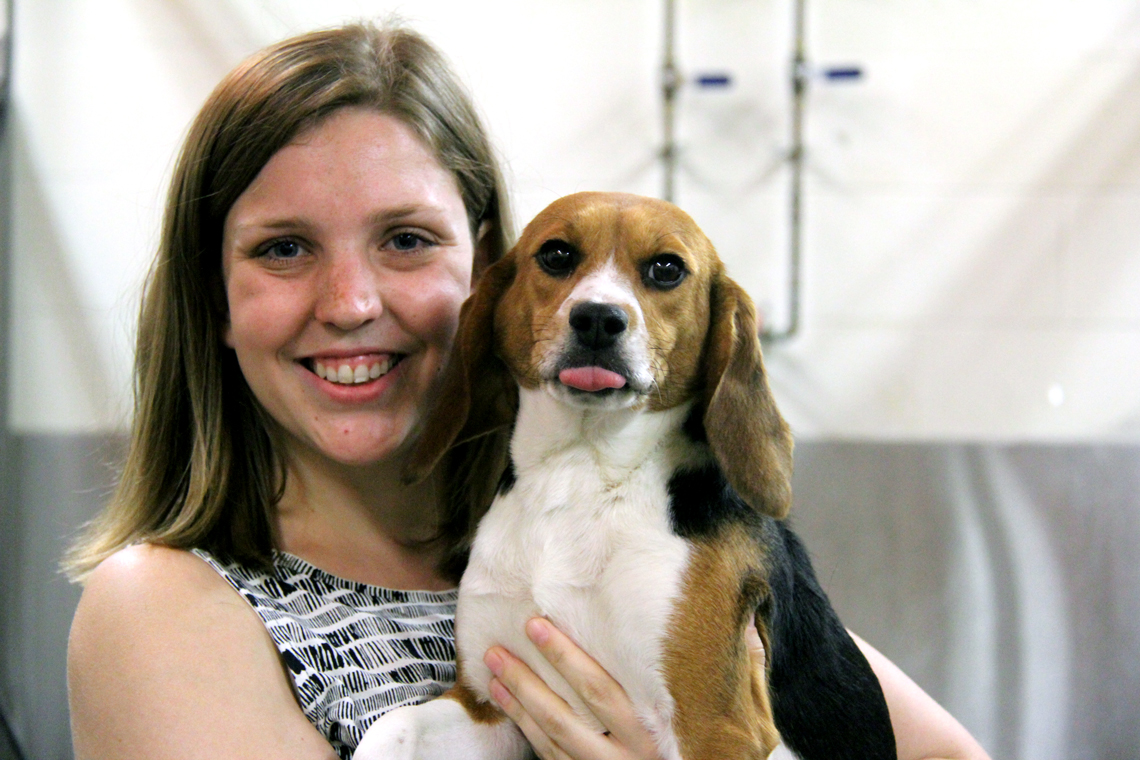 9:00 a.m.
Not all of my research is conducted in the ANNU building. For my feeding trial I work over at the Central Animal Facility, an on-campus building that houses all sorts of animals involved in research trials, from shrews to sheep. While the feeding trial is on-going, I spend every morning with the eight beagles in my trial. The dogs receive specific diets that lack mineral supplementation throughout the trial. My goal is to determine whether or not animal and vegetable ingredient based diets provide enough minerals in the diet without requiring additional supplementation. On certain days I will collect urine, fecal and blood samples to be analysed. I also walk and socialize the dogs, which means lots of cuddling every day!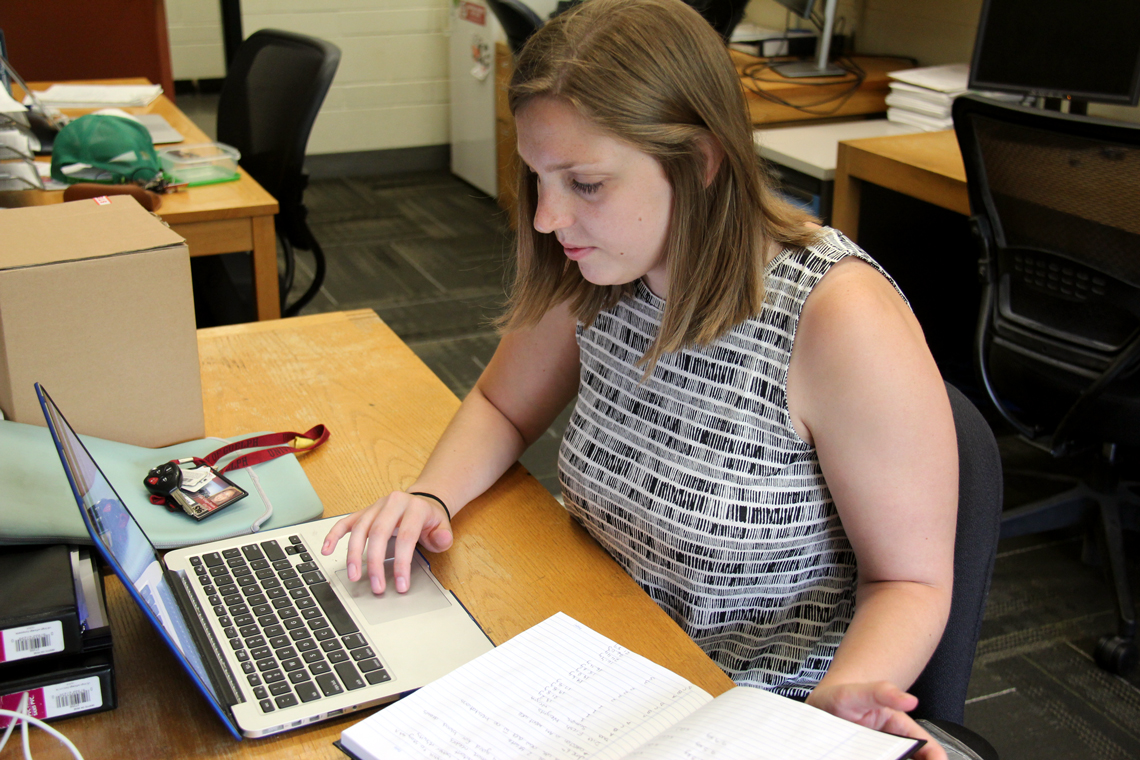 11:00 a.m.
Late morning is often when I will work at my desk. I am currently working on organizing and preparing samples, so that I can begin lab analyses, as well as conducting some data analyses. Additionally, I am collaborating on a mineral review for the journal Healthcare with Profs. Shoveller and Fan in the Department of Animal Biosciences. This involves a lot of reading and literature reviews. We have found that there isn't much information on mineral digestibility in whole foods, and research in this area has a tendency to focus solely on supplementation of minerals.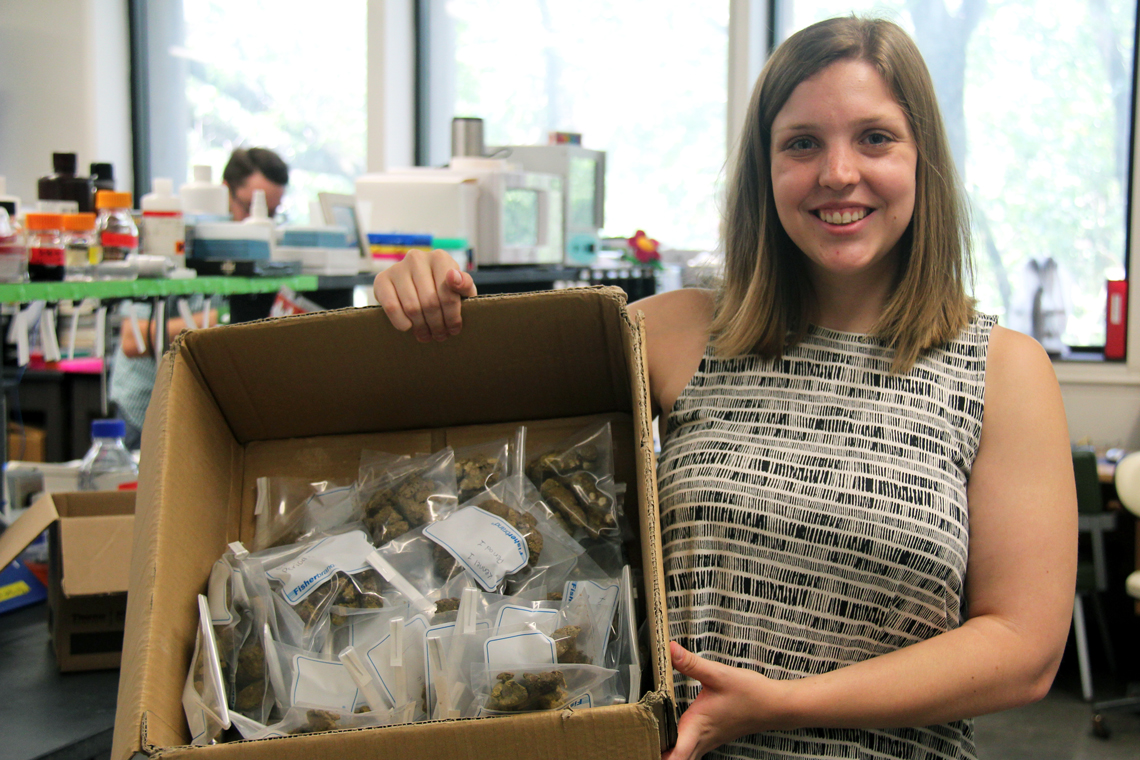 1:00 p.m.
In the afternoon I head to the lab. My tasks include freeze drying, weighing, and preparing the fecal samples collected from the beagles for grinding. These samples will then be analyzed for titanium oxide (TO), mineral content, energy, protein (nitrogen and amino acids), and crude fat. TO is one of the most important analyses I will run for my trial, as TO is used as a marker for digestibility. The purpose of TO as a marker is to account for changes in nutrient concentration as feed is digested and moves through the small intestine.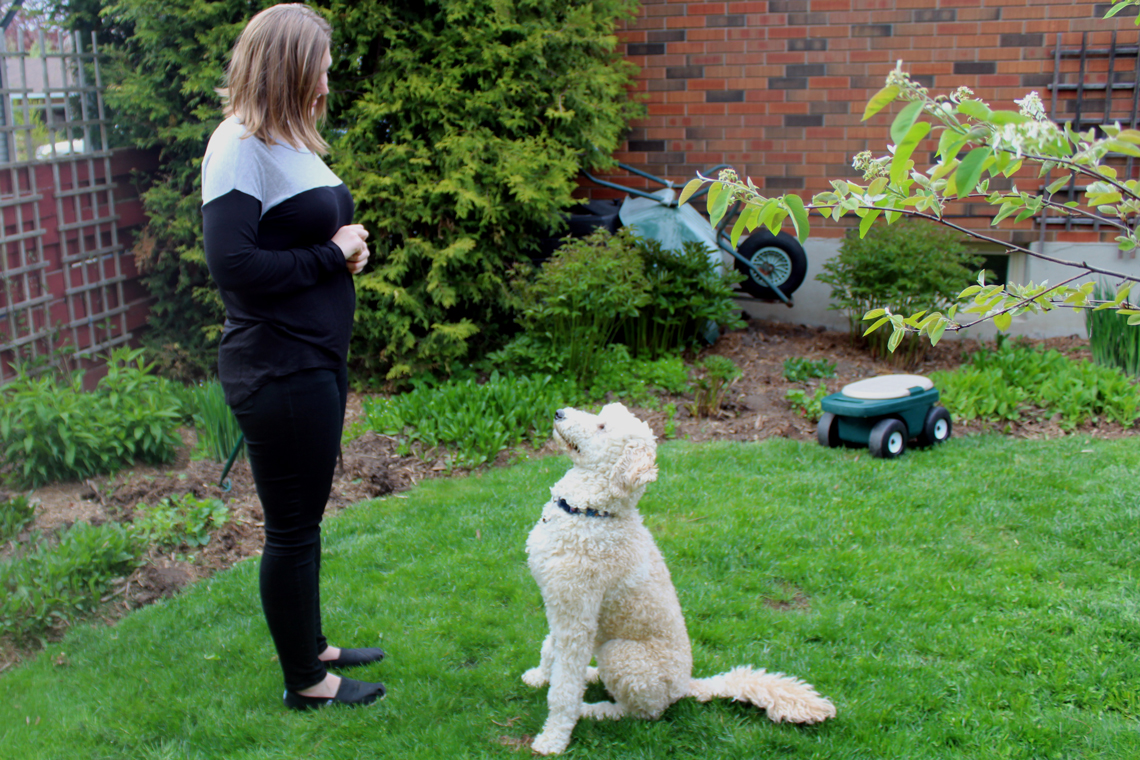 4:00 p.m.
I will often head home in the late afternoon to work on training my future guide dog, Wren. So far I have been involved in raising three future dog guides on campus. Wren often hangs out at my desk, keeping me company during the day. It can definitely be challenging balancing school and training a puppy, but it has taught me amazing time management skills.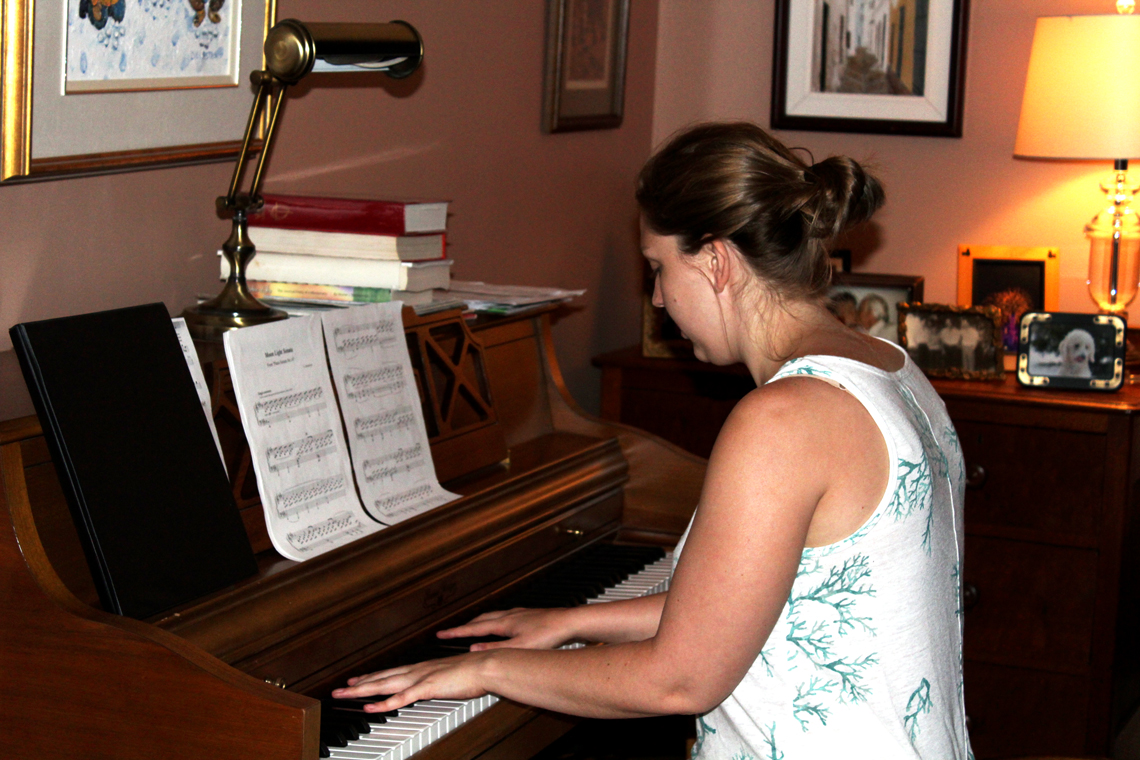 7:00 p.m.
Once my day at school is done, I often spend my evenings at the gym, lounging around the house, reading or playing the piano. While I am only a few months into my master's I cannot wait to find out what else it has in store for me, and always look forward to the next day!