A Day in the Life of Syer Tazim Haque, MSc Student
Syer Tazim Haque is a first year master's of science student in the Department of Food, Agriculture and Resource Economics (FARE). Syer completed the course work for his program in the winter and began his thesis project this summer. His thesis focuses on constructing a partial equilibrium model for the Ontario pork industry. Syer is also actively involved with the Graduate Students Association (GSA) as the Activities and Communication Co-ordinator. Learn what a typical day is like for Syer by clicking the arrows below.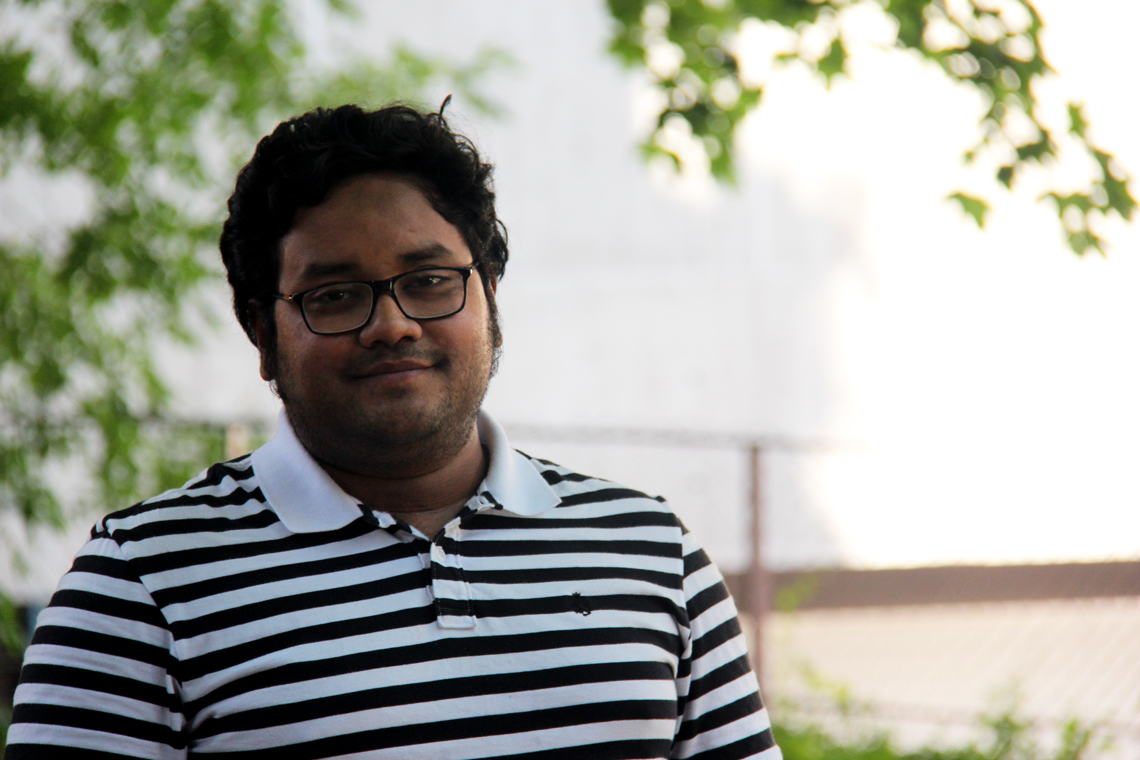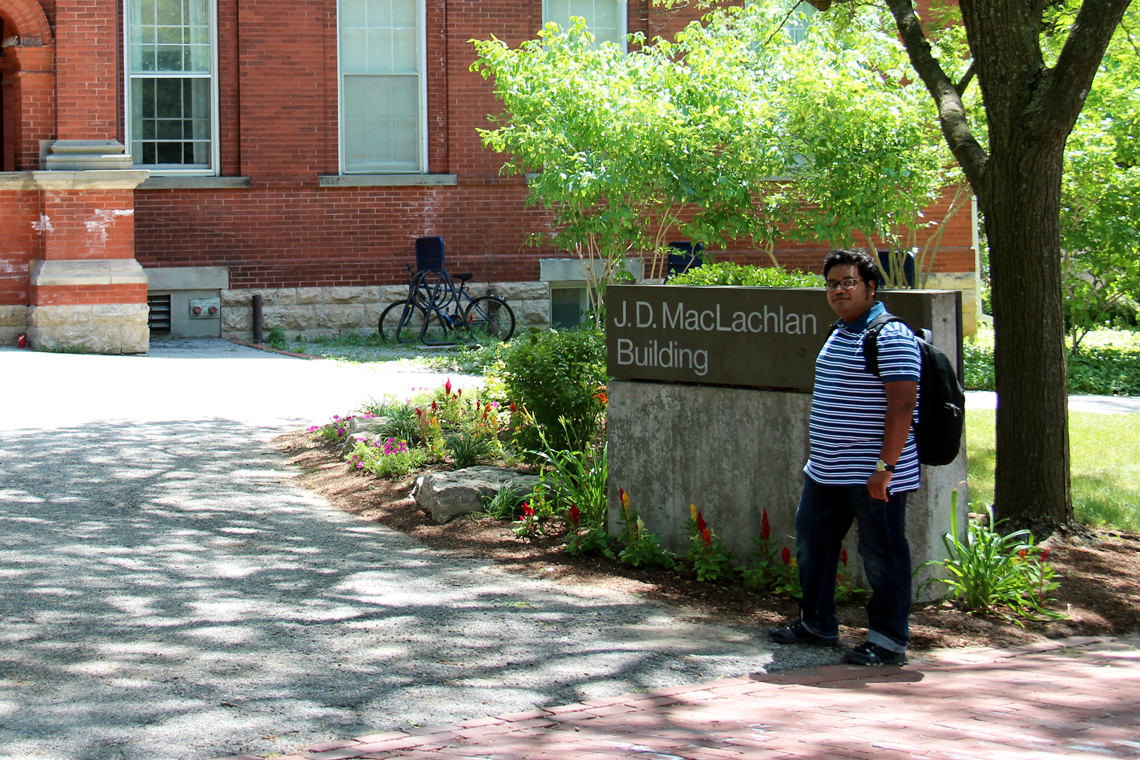 8:15 a.m.
My morning begins with a walk to campus. Living in the University of Guelph's Family Housing makes life a bit easier as it's only a short walk to my office in the J. D. MacLachlan building. The scenic walk is enjoyable in the summer and the short distance makes my walk less difficult on harsh winter days.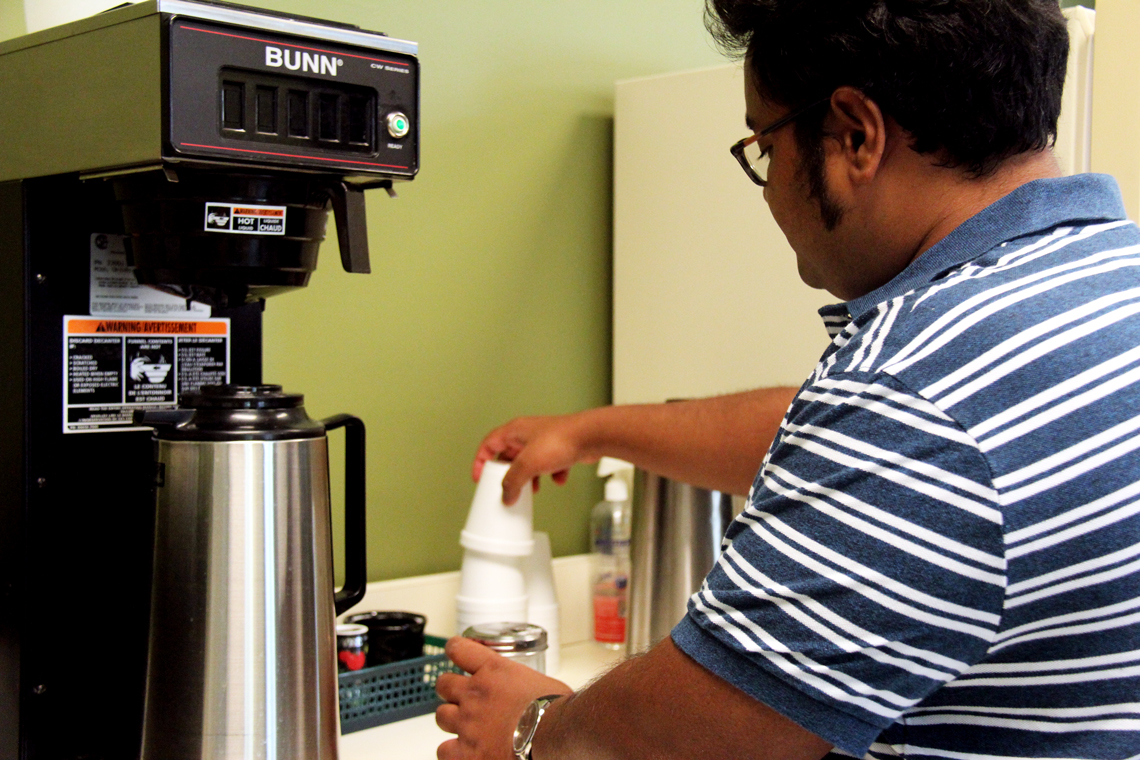 8:30 a.m.
Starting my morning in the office with a cup of freshly brewed coffee goes a long way! Having coffee in the department lounge gives me the opportunity to exchange morning greetings with fellow students and faculty members. A perk of studying in a super friendly department is that you always start your morning with a smile on your face.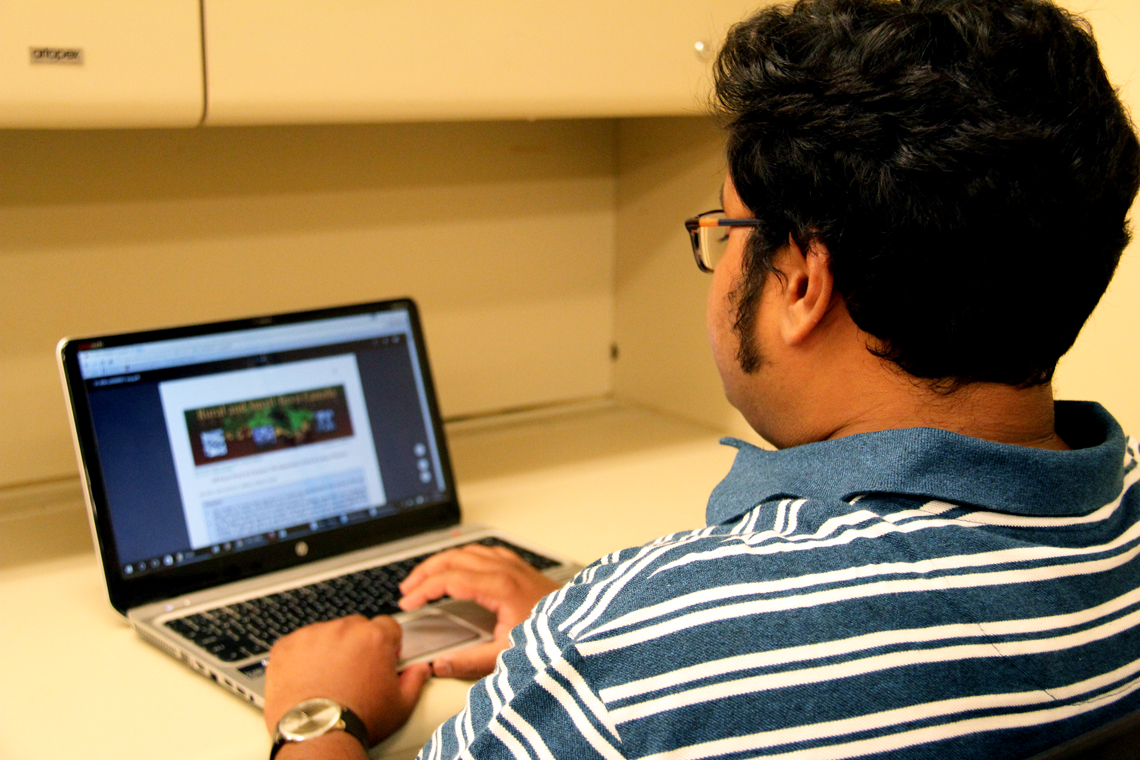 9:00 a.m.
After grabbing my coffee, I head to my office and continue to work on my thesis project. The topic of my thesis is focused on observing the effects of recently signed trade agreements, such as the Comprehensive Economic and Trade Agreement (CETA) and the Trans-Pacific Partnership (TPP), on the Ontario pork industry by constructing a partial equilibrium. The purpose of the study is to estimate the potential economic welfare effects these agreements may have on economic agents of the pork industry (farmers, suppliers, food processors, retailers and consumers). From there, I am analyzing whether the industry would require any specific policy intervention to protect it from incurring major economic losses.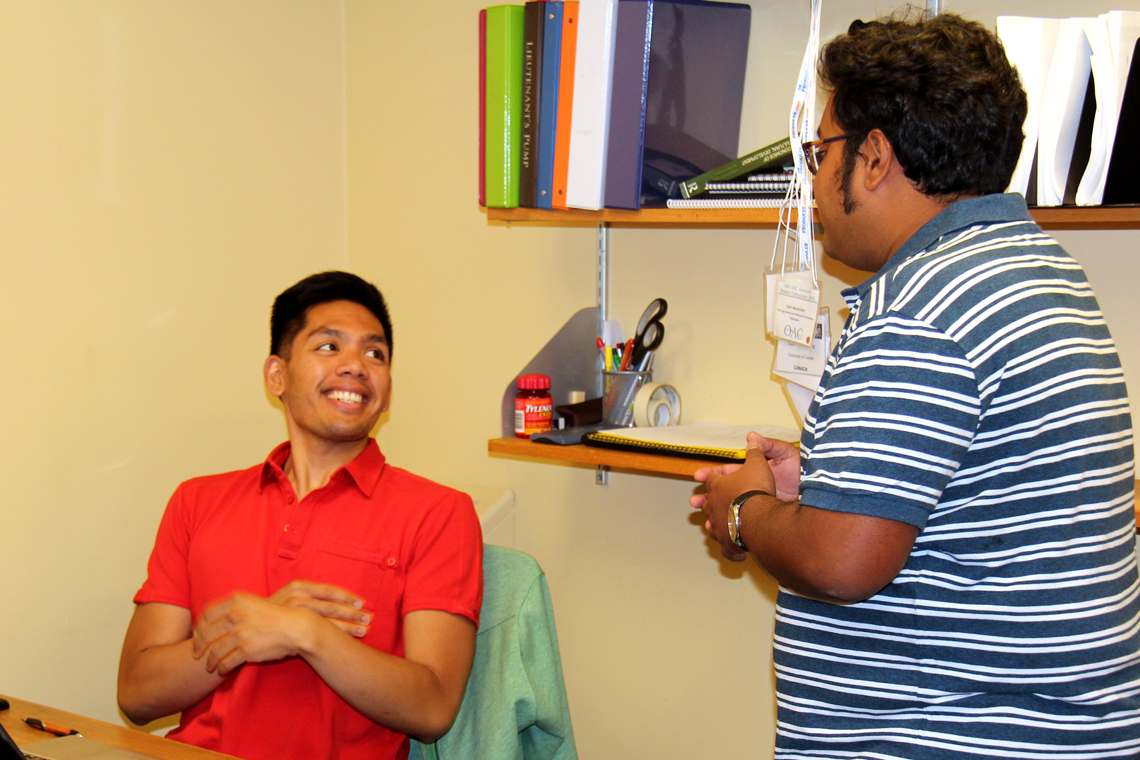 11:00 a.m.
Later on in the morning, you will sometimes find me chatting with fellow FARE students. Having offices beside other students is beneficial as it allows us to have quick discussions with one another if we are stuck on a problem. We strive to help each other out with technical problems and also often review each other's writing. I enjoy working with my fellow FARE students to provide and receive advice and help.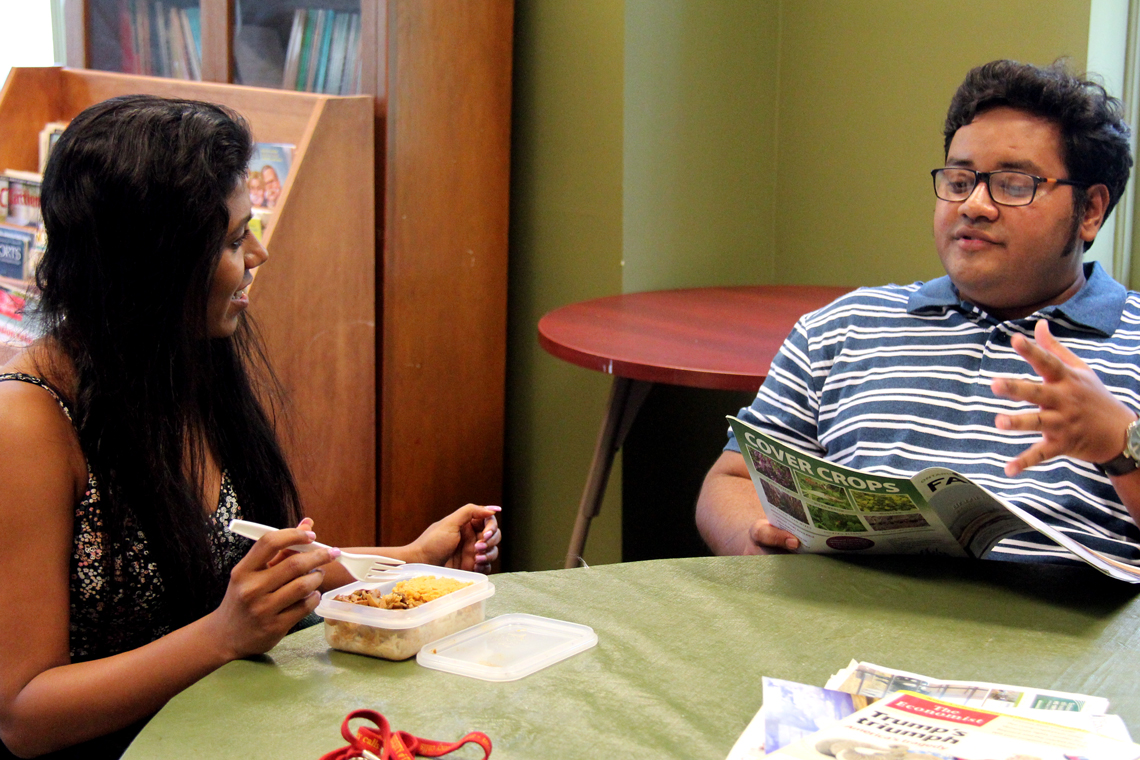 12:00 p.m.
Lunch in the department lounge provides a great opportunity for students to have lively discussions with fellow master's and PhD students as well as the faculty members. Typically, these discussions range from academic interests to fun activities.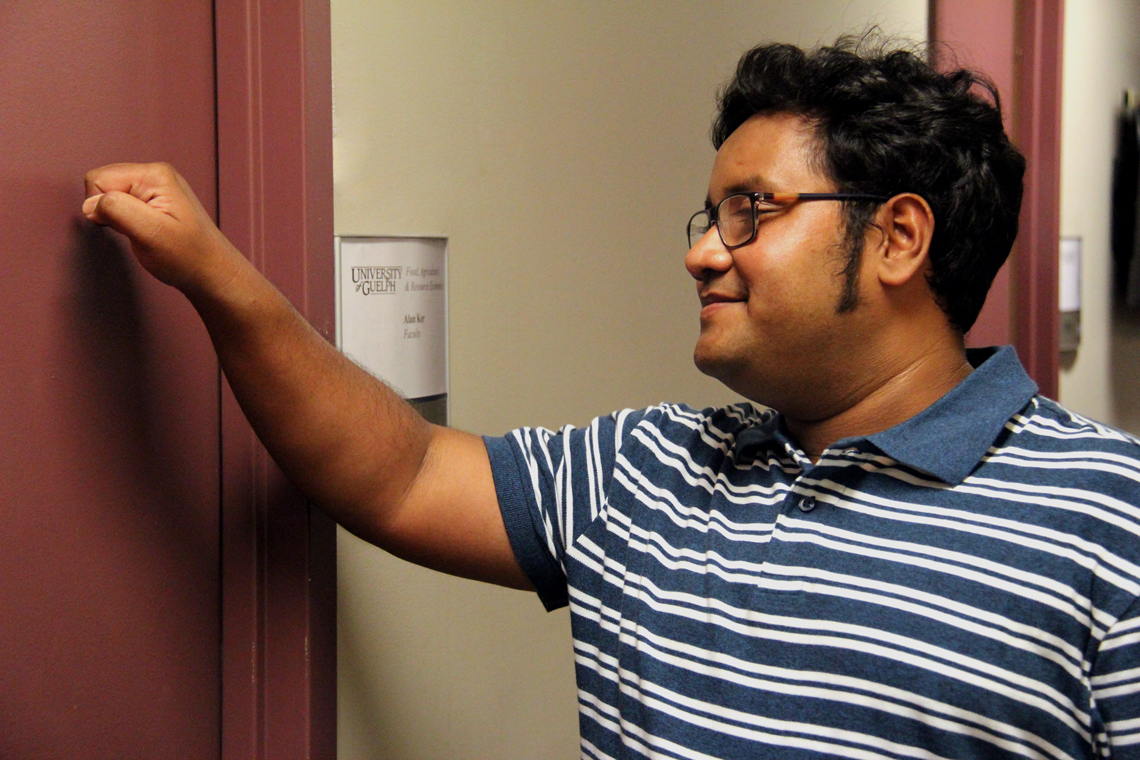 1:00 p.m.
After lunch, I meet with my advisor Alan Ker. Meetings with him are an important process in the development of my thesis. Alan is a super helpful and friendly person, and I know I never need to hesitate to knock on his door for guidance. From building the skeleton model and setting up equations to collecting the data for running regressions and simulations, everything is thoroughly discussed during our meetings.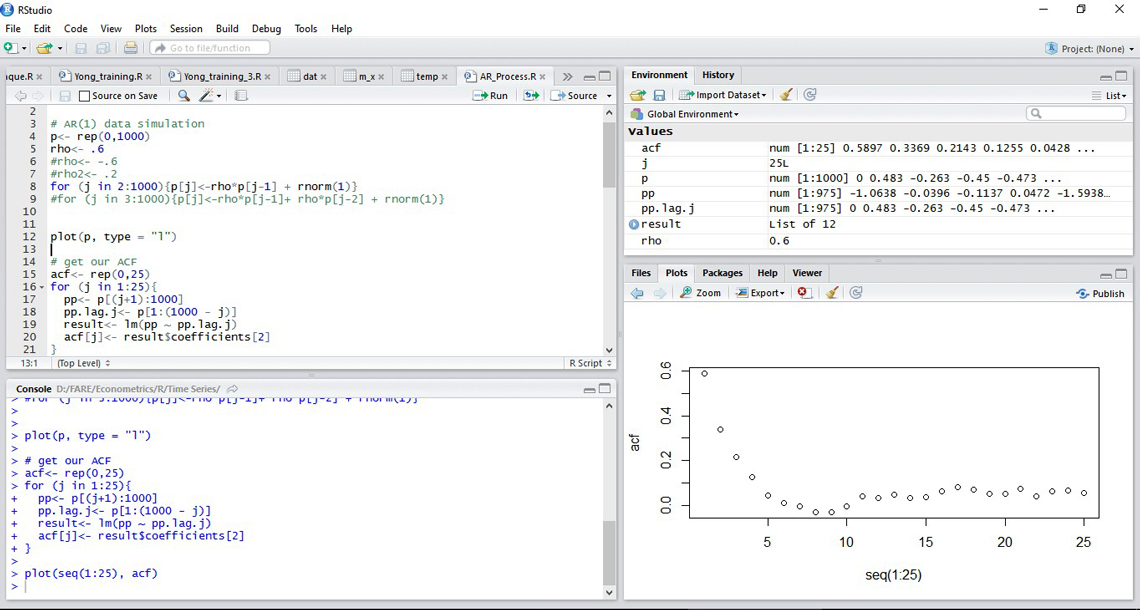 2:00 p.m.
After meeting with Alan, I continue my afternoon in my office. I always think it is a good practice to start reflecting on the things discussed during a meeting immediately afterwards. I review the suggestions from our discussion and continue to work on developing the partial equilibrium model. Collecting data is a big requirement for constructing such a model. While Statistics Canada is the primary source of data collection for the pork industry, other important sources are Ontario Ministry of Agriculture, Food and Rural Affairs (OMAFRA) and Agriculture and Agri-food Canada (AAFC). I collect the data in Excel, but my primary tool for analysis and modelling is the statistical software R. The partial equilibrium models enable me to simulate potential scenarios and observe their effects on different economic agents.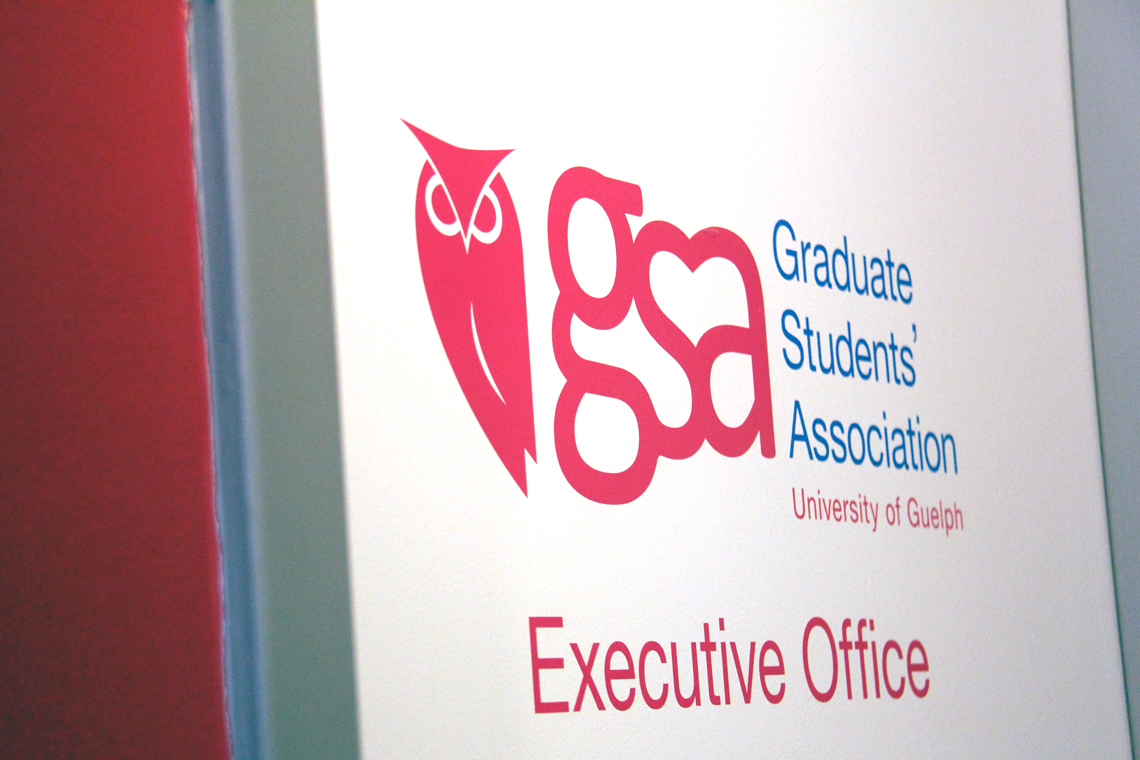 4:30 p.m.
Later in the afternoon, I spend some time working on tasks for the Graduate Student Association (GSA). I am actively involved in the GSA as the Activities and Communication Co-ordinator and am responsible for organizing events for graduate students. I plan many events such as social activities and professional skills development workshops. These events help graduate students build professional skills and also gives them an opportunity to have some fun and blow off the steam of stressful graduate work.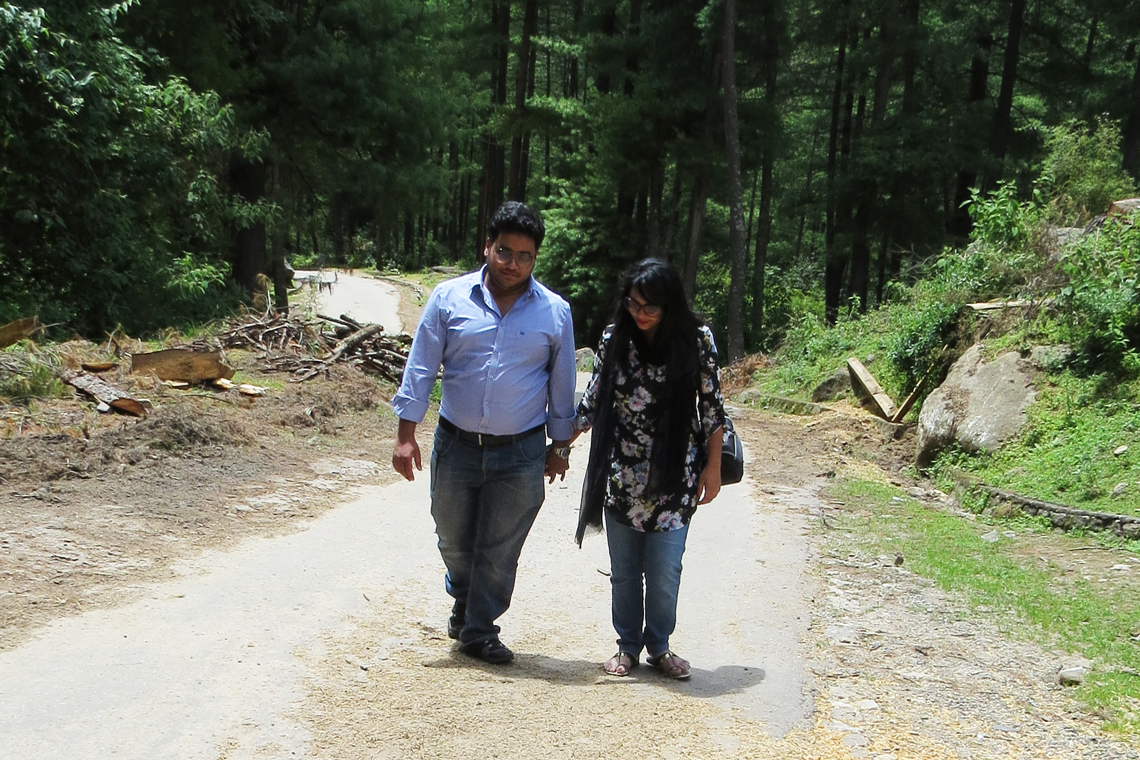 6:30 p.m.
In the evenings I try to relax and refresh my mind by taking a nice calm walk. This helps to relieve stress. My wife, Nabila, and I enjoy walking around the University of Guelph campus in the summer. Guelph's greenery soothes my eyes and calms my mind!