A Day in the Life of Haley Matschke, MSc Student
Haley Matschke is a master's student in the School of Environmental Sciences working for Dr. Ivan O'Halloran, based out of the University of Guelph's Ridgetown Campus. Her research focuses on phosphorus leaching in agricultural systems. Haley is working to identify how different fertilizer application methods on varying soil textures may impact phosphorus leaching and its associated environmental effects. Learn what a typical day is like for Haley by clicking through the arrows below.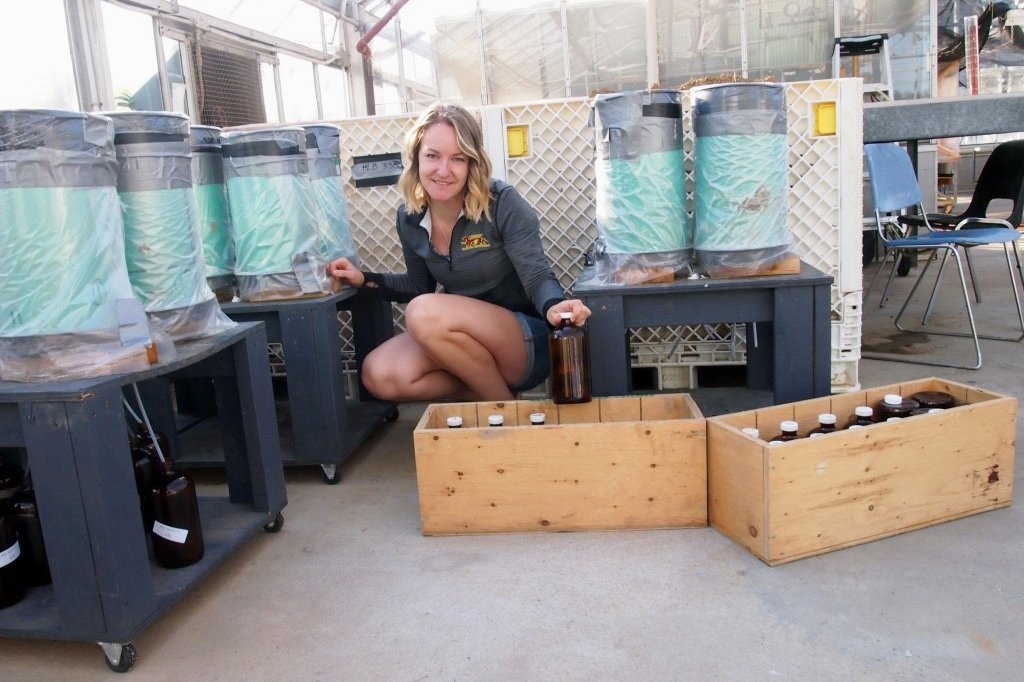 8:00 a.m.
My mornings usually start with a walk to campus and a stop at the campus' greenhouses where my research experiment is currently taking place. Depending on the day, my task here will vary. Some days you can find me running a rainfall simulation, while others I may be collecting the simulations' leachate samples. For my research, I am using intact field collected soil cores and a series of rainfall simulations to determine how fertilizer application methods may influence phosphorus leaching. Using these rainfall simulations, I am able to stimulate water movement within the soil and collect the percolated water (leachate). Phosphorus is able to move with water through the soil profile and exit the system in the leachate. In agricultural systems, leached phosphorus can be transported to nearby aquatic systems. Once there, excess phosphorus may promote plant and algal growth, which can cause environmental harm.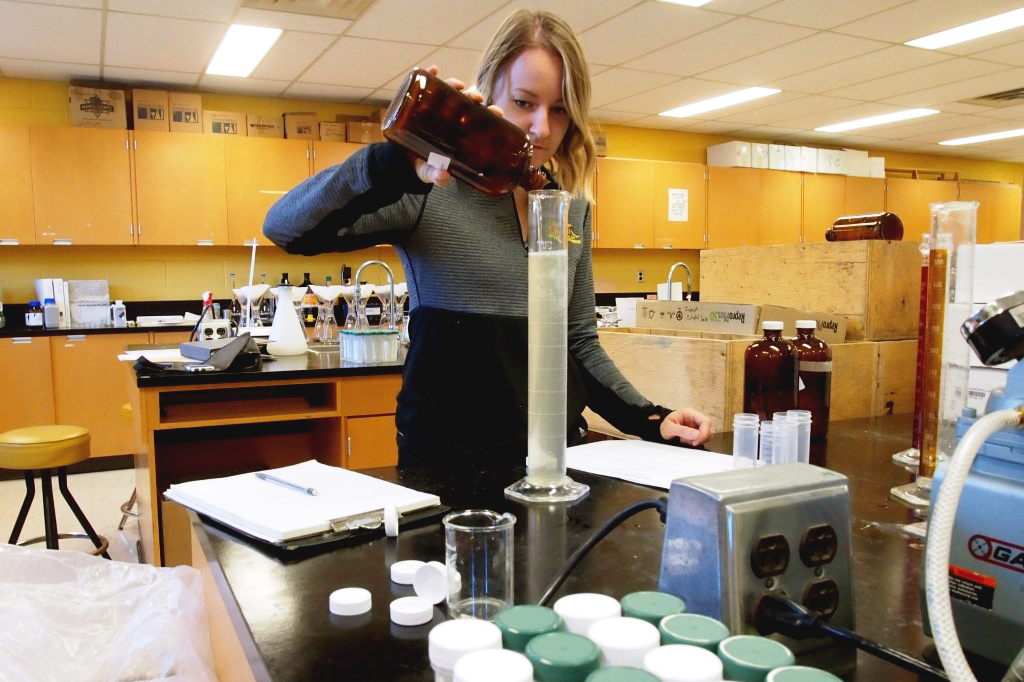 9:00 a.m.
On days where I am collecting leachate samples from the previous day's rainfall simulation, I continue my morning in the lab. With these samples I record the total leachate volume from each soil core sample and then prepare two 50mL samples. I will analyze these 50mL samples later on in my research to determine phosphorus concentrations within the leachate.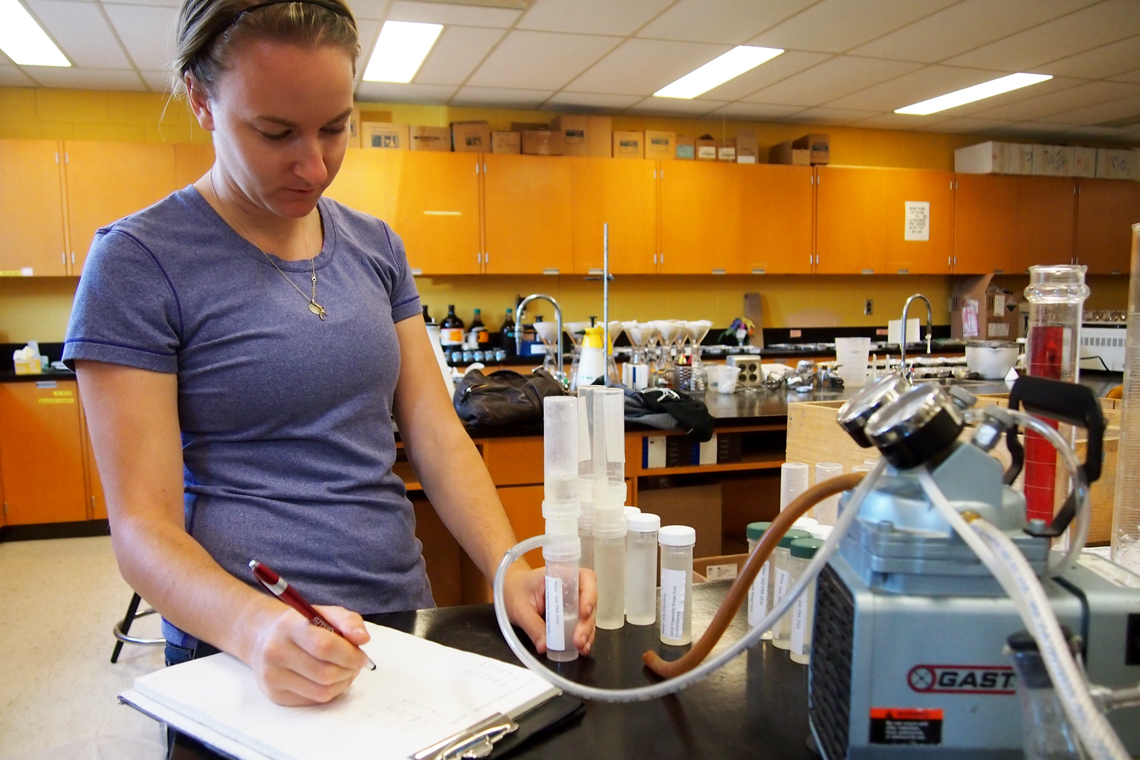 10:30 a.m.
One of the two 50mL samples I prepare will need to be filtered prior to analysis. Filtering this water sample allows us to detect any dissolved concentrations of phosphorus within the leachate. This information is useful for determining the portion of phosphorus in the leachate that is readily available for plant uptake. The remaining 50mL water sample will be acidified and used to detect all forms of phosphorus present within the leachate, providing an estimate of total and particulate-bound (non-dissolved) phosphorus present within the leachate.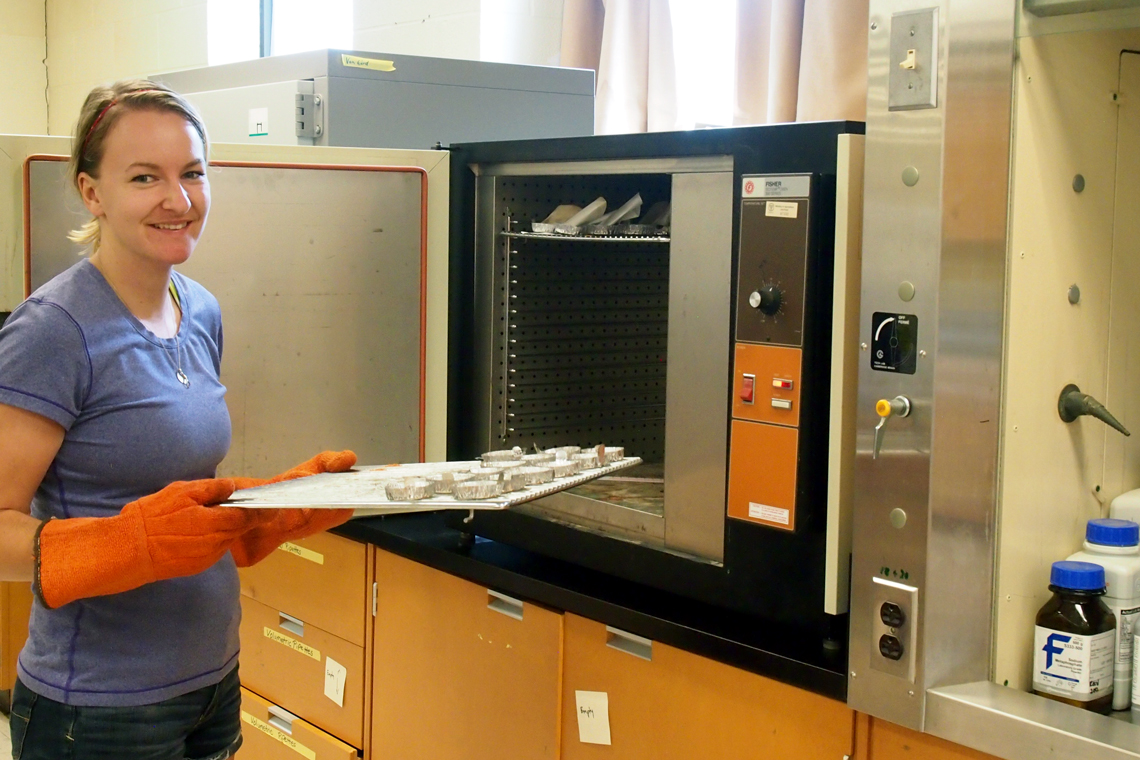 1:00 p.m.
In the afternoon, I usually switch gears and try to finish some of my other lab tasks for the day. I am also working on collecting moisture content from a previous set of soil core samples. In order to do this, I weigh out five-gram samples of the soil and place them in our soil oven to dry for the next 24 hours. I record the new weight of each sample at 24-hour intervals until a constant weight is achieved. I will use both the wet and dry soil weight to calculate the amount of moisture originally present within my soil sample.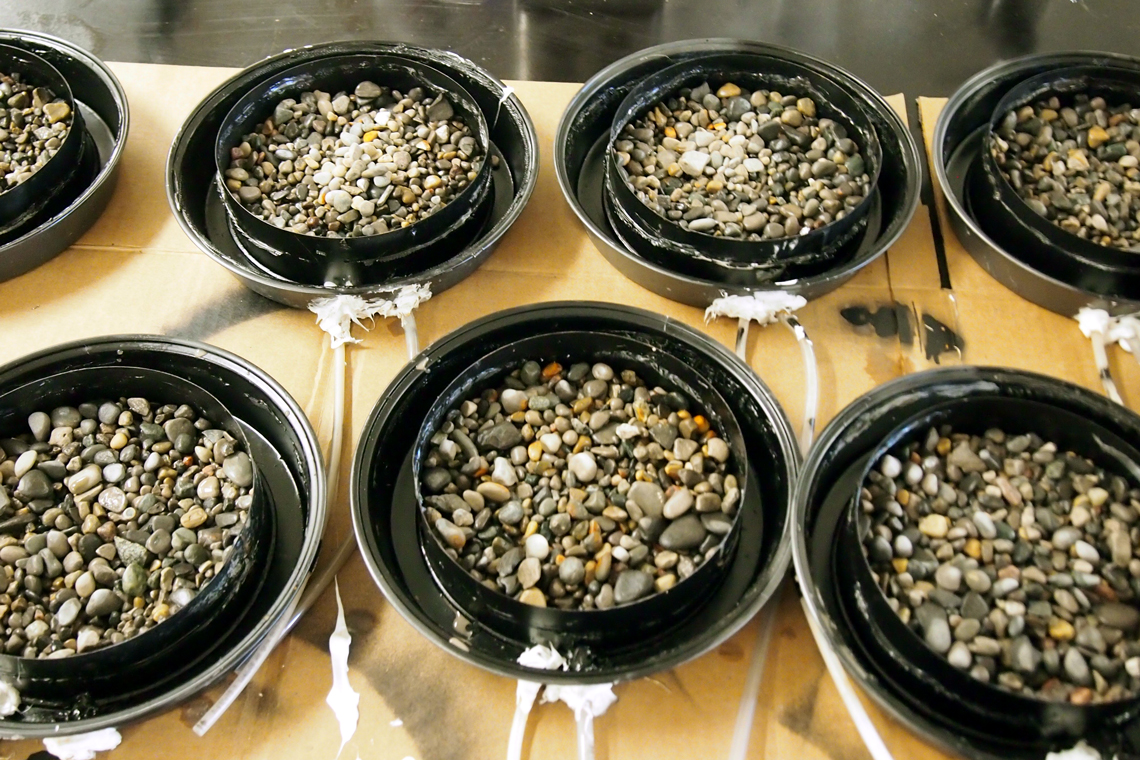 2:00 p.m.
I continue my afternoon working on some of my other current lab tasks. One of these tasks involves preparing old soil core bottoms for the next set of fresh soil cores. These bottoms were specifically designed for my study in order to determine where water and phosphorus are moving through the soil cores. Each core bottom consists of two drains: an inner and outer drain. Using my collected leachate volumes from each inner and outer drain, I will attempt to determine if water is flowing proportionally through the soil core or if flow-altering pathways exist.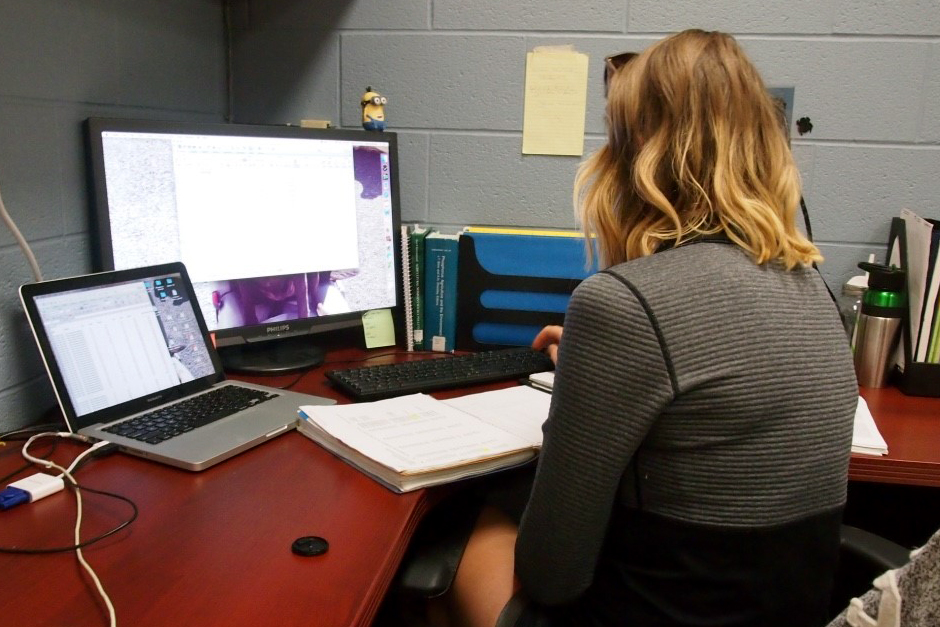 3:00 p.m.
Before I head home for the night, I usually settle at my desk for a couple of hours. I work at my computer, entering the leachate volumes from the morning's collected data. You can also find me preparing paperwork or labels needed for the next day's tasks, or reading journal articles and working on my thesis literature review.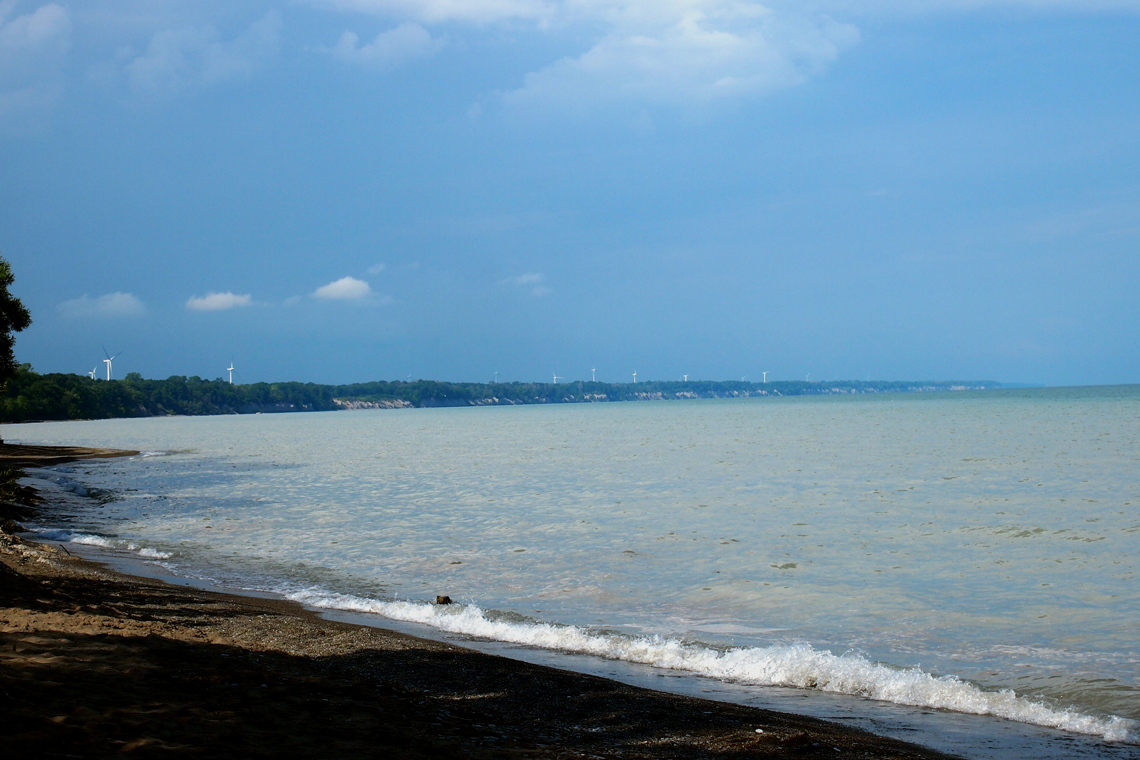 7:00 p.m.
In my downtime in the evenings I try to venture out to Lake Erie as often as possible. One of the perks of working at the Ridgetown Campus is how close we are to lake! For me, this means lots of nights spent riding my bike out to the lake, runs near or through Rondeau Park, or even the occasional paddleboard trip out on the lake.