A Day in the Life of Patrick Birkl, PhD Student
Patrick is a PhD student in the Department of Animal Biosciences who studies animal welfare, specifically poultry welfare, with his advisor Prof. Alexandra Harlander. Patrick's research focuses on understanding the causes of feather pecking in laying hens and how to prevent this behaviour on farm. View a typical day for Patrick by clicking through the arrows below.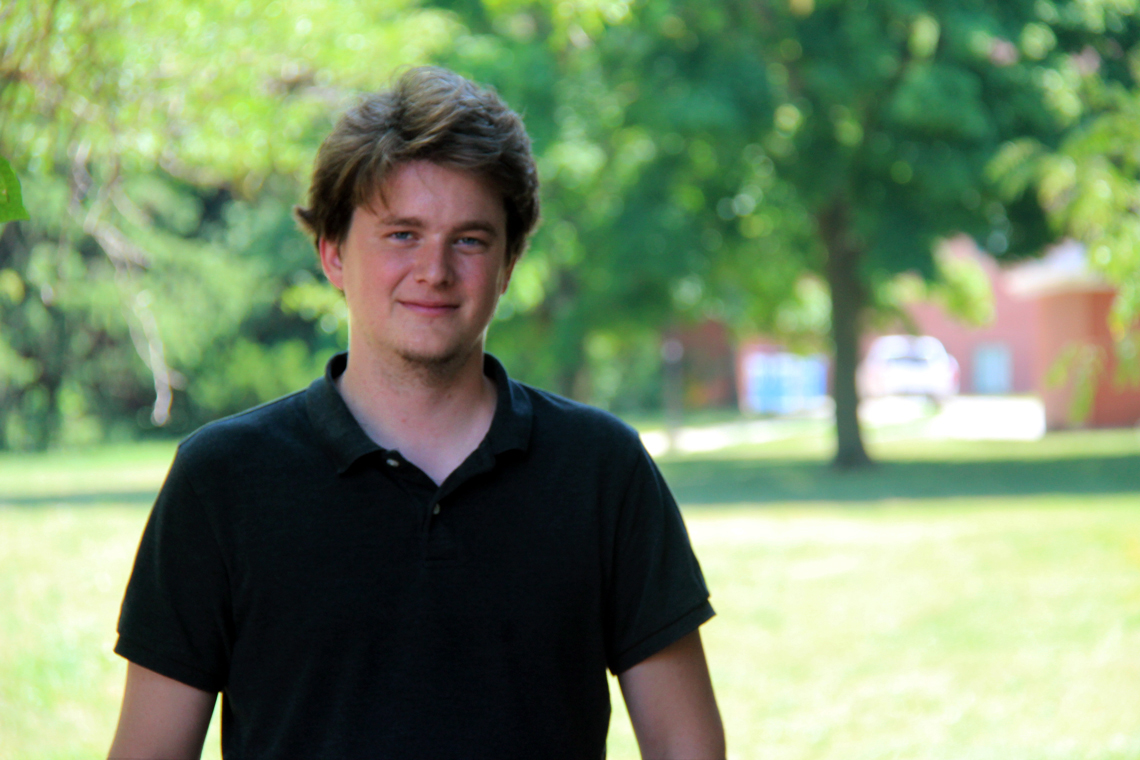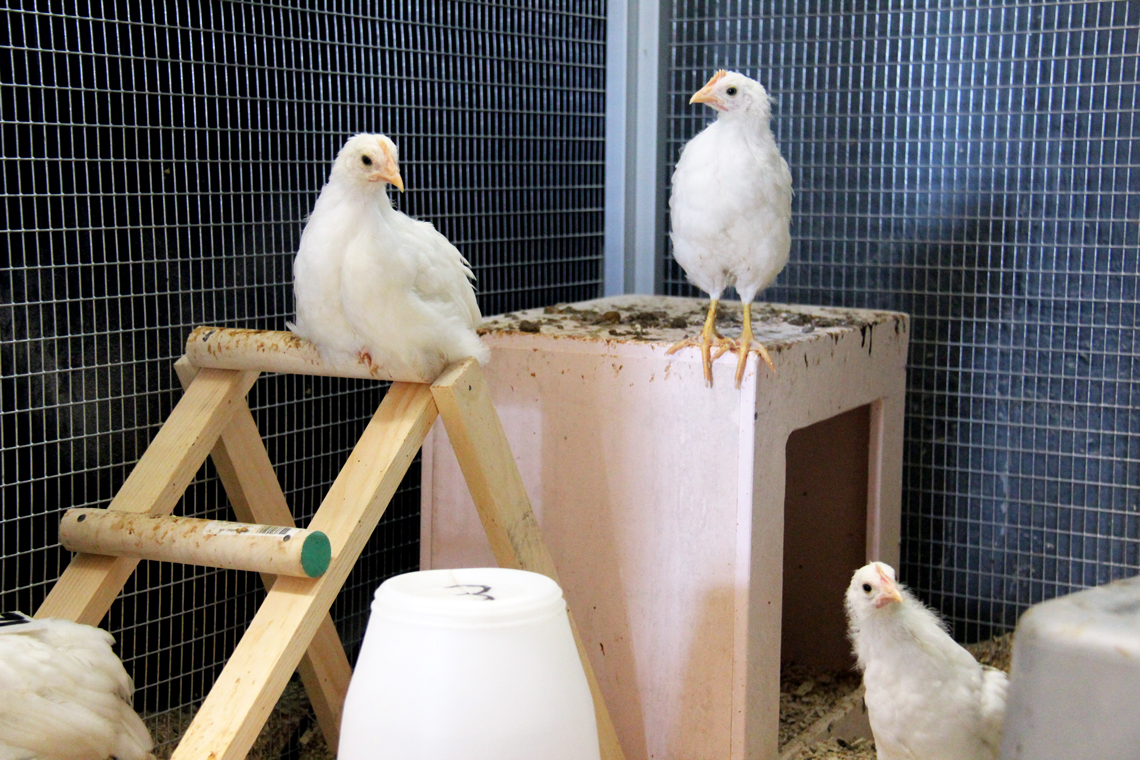 9:00 a.m.
In the morning, I head to the Dairy Barn behind the Animal Biosciences building, which is where my current research trial is being conducted. Here I check on the hens that are being used in the trials. The hens are housed in two groups (six replicates per group); one group is reared in the presence of a mother hen and the other group is reared without a mother hen, which is common in egg and meat production. Our aim in this study is to investigate what role maternal deprivation plays in the development of feather pecking behavior. It is common in many other species for abnormal behaviour to occur when the young are raised without or separated from a mother too early.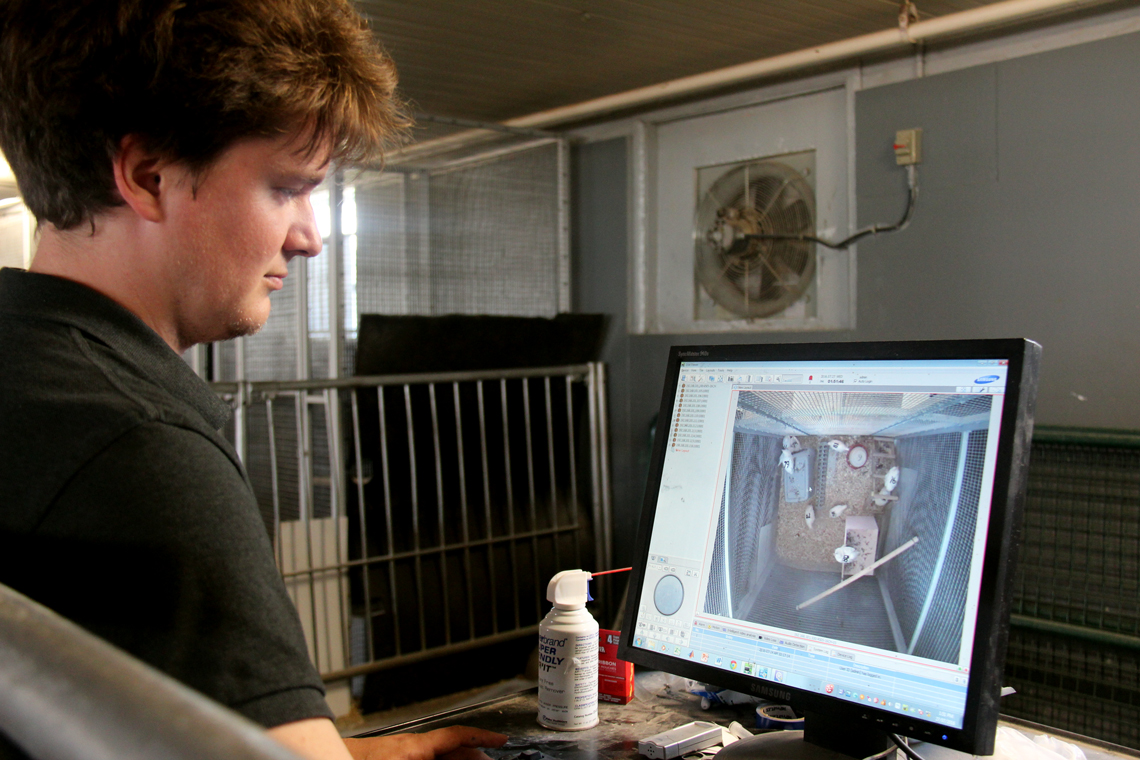 10:00 a.m.
My morning continues by checking on the recording schedule for the cameras placed in the aviaries. The cameras are usually set to capture video from 10:30 a.m. to 12:00 p.m. and from 3:00p.m. to 6:00p.m. The times are specifically chosen because during this time the chickens have already been fed, were provided fresh water and all routine checks (morning and evening) are completed. Thus, the chicks are undisturbed and their natural behavior, and potentially occurring feather pecking behavior, is most likely to be observed. I will later watch and analyse the videos and take notes of any obscure behaviour such as feather pecking. We also look at the levels of general activity of the chicks and their natural behaviors such as foraging and dust-bathing, as we want to map these behaviors in relationship with environmental (mother hen) and genetic factors. Each chicken carries a little "backpack" with a number on it. This way we can observe behaviour and collect data on an individual basis.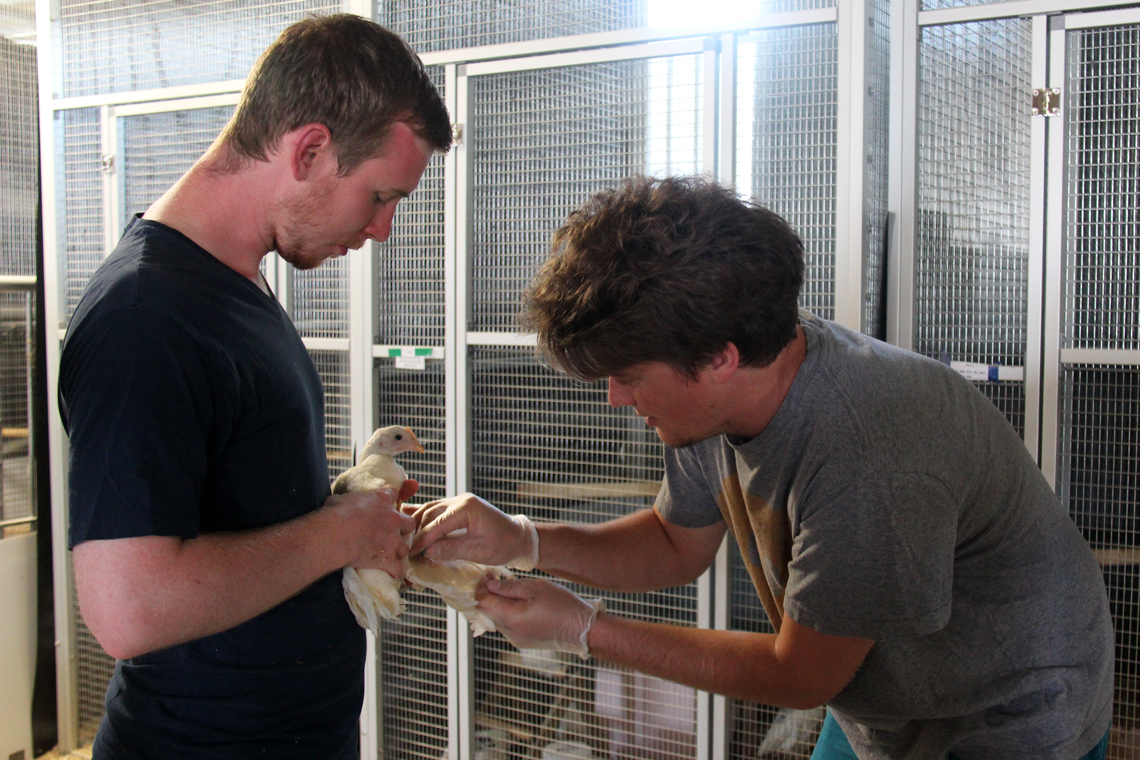 11:00 a.m.
While at the barn in the morning, I check in with the undergraduate students that are assisting with the project. They regularly assist with weighing the birds, collecting feces, or in this case, blood samples. We are collecting blood from the chickens which will then be centrifuged in order to obtain plasma. The plasma contains the amino acids and metabolites related to the serotonergic systems that we are interested in. The samples are then taken back to the lab to be centrifuged and frozen until it is time for the analysis.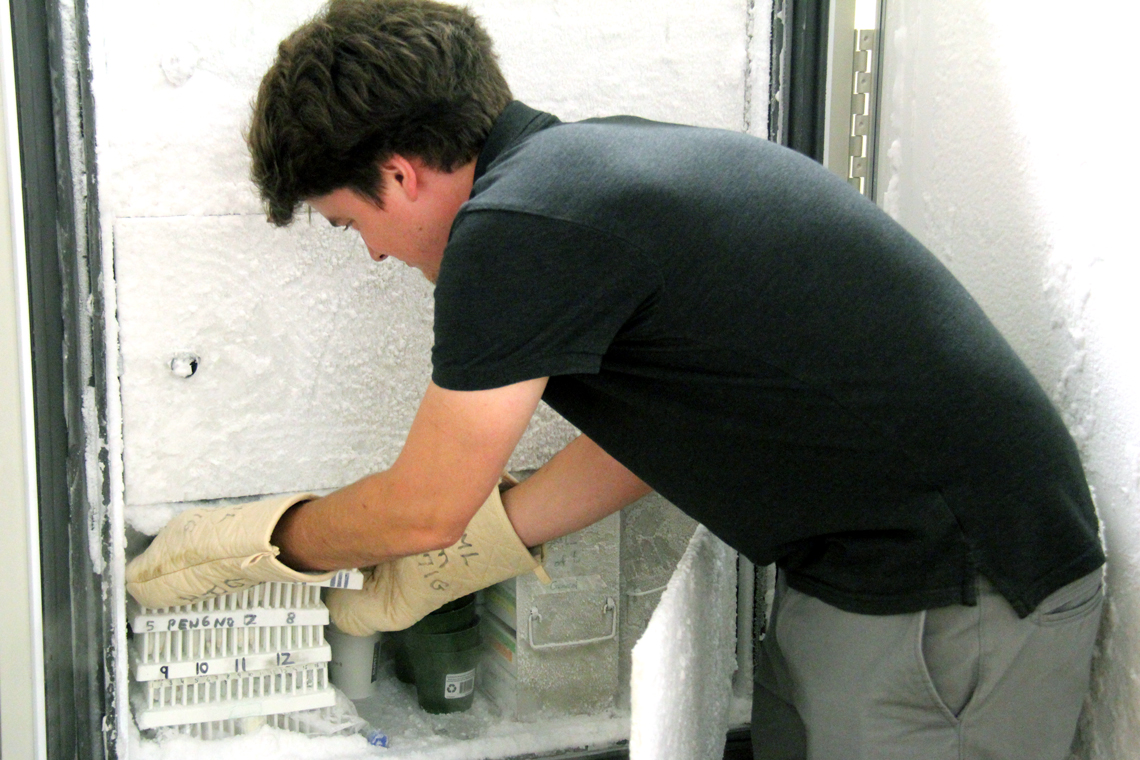 1:00 p.m.
In the afternoon, I take out some of the older blood-plasma samples to prepare them for analysis. We are looking at concentrations of several amino acids and metabolites of amino acids to investigate the activity of certain enzymes linked to the metabolism of serotonin and its precursor tryptophan. The serotonergic system of vertebrates is very complex and is involved in many important physiological processes, but also in several disorders and diseases. In humans, dysfunctions in the serotonergic system can be important in the development and treatment of conditions such as depressive disorders or hyperactivity disorders. We believe that in poultry species the serotonergic system plays an important role in the development of feather pecking. The birds we are using in my trial were naturally bred to exhibit hyperactive behaviour, as we want to either confirm or disprove that this hyperactivity, and thus the serotonergic system, is linked to feather pecking.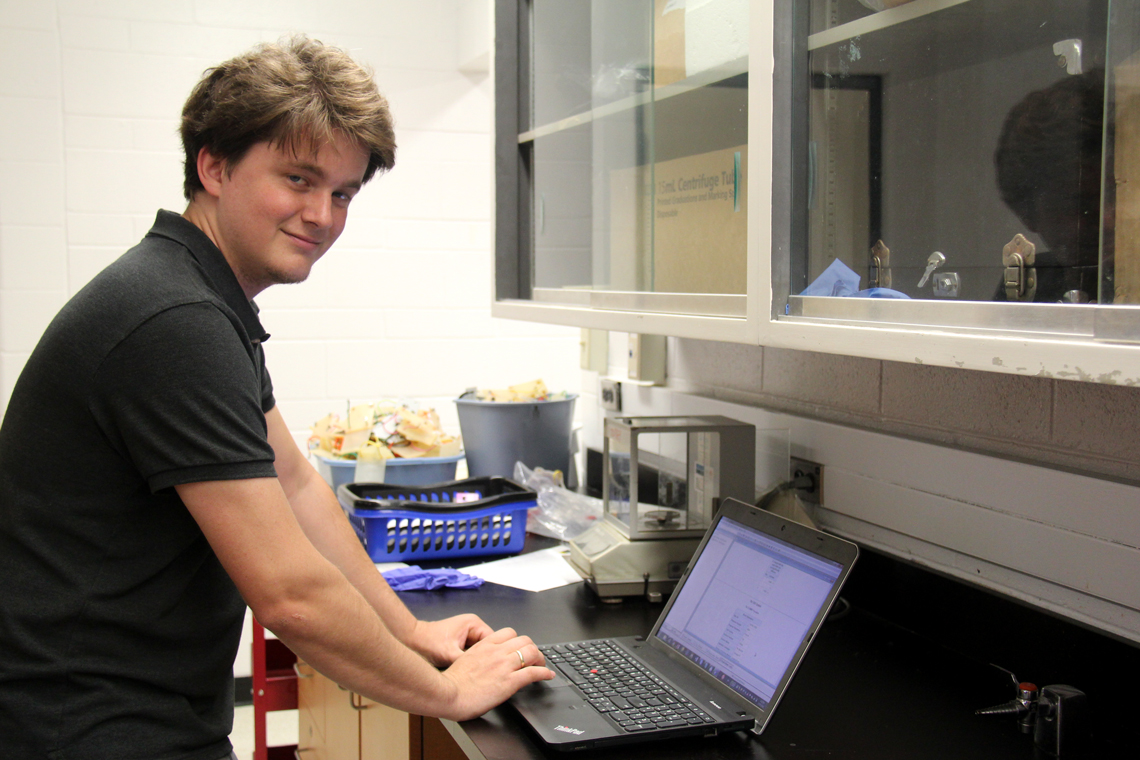 3:00 p.m.
Later in the afternoon I spend time at my computer conducting analysis on observations from the video recordings, and from completed samples. I use SAS and am looking for statistical differences based on the genetic background (line) of the chickens, performed behavior (feather pecking or levels of activity) and physiological data such as enzyme activity or concentrations of amino acids (precursors of serotonin).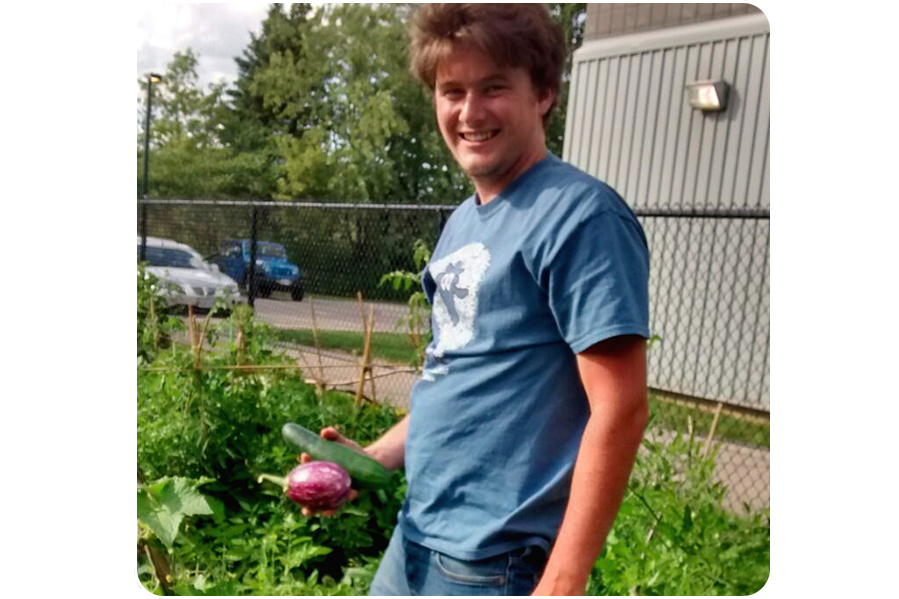 6:00 p.m.
On the odd evening when I have some extra time, I like to spend it in the garden. My wife, Katharina, and I grow our own pak choi, kale, radishes, tomatoes and cucumbers. The work in the garden is relaxing for me and I enjoy being outside after a long day in the office or in the barn. We live in the University of Guelph's Family Housing units, which provides the community garden. Working in the garden also gives us the opportunity to interact with fellow gardeners who are from a wide variety of cultural and geographical backgrounds; Asia, North and South America, Europe and Africa. Everybody meets, chats and exchanges vegetables. To me, and my wife Katharina, this is a really rewarding way to spend our evenings.