2019 OAC Faculty & Staff Awards Presented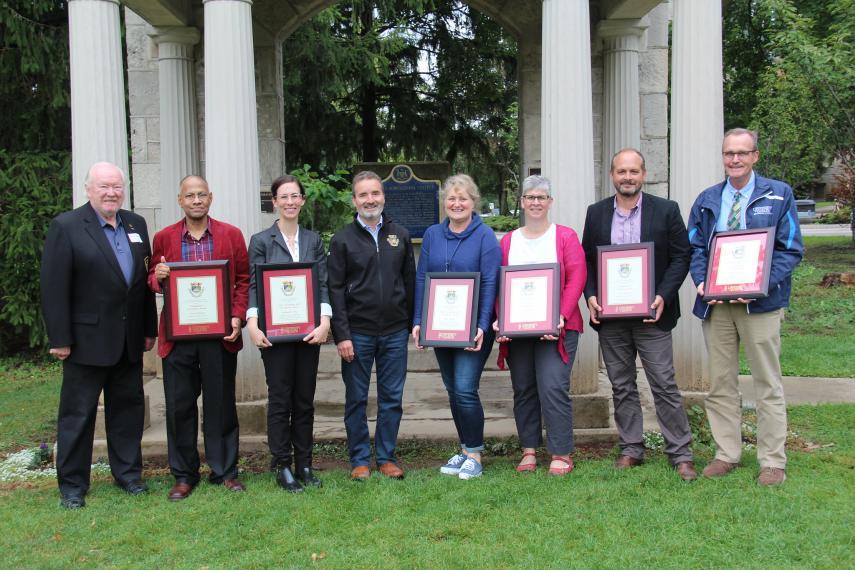 On September 12th, at the OAC Welcome Back BBQ, four faculty members were presented with the 2019 OAC Alumni Association and OAC Alumni Foundation faculty awards. In addition, the 2019 OAC staff awards were presented.
OAC Alumni Distinguished Teaching Award
Prof. Lisa Duizer, Department of Food Science, received the Distinguished Teaching Award, which recognizes the importance of effective teaching by faculty who play a significant role in the education of OAC students.
Since starting as Assistant Professor in 2009 to her recent appointment as Chair, Duizer has made a significant contribution to teaching in the Department of Food Science.
Most notably her transformation of the undergraduate program's capstone courses in food product development – after which our students have competed against top culinary schools in the Research Chefs of America Product development competition and placed in the top 3 five times since 2015.
One of her students had this to say: "she makes her students feel that our education is her top priority. Through her teaching and mentoring, she pushes us to produce work of the highest quality. The amount of time the Dr. Duizer dedicates to students shows that she is more than a professor; she is truly an amazing teacher."
OAC Alumni Distinguished Researcher Award
Prof. Amar Mohanty, Department of Plant Agriculture, received the Distinguished Researcher Award, which recognizes outstanding research accomplishments by an OAC faculty member.
Mohanty joined the University of Guelph in 2008, as the Premier's Research Chair in Biomaterials and Transportation. He founded the Bioproducts Discovery and Development Centre (BDDC) – a world-leading, state-of-the-art facility that has become a hub for bioproduct development in Ontario.
Mohanty has an exceptional publication record (with his lifetime scientific contribution exceeding 800 publications, including 362 peer-reviewed journal papers, and 60 patents) and some of the top international awards from his international peers, Amar's research hub is making impact by addressing practical questions of sustainability and bioeconomy relying on renewable resources.
A colleague has said of Mohanty, "It has been a pleasure to work with [him]. He is a visionary leader with a great interest for looking out for real-world applications that can make a difference to our planet, while having the perseverance and passion to realize this."
OAC Alumni Distinguished Extension Award
Prof. Vern Osborne, Department of Animal Biosciences received the Distinguished Extension Award, which recognizes effective extension efforts used successfully in extension outside the classroom.
Osborne has been a tenured faculty member of the Department of Animal Biosciences since 2008. Osborne is also an alumnus of OAC, having earned his Bachelor's, Master's and Doctorate degrees from the College.
Arguably the best use of Osborne's abilities was his appointment by the U of G as the Science and Design Lead for construction of the new Livestock Research and Innovation Centre at Elora, which, as a result of his efforts, is now a fully functioning, state-of-the-art dairy research facility.
A colleague said of Vern, "Although Vern was involved in all aspects of the [Elora Dairy Facility] design, he was a strong and continuous advocate for incorporating extension and industry outreach capacity within the research centre. Vern's vision and passion was to make sure our research output could rapidly and effectively transferred to the local, national and international dairy communities."
OAC Alumni Foundation G.P. McRostie Faculty Award
Prof. Peter Sikkema, Department of Plant Agriculture, received the G.P. McRostie Faculty Award, which recognizes the importance of effective advising and mentoring by faculty who play a significant role in the education of OAC students.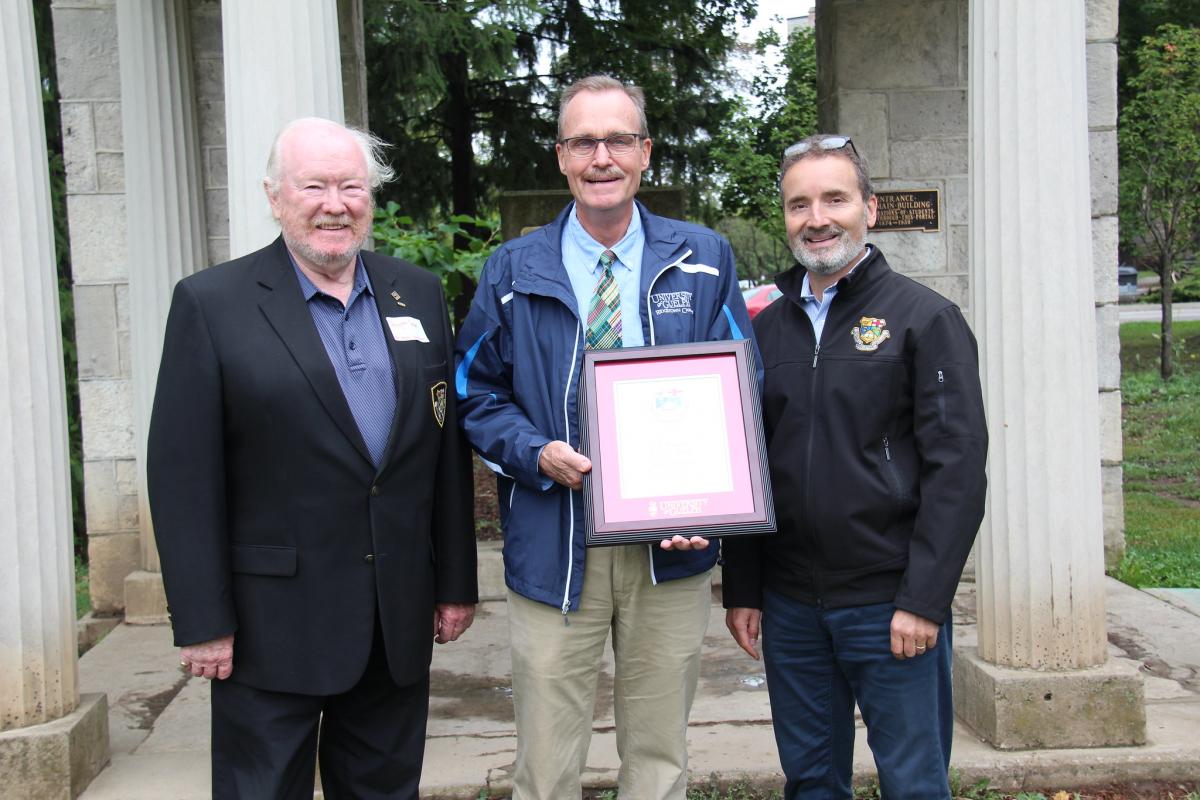 Sikkema joined Ridgetown Campus in 1988 as a lecturer. He became a University of Guelph college professor in 1997, and joined the Department of Plant Agriculture in 2003. Sikkema has been involved in teaching, applied weed research and extension in field crops for nearly 30 years. He supervises a large team that currently includes 1 research associate, 4 research technicians, 7 graduate students and 10 summer research assistance. This team completes more that 200 field studies per year.
His students said of him, "After graduating from Ridgetown, I went on to the University of Guelph's main campus to complete my B.Sc. in Agriculture. Soon after graduation, I thought about how much I enjoyed Peter's classes at Ridgetown and I reached out to Peter regarding my interest in completing a M.Sc. under his supervision. This turned out to be an amazing experience and something that has It is not uncommon during my day to day work, or in my personal life, for me to think 'what would Peter recommend?'
OAC Outstanding Staff Recognition Award (under 10 years of service)
Stephanie Craig, OAC Dean's Office, received the OAC Outstanding Staff Recognition Award as a staff member with under 10 years of OAC service.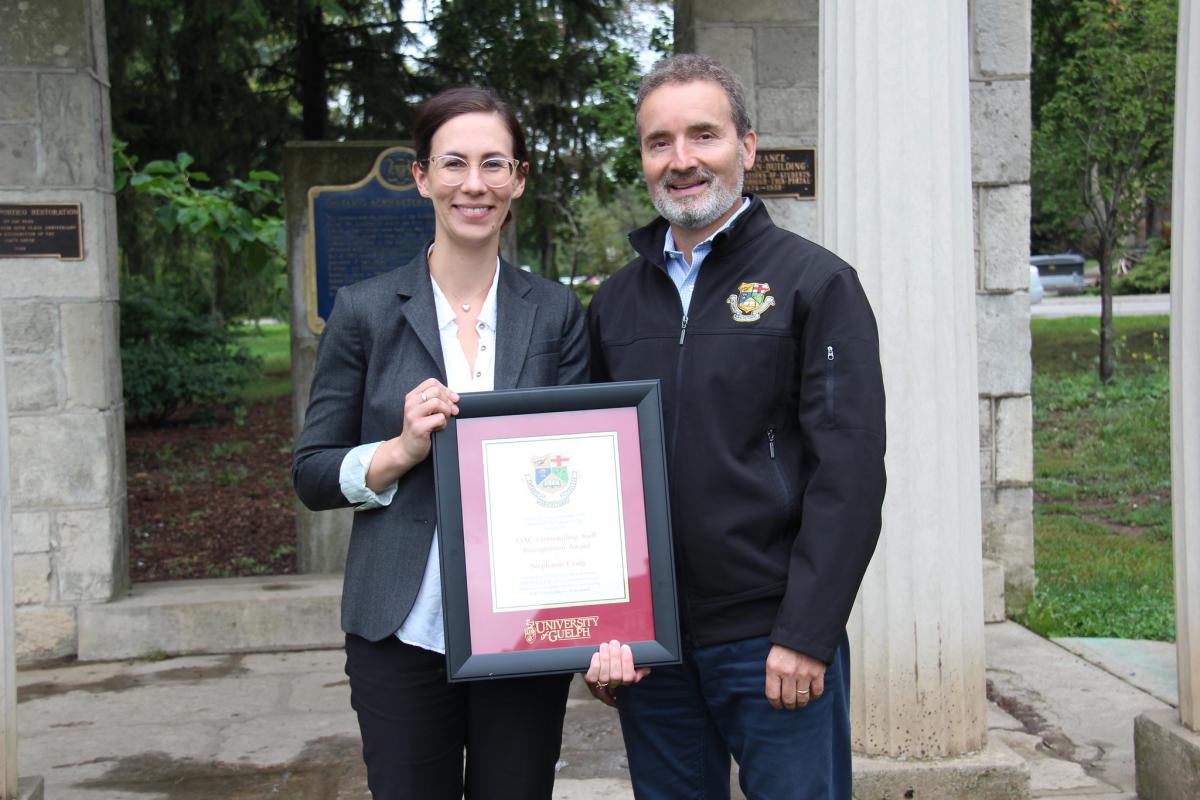 Craig is the OAC Communications Manager in the Dean's Office. She has worked in the college for 7 years. Craig is a key figure in the Dean's Office, and is relied upon for support by our entire OAC community, including Ridgetown Campus, as well as the broader university community. She is known for commitment to shining a bright light on the great accomplishments of people in OAC, and for her ability to create clear messaging that resonates with our stakeholders.
Her nominators had this to say: "Stephanie's impact is felt across the college and university, and often in ways people cannot readily observe. From spearheading development of Our Shared Priorities, to reviving our annual Libranni publication, to our display at the Royal Agricultural Winter Fair, to communications addressing contentious issues, and many other activities, Stephanie consistently steps forward and performs at an exceptionally high level. What is more, she is a connector and strategic thinker who plays a key role in building and enhancing our stakeholder communities and advancing the mission of the college and broader university."
OAC Outstanding Staff Recognition Award (over 10 years of service)
Anne Ingram, Department of Food Science, received the OAC Outstanding Staff Recognition Award as a staff member with more than 10 years of OAC service.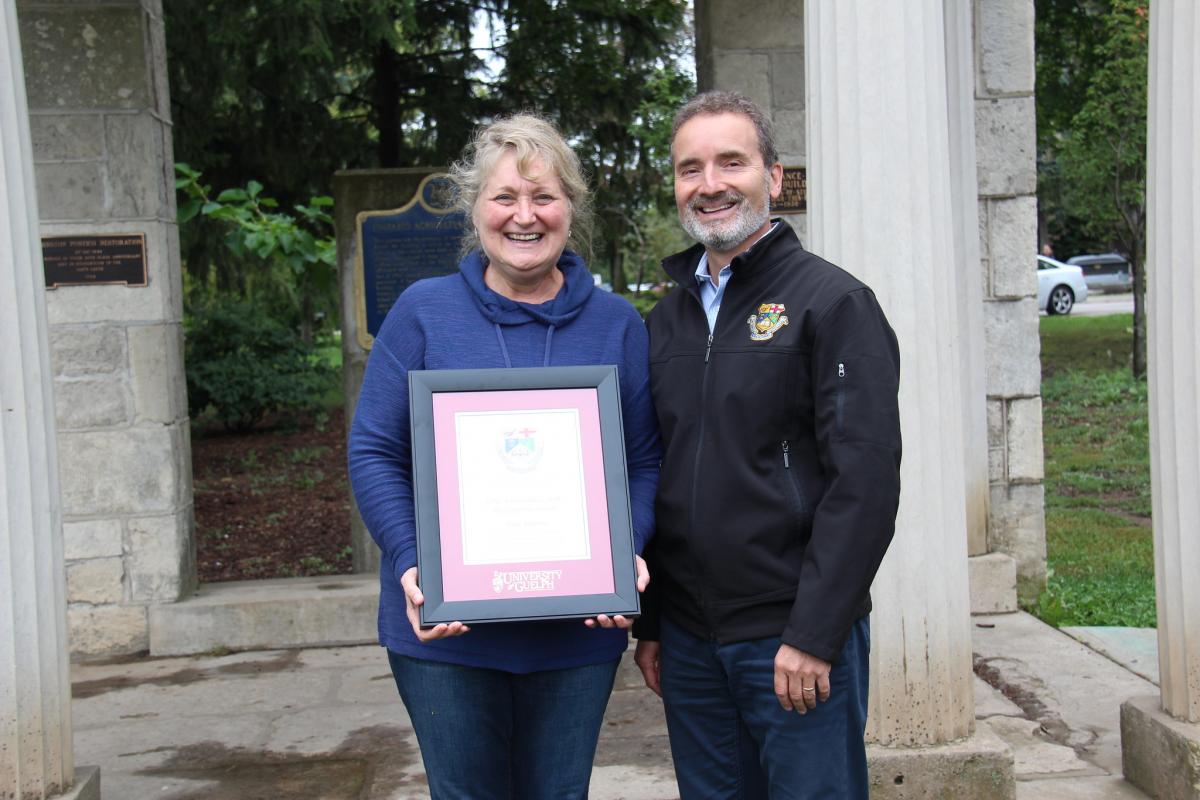 Ingram is the Administrative Assistant to the Chair in the Department of Food Science. She has worked for the department since 2005. She is known by staff, students and faculty as a friendly and accessible source of information in the department, college, and across the university. This includes her administrative and professional colleagues, who rely on her for advice and guidance.
One of her 16 nominators: "She is hardworking and dedicated and consistently goes above and beyond what is expected. In short, Anne exemplifies the definition of excellence in her role and is highly deserving of this recognition.", while another said "Ms. Ingram's leadership in the main office, her pursuit of innovative management technologies, and her diligence in financial management have greatly contributed to the success the Food Science Department has enjoyed in teaching, research, and outreach"
| | |
| --- | --- |
| | Check out the Flickr photo album: |
Share this page
News Topics