Animal researcher presented with prestigious honour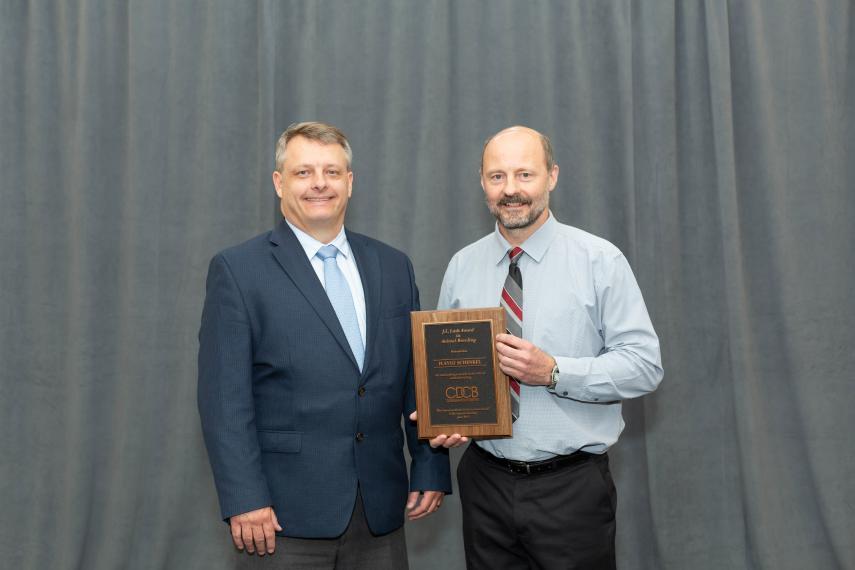 On June 25th, Flavio Schenkel, a professor in animal biosciences, was presented the 2018 J. L. Lush Award in Animal Breeding awarded by the American Dairy Science Association (ADSA). 
"I am extremely honored by this award, which recognizes many years of hard and devoted work to the field of animal breeding and genetics," says Schenkel. "It also distinguishes the quality of research and industry applications delivered by our Centre for Genetic Improvement of Livestock at the University of Guelph."
The J. L. Lush Award was created to recognize outstanding research in animal breeding and is awarded annually. 
Schenkel has authored over 140 peer reviewed articles. He is currently leading research projects on breeding livestock for climate change resilience, which is part of the Canada First Research Excellence Fund (CFREF) Food from Though Project.  Other current research projects include the implementation of genomic selection to improve productivity and health traits in Ontario dairy goats, funded through the Ontario Ministry of Agriculture, Food and Rural Affairs-University of Guelph Agreement, and investigating genetic improvement of Canadian lamb carcass yield, quality and growth traits funded through the Natural Sciences and Engineering Research Council of Canada Collaborative Research and Development Grants program.
"This award reflects the fact that I had the privilege to work with many talented faculty, researchers and students along the years," says Schenkel. "It is a very rewarding feeling to be among an elite group of past recipients of the prestigious J.L. Lush award".
Schenkel is also a collaborator in several other projects, including a large scale applied research project funded by Genome Canada on increasing feed efficiency and reducing methane emissions through genomics in the Canadian dairy industry.
Share this page
News Topics