Another Year, Another Good Time
Over the past week the anticipation was building among OAC students on the Guelph campus. What were they looking forward to? Quite simply, a Good Time.
On Friday, January 18th the Student Federation of Ontario Agricultural College (SFOAC) hosted the annual Good Times Banquet in the Gambrel Barn at the Country Heritage Park in Milton. It was a night of recognition, celebration and good food. The banquet showcases student spirit and gives the "Aggies" a chance to award their leaders and thank their supporters. While organizations and institutions everywhere hold banquets and award nights, what makes this evening special and so anticipated every year is the student spirit and tradition that fuels it. As Dean Rob Gordon said on Friday night, "Aggie spirit lives on!"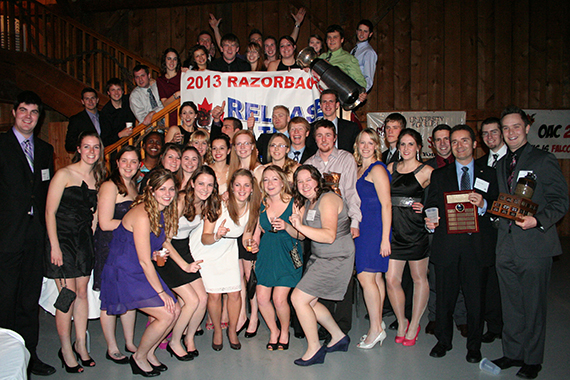 The night is a chance for the students of the OAC at the Guelph campus to join together and share what being part of OAC means to them – whether it be through cheering on classmates or thanking the alumni, donors, professors and staff for their contributions to the college. Ashley Knapton OAC '13, SFOAC Communications Representative, is more than willing to explain why the banquet is such a "Good Time". "You can't pinpoint a favourite part. It's a well rounded evening, from socializing with alumni and supporters to having a great meal, to celebrating your peers' success," Ashley explains.

One of the many highlights of the evening is the awards presentation. Teams and classes are presented with a variety of trophies such as the Bison Cup, Red Roller, or Boot, for success in the OAC Hockey Tournament, best painted "sounding board" or winner of Aggie Games. Individual students are also recognized for their leadership or spirit. The OAC '33 and OAC '96 Aggie Spirit award is bestowed on a student who embodies Aggie spirit, as selected by members of the class of 1996 and current students. Second year student Justin Piercey took home the prize this year.

The Cheryl Somerville Memorial Leadership Award is given to a second year student who shows leadership qualities that the late Cheryl Somerville also possessed. This year for the first time, two students were granted the award. Elliott Armstrong and Drew De Bruyn were both recognized for the initiative they have shown in leading school clubs and organizing industry tours to create learning experiences for their fellow students.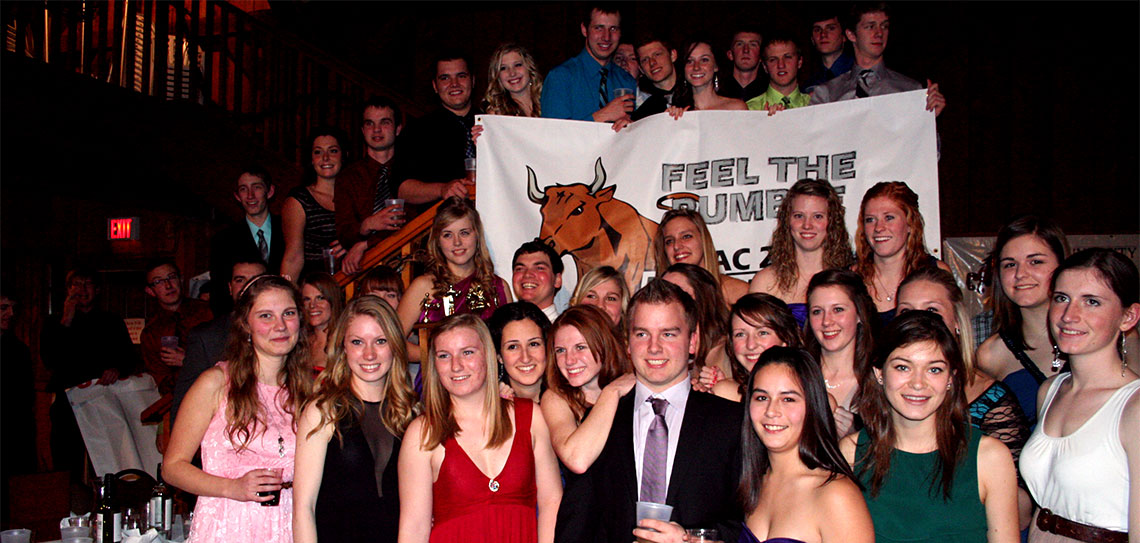 Guest speaker for the evening was OAC '09 alumni Christina Crowley who is now with Holstein Canada. She spoke to the students on life after OAC and the tools they can use to find success. Another generation of alumni were also represented that evening by John Buchanan of OAC '59. John represented his class who were honoured for their project of providing travel grants for OAC students. The project's goal is to raise $500,000 to benefit students, and to date they have already raised $250,000.


Share this page
Find related news by keyword
News Topics