The Cart Before the Horse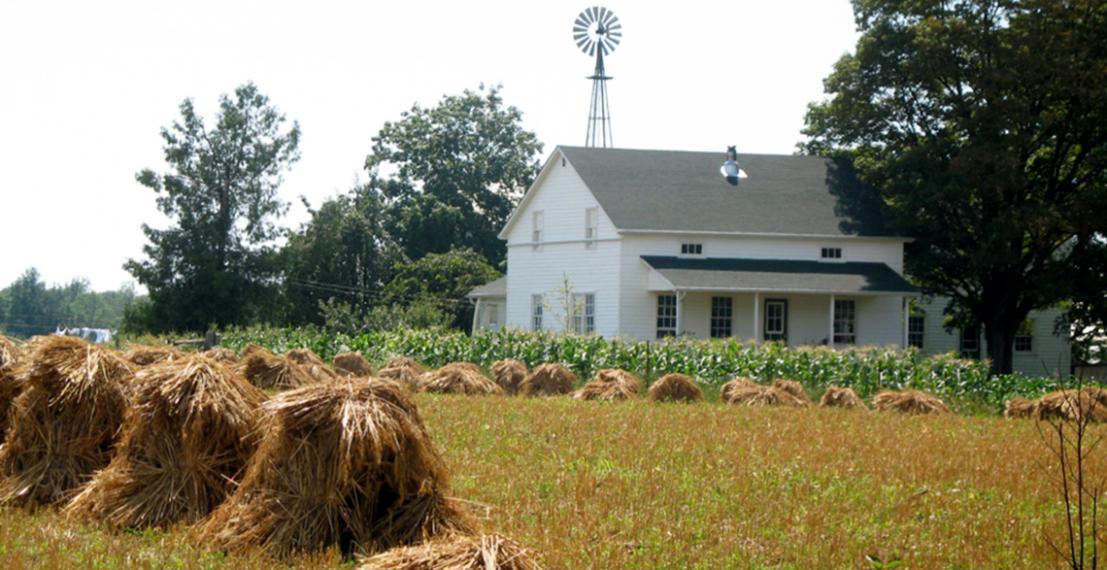 "I wish I had a more positive picture for you."
This was the remark from one participant of a study conducted by researchers in the School of Environmental Design and Rural Development (SEDRD) on the viability of Mennonite communities in southwestern Ontario.
Mennonite families often average seven to twelve children. Keeping these children working on the farm generation after generation is a challenge that has been aggravated by the lack of availability and affordability of productive farmland in their communities. Younger generations often cannot find or afford land in their community and some families have had to take extreme measures to maintain their traditional lifestyle, moving to more northern regions or out of province where land is more accessible.
Prof. Wayne Caldwell, with master's student Bryce Sharpe, set out to examine the issue in more detail and depth, aiming to find potential solutions for the Mennonite communities of southwestern Ontario.
"This research project represents an interest in the diversity of agriculture," notes Wayne. "There are special considerations for these communities in a planning context, and this research provides the potential to address these considerations."
In addition to large family size, Mennonite communities can be distinguished from other rural communities by a reliance on horses for fieldwork and transportation and a preference to work on-farm. These qualities alter the image of success for Mennonite families.
"A strong bottom line is an important measure of success on Mennonite farms, but less tangible criteria include maintaining a strong connection with the land," Bryce explains.
Prohibitive Policy
Maintaining a traditional lifestyle is not only tested by land accessibility in these communities; the challenge is compounded by current planning policy that aims to keep farm parcels large and intact with the intent of protecting farmland, avoiding compatibility conflicts between farm and non-farm uses, and ensuring that farms remain viable in an evolving global marketplace.
In the Townships of Wellesley, Woolwich and Howick in the Region of Waterloo and the County of Huron, this means farm parcels must be a minimum size of 99, 99 and 74 acres, respectively. However, this greatly restricts the size of farm parcels created by severance, a strategy some Mennonite families would like to employ to keep their families on the farm.
Without an acceptable solution to these prohibitive policies, the cultural and economic contributions of Mennonite communities in the province are at stake.
Recognizing this concern, Wayne and Bryce consulted the Mennonite communities to investigate the practicality of new, less restrictive policies; the task was to explore the productivity of Mennonite-owned farm-parcels that would otherwise not meet today's restrictive acreage standards. Eighteen families participated in the study, each with home farms of 50 acres or less, representing three different Mennonite communities.
Research Results
From their research, two distinct groups were found.
The home-farm focused group included a sample of eleven farms that are financially viable on their home parcel of land without any additional acreage. In this group, producers adopted two distinct and opposite strategies to remain viable; some farms were highly specialized, while the others diversified their operation and/or sought off-farm employment in areas ranging from automotive part fabrication to harness repair.
Another seven farms were identified as belonging to an acreage-assisted group. This group is unable to financially support their families without using more acres than what they have on their home-farm. The additional acres, either rented or owned, were considered a necessity for those needing to meet environmental regulations regarding animal manure. However, some families considered the additional acres as optional and believed they could still remain environmentally sustainable and economically viable without them, so long as they could buy some farm inputs.
These results present a divided perspective on the creation of new policy for small land holdings. While the creation of small-farm parcels has potential for generating economic success, particularly when coupled with speciality strategies, such as intensive vegetable production, for every action, there is an equal and opposite reaction. For example, there is a concern that a move to more lenient policy will stimulate high farm prices further and that small farm parcels may be sold for non-agricultural uses in the future.
Sustainable Solutions
To satisfy both sides, "the challenge is to find ways of allowing for divergent policy in a way that protects the needs of the agricultural sector across the province," Wayne explains.
"There are other alternatives that we might consider, although these strategies have to be culturally appropriate," adds Bryce. "Future collaboration is required to craft local planning policy that could accommodate more of their needs."
An article authored by Wayne and Bryce on this research recently won the 2016 Feature Article of the Year award from the Canadian Institute of Planners.
"It is quite exciting to have our research profiled in this way," shares Wayne. "This award helps to validate the work of rural planners across the country."
"It is a great honour," adds Bryce. "It speaks to the quality of graduate research opportunities available through the Rural Planning and Development Program at the University of Guelph."
The full article can be read on the Canadian Institute of Planners website.
Share this page
Find related news by keyword
News Topics