Enhancing student creativity and innovation with soy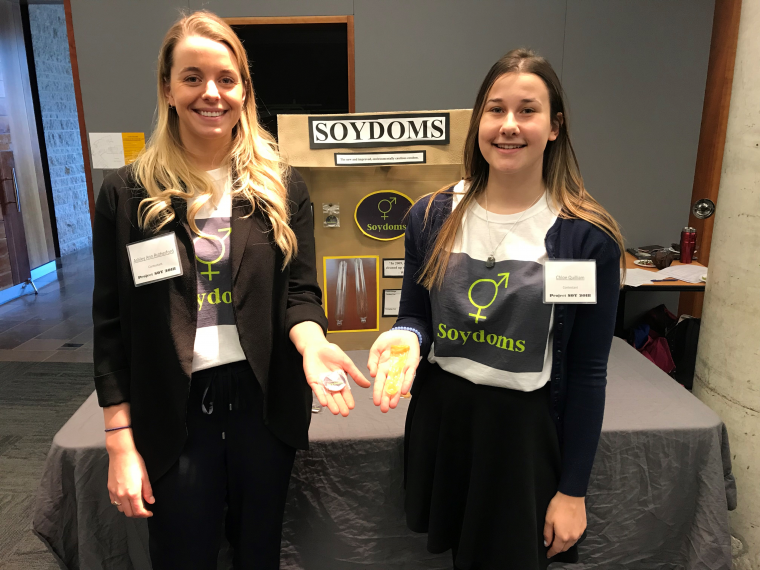 Students from the Ontario Agricultural College did exceptionally well at this year's Project SOY (soybean opportunities for youth) competition which was held on March 16.
John Alexiou, associate diploma in agriculture student, won with his soy-based paper products. In the undergraduate category Chloe Quilliam and Ashley Rutherford, animal science students, won with Soydoms, a soy-based condom. In the graduate category Kamil Chatila-Amos, environmental sciences student and Jane On, food science student, won with NeoPhyto, a soy based vegan cheese.
Project SOY is an annual contest that calls upon students to use their imagination, intelligence and marketing savvy to create new and innovative soy products. Founded in 1996 Project SOY's ultimate objective was to increase awareness and production of Ontario soybeans.
Soybeans are the largest field crop grown in Ontario, with 3.1 million acres grown in the 2017 season. Referred to as the jack-of-all-trades, soy can be used as food for human consumption, animal feed and industrial products. It makes it the perfect subject for a student research competition.
For Quilliam and Rutherford, what started out as a bit of a joke, ended up being a winning idea. With a little bit of research the idea of a soy-based condom wasn't so far-fetched.
"Soydoms have the potential to benefit and support local Ontario soy farmers and provides a more sustainable alternative to conventional latex products," says Rutherford.
Currently condoms are non-biodegradable, usually produced with latex, which also creates an issue for people with latex allergies. Through extensive trial and error, these students were able to produce a soy-based condom, that is biodegradable. 
This wasn't the student's first go at the Project SOY competition and Quilliam and Rutherford explain it has been no walk in the park. While both being in course overload, they've learned to successfully manage their time throughout the year.
In her first year Rutherford tried her hand at the competition with a different partner, and didn't make the podium. But perseverance was the key to success for these two students.
Working together for the first time Quilliam and Rutherford received third place in 2017 for their 3D printed soy-based cookies. Although happy with their success, they wanted to continue with Project SOY for the overall goal of landing on top.  
The students worked with mentor and advisor Vern Osborne, animal biosciences professor, for both their 2017 and 2018 projects.
Problem solving, patience and critical thinking were all vital skills these students learned to perfect throughout this project. 
"Not only do you gain research experience, but you get to explore what you are capable of," explains Quilliam.
When asked for wisdom to share with future Project SOY competitors Quilliam and Rutherford, say don't give up. They explain that there will be failures, but be persistent and don't be afraid to go back to the drawing board.
"Do it with your best friend, it has definitely been a friendship building experience," says Quilliam. "We had a lot of fun."
Project SOY 2019 isn't in the cards for these students, they are happy with the success of Soydoms, and will to continue to work on improving their product.
Share this page
News Topics