Food Science Student Receives Top Undergraduate Convocation Award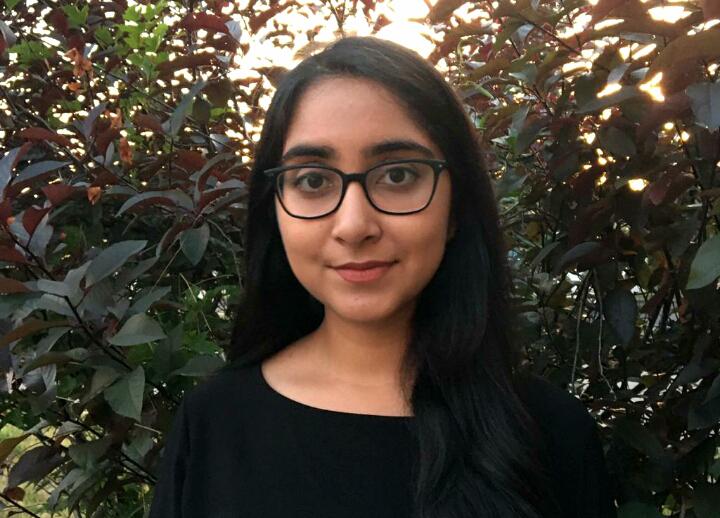 OAC student, Sidra Mohammed is the 2020 recipient of the University of Guelph's top undergraduate convocation award: the Winegard Medal. 
Named for former University of Guelph president Dr. William Winegard, the medal is awarded in recognition of both academic achievement and contributions to university and community life.
Sidra recently graduated from Bachelor of Science program majoring in food science (co-op) and excelled academically. She graduated with the highest cumulative average of all graduating students in her program.
"Sidra has an interest in food science and took advantage of every opportunity provided to broaden her knowledge of food science and associated areas," shares Prof. Lisa Duizer, chair of the food science department. 
This passion for knowledge translated into extensive involvement in research activities throughout her time on campus, as well as her co-op placements. She participated in three undergraduate research projects in areas of food science, nutrition and plant agriculture, and completed a total of 16 months of co-op work-terms as a research and development technician.
"Her approach to work and her project achievements went well beyond our expectations," shared Mohammed's co-op placement supervisor in the nomination package. "Her performance was in line with the talent, discipline, and attitude of an experienced professional." 
"Sidra is a rare class of student who has made a significant impact through her academic and professional achievements, as well her contributions to the University and community," says Prof. John Cranfield, OAC Associate Dean – External Relations who submitted her nomination to the Winegard Medal selection committee.  "She has consistently persevered to overcome adversity and has made meaningful use of her connections and University of Guelph resources." 
While on campus, her volunteer efforts were far reaching and significant. She was a Kids Help Phone volunteer, Wellness Education Peer Helper, Career Services Peer Helper, LINK volunteer, Residence Tour Ambassador, and Orientation volunteer facilitator. She also volunteered her time for projects and initiatives such as, COVID-19 Care Packages for the Homeless Drive, Canada Sews, The Eliminate Project, IFT Food Science in Action, Students in Touch, and Food Science Outreach. 
"Sidra is an engaging, warm, and well-spoken individual and she is quick to note that her motivation and inspiration comes from her peers," adds Cranfield. "She is incredibly deserving of this award and we are so pleased she has been selected."
 
Share this page
News Topics