Food Science Students Place 2nd at International Food Competition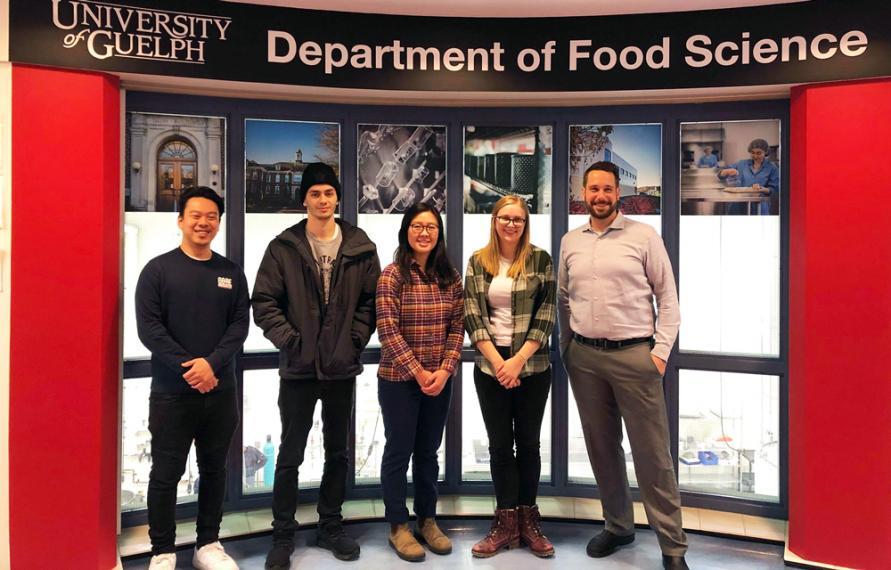 A team of University of Guelph food science students recently placed second in an international food development competition.
Hilary Eves, Ivy Chen, Justin Quan, and Filippo Iozzo were invited to compete in the virtual Research Chefs Association Student Culinology Competition held this past June.
The competition challenges students to develop a novel food product based on various criteria that change from year to year.
For this year's competition, students were required to develop two versions of a product featuring San Diego cuisine. They must create one dish that resembles a meal served in an upscale restaurant and another version of the same dish that could be sold frozen in grocery stores.
The team's "La Jolla burger" was created to give customers the taste of vibrant San Diego summers in one meal. It is a reimagining of the California burrito, drawing influence from Mexican, Cali-Mex, and true San Diego cuisine.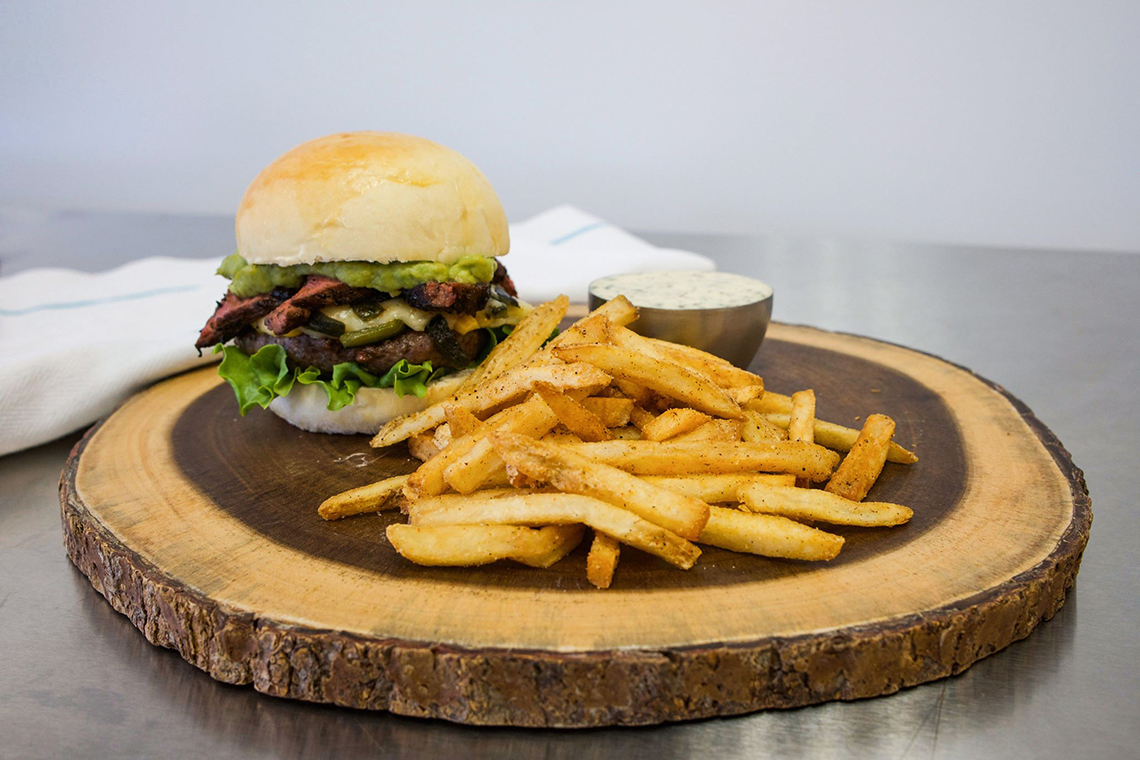 "The burger is topped with thinly sliced smoky carne asada steak, refreshing guacamole, and what we call an Oxacan poblano cheese melt," explains Eves. "The cheese melt adds just the perfect amount of heat from the poblano peppers and there's some corn to add a pop of sweetness."
To accompany the La Jolla burger, the students also developed "chili dusted fries and creamy chimichurri dipping sauce".
The team spent months developing their concepts and submitted a written proposal detailing their product concept, target market, financial breakdown and commercialization process. 
"This competition requires you to put on every single hat of food product development from trend research to formulation to costing to marketing," shares Eves. "This had to be the most challenging aspect, but it also made the experience a lot of fun."
Judges then invited the top teams to virtually present their ideas. Typically, the competition is held in person, but was held virtually this year due to COVID-19.
The students worked with staff and faculty advisers in the Department of Food Science, as well industry professionals, to develop their ideas.
"I am extremely proud of how our students performed this year both in their competition submission and in their handling of the challenges presented with planning around uncertainty amid the COVID19 pandemic," says Derek Vella, manager of the Guelph Food Innovation Centre, who worked closely with the team.
Vella explains that although it was a departure from the normal competition routine, the ability for teams to verbally present their submission to a panel of judges, provided the teams more opportunity to talk about their research and the technical aspects of their product.
"Although we were very disappointed we weren't able to travel to San Diego to compete, the virtual presentation process allowed us to defend a lot of our decisions and speak more to our inspiration," says Eves.
The Research Chefs Association (RCA) is the leading professional community for commercial food research and development. Every year, they host an industry-sponsored Student Product Development Competition which takes place at their annual conference. 
The University of Guelph Food Science department has been competing in the RCA Student Product Development Competition since 2010.  Teams from around the world submit proposals to compete however, to date, the University of Guelph is the only Canadian team to be accepted.
Of the 10 years the University has competed, student teams from the Department of Food Science have won gold, silver or bronze nine of the ten years.
Eves, Chen and Quan all recently graduated and are working in industry. Eves is a developmental meat inspector at the Canadian Food Inspection Agency, Chen is a product development technician at  Gum Products International, and Quan is working with the Food Development Group as a food product development technician. Izzo is completing his degree while conducting research with Prof. Ben Bohrer in the Department of Food Science and working in the Guelph Food Innovation Centre.
Share this page
News Topics