Meet Chris, MSc Student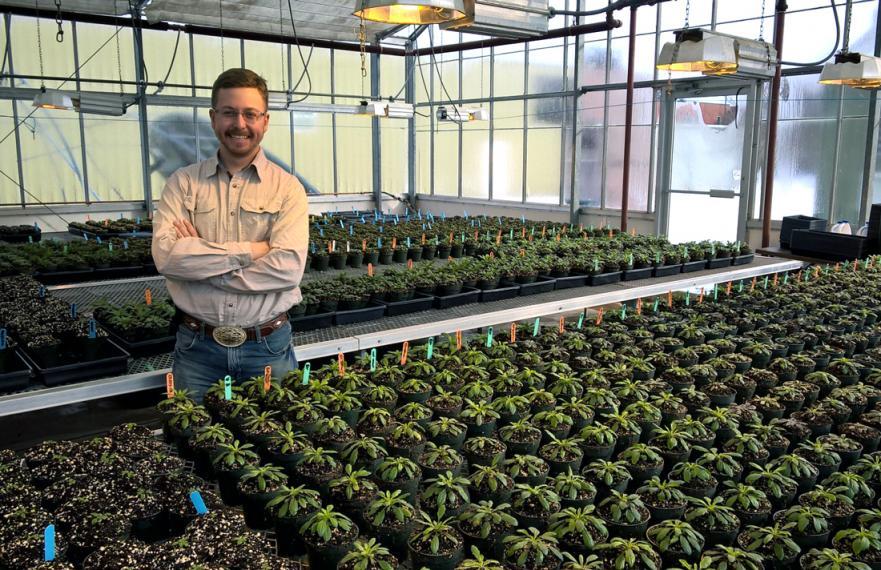 About Chris Budd
Chris Budd, a second year Master of Science in Plant Agriculture student, has spent his entire academic career with the Ontario Agricultural College, completing a Bachelor of Science in Agriculture degree before pursuing his master's. Now, Chris works alongside colleagues who used to be his professors, researching methods to improve glyphosate-resistance in Canada fleabane.
Program: Master of Science – Plant Agriculture
Year of Study: Second Year
Hometown: Ingersoll, Ontario
---
What did you complete your undergraduate in?
I completed a Bachelor of Science in Agriculture majoring in Crop, Horticulture and Turfgrass Sciences (CHATs) at the University of Guelph in 2014.
Why did you choose Guelph / OAC for your graduate studies?
I wanted to study at a school well known and respected in the agricultural industry. Undergraduate studies at the OAC were excellent and current OAC graduate students recommended I continue my studies at Guelph. After discussing my options with several professors and learning about the different opportunities available for graduate studies, it ended up being an easy decision. I found an advisor and project that I was excited to work on.
Tell us about the research you are working on and why it is important.
I am investigating how to improve the consistency of glyphosate-resistant Canada fleabane control with saflufenacil in no-till soybeans in Ontario. Currently the best control option in no-till soybeans is to apply saflufenacil, however variation in control has been reported. My studies involve investigating different biologically effective rates, optimal time of day for application, tankmix partners, and the effect of height and density of Canada fleabane at the time of application for control with saflufenacil. This is important because glyphosate-resistant Canada fleabane is a weed that can cause over 90 per cent reduction in yield in soybean, produce over 200,000 seeds per plant and has a large distribution potential. Ontario farmers need a consistent and reliable solution to control glyphosate-resistant Canada fleabane or a large amount of farm income could be lost due this weed.
What do you like best about your program?
In general, the best part about this program is that there is a large demand in the workplace for graduates from the Department of Plant Agriculture. It is also excellent to be working on a project that affects many people in the agricultural industry and as a result, there are many people interested in it. Being able to provide a significant contribution to Ontario and Canadian agriculture through graduate studies is very exciting.
What tips would you share to undergraduate students who are thinking about graduate studies?
I was provided with two pieces of advice from Prof. Clarence Swanton that I feel are excellent points to share with undergraduate students thinking about graduate studies. 1) Find an advisor that you can see yourself working well with. 2) Be really excited about the project.
To follow those two points, students should contact several professors to see what opportunities they have for graduate students, even if the professors specialize in something you aren't currently interested in. You never know what may happen. Even if you don't see yourself as a plant breeder in the future, that doesn't mean you shouldn't contact professors who are plant breeders. I would also recommend getting in touch with professors at least a year ahead of your expected graduation to get the conversations started, if you can. Finally, try to get in touch with graduate students who have worked with the advisor you are considering because they can provide perspective. You may also find yourself working alongside them, so it is nice to have a friendly face there when you start.
What do you enjoy about the City of Guelph?
In my undergraduate studies I really enjoyed the City of Guelph because it is a very clean place and full of friendly people who are proud to be a part of the city. Also there is a lot of green space, which meant a lot to me as I grew up on a farm and would be intimidated by a concrete jungle. For my graduate studies I am based at the Ridgetown Campus, which has the perks of being a smaller campus and excellent facilities. The staff community at the Ridgetown Campus is very close, which makes studies here very enjoyable as well.
What are your plans for the future?
I plan to begin a position with BASF Canada as a Field Biologist running the research program at their research farm outside of Guelph. Overall I am excited to begin a career in the agricultural industry contributing to the future of crop production thanks to my studies at OAC and the University of Guelph.
Share this page
Find related news by keyword
News Topics