Meet David, ERM Student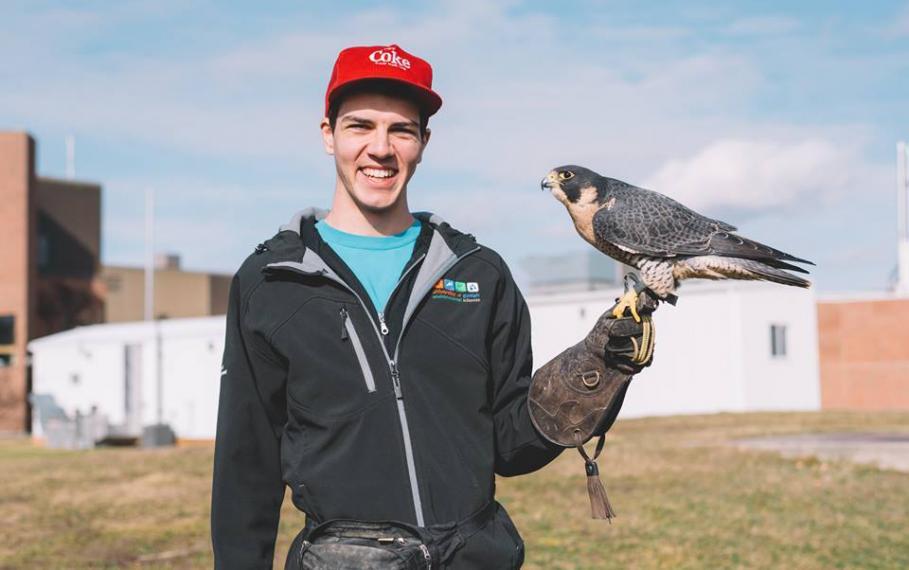 About David Meeker
From the downtown core to the local campus eatery, David Meeker has embraced everything Guelph has to offer since arriving four years ago. After graduating from the Environment and Resource Management (ERM) program, David hopes to continue working in the environment while pursuing his Professional Geologist of Ontario designation.
Program: Bachelor of Science in Environmental Sciences - Environment and Resource Management (Co-op)
Year of Study: Fourth year
Hometown: Toronto, ON
---
Why did you decide to come to the University of Guelph?
Coming to Guelph was a pretty tough decision for me. I was torn between Aerospace Engineering at Carleton University and the Environmental Sciences program offered here at Guelph. Growing up I had my heart set on being an engineer, but every time I set foot on the Guelph campus I simply couldn't wipe the smile off of my face. I had an immediate sense of belonging and a strong feeling that Guelph was the place for me. Going with my gut feeling was definitely the right choice!
What do you like best about your program?
I love learning about the environment. I've had a passion for the outdoors since I went to summer camp as a kid, and I think that influenced me to have a more environmentally focused mentality. Learning how to preserve what we have now for future generations seems like the most responsible and sensible thing to do.
Do you have a favourite class of professor?
My favourite professor is Dr. Simone Härri who taught my favourite class, Terrestrial Ecosystem Ecology. Simone is super personable and very easy to approach. She makes it clear that she wants you to succeed in her classes and does a great job providing the tools and help to do so.
What is your plan after graduation?
After graduating I will likely go back to work with one of my co-op employers, the City of Mississauga or Parks Canada, while continuing my education part time to complete the requirements for the Professional Geoscientist of Ontario designation. The co-op program has provided me with a good amount of direction in terms of where I think I'd like to be five years from now, and I'm really thankful to have been a part of it!
How do you get involved on campus or in Guelph?
There are plenty of ways to get involved at Guelph; all you have to do is look to find something that interests you. Since my first year at Guelph, I've played ultimate frisbee, squash and inner-tube water polo as part of an intramural team. In second year, I started volunteering with Wild Ontario where I get to work with non-releasable birds of prey, like Chinook, our peregrine falcon in the photo above. In fourth year, I started working at the Bullring and joined the university climbing club at the athletic centre. All of these activities have introduced me to some amazing people and have most definitely been a highlight of my experience at Guelph.
Where is your favourite spot to hang out on campus?
When I'm on campus there are a couple of spots I am likely to be found. The Environmental Sciences Student Executive lounge is where I spend most of my spare time between classes, either working or napping/procrastinating. Otherwise I'm probably at the Bullring enjoying the music and hanging with friends. When the sun is shining there's a good chance I'll be on Johnston Green either tossing a disc around or slacklining.
Do you have any favourite spots in Guelph?
One of my favourite places in Guelph is definitely Preservation Park because there's so much to do! It's great for running, campfires, geocaching, and stargazing. In the downtown core I like to play trivia at McCabe's, shoot pool at Tony's Billiard, or spend the night dancing up a storm at the Albion's funk night.
Share this page
Find related news by keyword
News Topics