Meet Emma, Animal Biology Student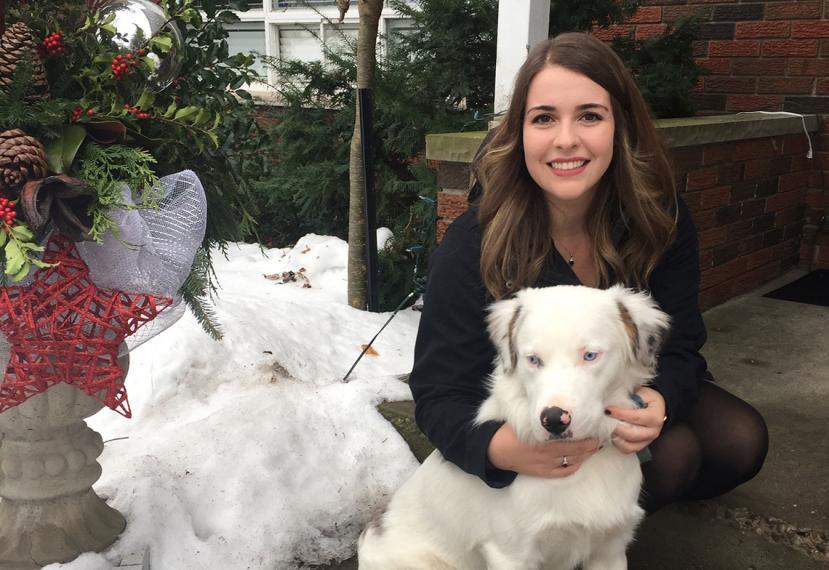 About Emma Puckering
Born animal lover Emma Puckering is a student in the Bachelor of Science - Animal Biology program. Emma splits her free time between helping to showcase the University of Guelph'­s campus and diversifying her animal experience through multiple volunteer opportunities. After graduation Emma hopes to continue her education at the Ontario Veterinary College (OVC) to become a Doctor of Veterinary Medicine.
Program: Bachelor of Science - Animal Biology
Year of study: Only 1 semester to go!
Hometown: Brantford, Ontario
---
Why did you decide to come to the University of Guelph?
Ever since I was five years old I have wanted to be a vet, so Guelph has always been number one in my mind because of the OVC. When I came to tour the campus in grade 12, it was love at first sight. I especially liked the sense of community I felt on the campus. Both of my parents are U of G alumni, so there is plenty of family history connected to Guelph as well.
What do you like best about your program?
The opportunity to meet people with such similar interest (in my case animals) is one of the highlights of my program. Being in such a specialized major like Animal Biology, allows for plenty of unique learning opportunities through classes, labs and volunteering.
Do you have a favourite class or professor?
Yes, my favourite class so far as been ANSC 3040 Animal Reproduction, taught by Prof. Eduardo de Souza Ribeiro. Although it was a lot of hard work, it was extremely rewarding to have such a broad knowledge of different species and their reproduction. There was a lab component to the class as well, which provided amazing hands-on experience. We were able to observe a variety of specimens, perform dissections and essentially learn all things reproduction.
Knowing what you know now, what piece of advice would you give to your highschool self?
When starting university, don't be afraid to use student resources. The school community really wants you to succeed and do your best, so they offer many amazing programs that will help you stay on track. Also, don't be afraid to get involved; it will act as stress relief and you'll meet plenty of new people.
What are your current post-graduate plans or goals?
As previously mentioned and similar to a lot of Animal Biology students, I have wanted to be a veterinarian since I was a kid. So, next year I will be applying to OVC with hopes of getting in. I am also interested in potentially taking the Master of Science in Animal Behaviour & Welfare; we shall see where the future takes me! 
How are you keeping busy this summer?
For the past few summers, I have been involved with Camp Ak-O-Mak in Parry Sound. It is an all-girls competitive sports camp, specializing in swimming. I am the program director, so I will be there for the majority of the summer. Before I depart for camp though, I have been working part time as a veterinary assistant at Stonegate Animal Hospital and I am a summer tour guide for U of G. 
How do you get involved on campus or in Guelph?
I have been an Orientation Volunteer since my second year, so I help ensure incoming students have a smooth move-in and transition into the University community. I am also a U of G Ambassador, so I help give campus tours to potential students during open house events and March break.
I am a volunteer with the Foal Watch program run by the OVC Health Science Centre. This program provides 24-hour care and monitoring of foals that have been born premature or critically ill. I also volunteer with the Department of Population Medicine helping with swine research, where my tasks include assisting with farm visits and lab work.
Where is your favourite spot to hang out on campus?
That is a tough question! I think it would have to be the Bullring. It is such a great spot because of the homey feel and comfy couches! The food is tasty and super affordable. Plus, it is run by students, so there are plenty of friendly faces. I can see why U of G students call it our "on campus living room".
Do you have favourite spots in Guelph?
Definitely the downtown area because of all the fun places to visit and shop. My favourite restaurant, The Cornerstone, is also located downtown.
What's one fun fact about yourself?
I am a certified canoe instructor for kids.
Share this page
News Topics