Meet Emma, Animal Science Student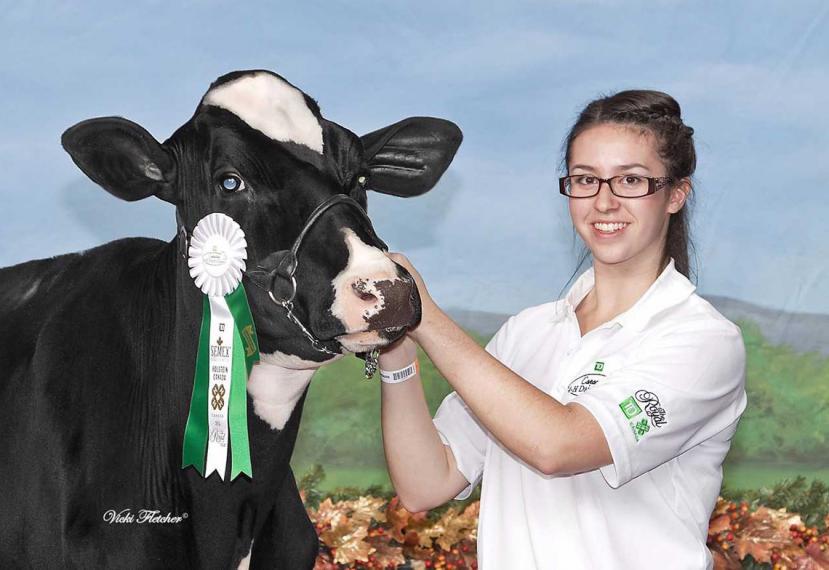 About Emma Allen
New Brunswick native Emma has always had her eyes set on the University of Guelph. Passionate about agriculture, she keeps busy through involvement in an array of clubs, like the Dairy Science Club or 4-H on Campus. Emma has a passion for agriculture and aspires to work in the dairy industry after graduation.
Program: Bachelor of Science in Agriculture – Animal Science
Year of Study: Fourth Year
Hometown: Keswick Ridge, New Brunswick 
---
Why did you decide to come to Guelph?
This is a common question for me as I grew up on dairy farm in New Brunswick, 15 hours away! The University of Guelph was always my first choice to pursue my agricultural education. In fact, I didn't even apply anywhere else. It was either Guelph or nothing! To me U of G offers such a wide range of options when it comes to what you want to learn and how you want to learn it. The opportunities that are also available through U of G are second to none, and are unique to the University. Guelph is also a very welcoming city, that doesn't make you feel like you're living in a big city. Especially when you can drive five minutes out of town and find the first farm!
What do you like best about your program?
What I like best about the animal science program is the flexibility I have with course selection. In third and fourth year you can really decide what route you want to take. Whether you want to be more focused on genetics, nutrition or research, to name a few. I also really enjoy the people that I've met. We have become like a big family, working together making sure everyone succeeds.
Do you have a favourite class or professor?
My favourite class so far would be Animal Heath, POPM*4230 with Prof Terri O'Sullivan. This class was one that I really enjoyed attending because it was taught by multiple OVC and population medicine professors. I enjoyed the breadth of knowledge that they introduced to us, even though we only skimmed the surface on most animal diseases. Coming from a farm background, there were many days during the classes where I found I could relate and have a deeper understanding about what was being taught. Even if you have no idea what coccidiosis is before going in, for example, you will be quite familiar with it by the end.
Knowing what you know now, what piece of advice would you give to your high school self?
I would tell my high school self to not worry about the small things. I think it's really important to work hard in high school, as well as university. But university is different, and many people struggle with the transition (grades, teaching styles, friends).
What are your current post-graduate plans or goals?
After graduation I hope to begin a career in the dairy industry. I'm not 100% sure doing what yet, but I know that I always want to be doing something animal related. And if I can't, I will do absolutely anything related to agriculture.
How are you staying busy this summer?
For the first half of the summer I worked on my home dairy farm in New Brunswick. The remainder of the summer I have been working at 4-H Ontario in Rockwood as an Administrative Assistant. In my spare time I am a member of the Eramosa Dairy 4-H club, so most nights I am at the barn training my show calf.
How do you get involved on campus?
This is the number one piece of advice I would give all incoming students… GET INVOLVED. As someone who likes to stay particularly busy I make sure I get involved. I've been a member of the Dairy Science Club for three years now, and I really enjoy the meetings and guest speakers that come to the University for that. I held positions on the Judging Club for a few years, and have also been a member of the 4-H on Campus initiative. I have also been very involved with College Royal. As a participant, dairy assistant, and animal events liaison, College Royal has really kept me busy over the past three years. More recently for this upcoming year I am the secretary for the Student Federation of the Ontario Agricultural College. Getting involved is a really great way to meet new people and make a difference in your school community.
What is your favourite spot on campus?
My favourite spot on campus is Brass Taps. It's a great place to sit, unwind and meet up with friends. And they also have unreal chicken fingers. I also just really enjoy the entire campus in the fall when all the leaves on the trees have started to turn.
What's one fun fact about yourself?
One fun fact about myself is that I have shown dairy cows since I was four years old. I joined 4-H eleven years ago and have been showing since then. Through showing and working for other people I have had the opportunity to do a lot of travelling, including attending the World Dairy Expo in Madison, Wisconsin. The amount of hours and dedication it takes to train an animal is truly rewarding and has definitely taught me to have a strong work ethic! 
Share this page
News Topics