Meet Glenna, Animal Biology Student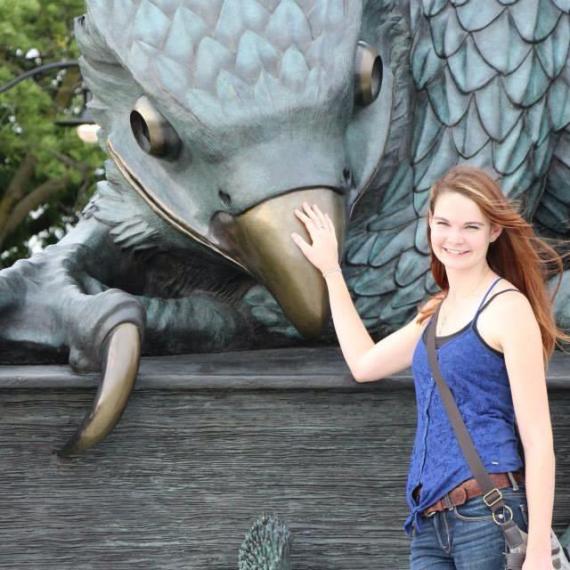 About Glenna Van Der Heiden
In her first semester of her first year, Glenna Van Der Heiden has already immersed herself into the U of G community. Glenna is studying animal biology with hopes of eventually applying to the Ontario Veterinary College to further her studies and prepare her for a career as a veterinarian. She is enjoying her program so far and is excited to expand her knowledge in both an academic setting, as well as through participation in events and campus activities.
Program: Bachelor of Science - Animal Biology
Year of study: First Year
Hometown: Listowel, Ontario
---
Why did you decide to come to Guelph?
I've always wanted to come to Guelph because it has an amazing animal biology program that would help me get into the Ontario Veterinary College (OVC). I want to be a large animal veterinarian. The school provides lots of opportunities for hands on animal and veterinarian experiences, which was an added benefit. I looked at other schools, but when I walked onto Guelph's campus I felt like I belonged. There is an amazing feeling of community and pride at Guelph.
What do you like best about your program so far?
I like that I'm finally learning what I want to learn. All courses I take are related to biology. This is nice because I finally know where and how I'm going to use physics, chemistry and math in my future career. Even better, though, is that my program is specifically designed for those of us that will want to continue our education in veterinarian sciences at a later time. A lot of people in my program are planning on applying to OVC and our program provides a lot of opportunities to continue getting vet experience.
What classes are you taking right now?
In first semester I took the four mandatory courses, which were General Chemistry 1, Calculus 1, Introductory Physics for Life Science, and Biology of Managed Ecosystems. For my elective I took Crime and Criminology because law is something that has always interested me. Second semester I didn't get any electives because I need to take Animal Welfare, which is a full credit, along with Molecular and Cellular Biology, General Chemistry 2 and Physics for Life Science. Animal Biology students take a lot of similar courses to the other sciences; however there are a few different courses. To make sure I take the right courses and fulfill the requirements I refer to the Animal Biology course calendar. Since I plan to apply to OVC, I also look at their requirements and plan my semesters accordingly.
What do you think is the biggest difference between university and high school?
The workload is the biggest difference between university and high school. Dealing with the workload was not too hard to do until we were in the seventh week and midterms were happening. We had projects to complete on top of having to study for midterms. However, I learned that sometimes a good night's sleep is better than studying late. You have to learn to prioritize and work ahead of your due dates. Guelph is amazing for having places where you can study and people that will help you stay on task.
What are your favourite events and activities on campus?
My favourite event on campus is Aggie Pub.
Have you found ways to get involved on campus or in Guelph?
I'm currently part of the OAC '18 square dancing team. This year we will be competing at College Royal and next year we will compete at the Royal Agricultural Winter Fair and College Royal again.
Where is your favourite spot to hang out on campus?
The library is great for studying. It helps keep me focused. My favourite restaurant would be either the Bull Ring or The Brass Taps. The staff are friendly and the food is amazing.
What are you most looking forward to over the next four years?
I'm most excited for meeting new people and learning what I'm interested in. Each year has fewer and fewer mandatory courses so I can pick what interests me. The university has so many events where I can continue to meet new people and have lots of fun!
Share this page
Find related news by keyword
News Topics