Meet Jordan Graham, OAC Student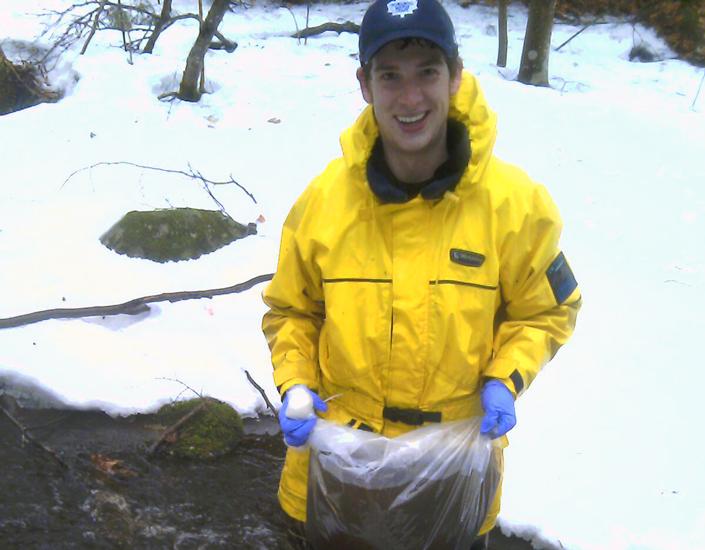 About Jordan Graham
Jordan Graham is an environmental biology major in the School of Environmental Sciences. He is also in the co-op stream of the program. When he is on campus, he enjoys playing hockey, touring the Arboretum and eating breakfast at Creelman Hall.
Program: Bachelor of Science - Co-op - Environmental Biology major
Year of Study: Third year
Hometown: Ingleside, Ontario
---
Why did you decide to come to the OAC/Guelph?
I decided to come to the University of Guelph because of the more relaxed atmosphere Guelph presents when compared to other universities. This fact, along with the quality of education I knew I would receive, made my decision easy. Also Guelph's a great town and it's not overwhelmingly far away from my parent's house, but far enough that there's a good reason not to be home every weekend (don't tell my parents).
What do you like best about your program?
I would have to say the variety of knowledge this program exposes students to. By this I mean that it covers a diverse field of topics in environmental science from courses covering the economics of environmental issues to weather or even chemistry and everything in-between. It makes for a well-rounded, diverse knowledge and a view of the entire picture surrounding environmental topics.
Do you have a favourite class?
I have to say that overall I liked going to my first year physics lectures the best. The professors always made things interesting. I laughed at least once every class.
What residence did you live in during first year?
I lived in East Residence in Glengarry tower. Good-times, and I'm still friends with everyone I lived with!
What are you planning to do after graduation?
Well, seeing as I can't decide what I would like to do from week to week, I really have no plan quite yet. I'd say I'm still discovering what areas of focus I would really like to get into, because I find most subjects very interesting. I think my (realistic) dream job would be to work for a provincial park or conservation authority, working with the public while being outside. I'd also very much like to complete a masters at some point, but probably not right after graduation.
Did you have a summer job?
This past summer I ended up being at the university as a full-time student during the summer. Since I am in the co-op program, I worked during the winter semester in the Hydromet department at the Dorset Environment Science Centre. That sounds a little complicated, but in essence I spent a lot of time hiking in the cold collecting a lot of water and snow in the Muskoka-Haliburton region.
What are your favourite events/activities on campus?
I enjoy going to afternoon hockey on campus during weekdays. It's only $3 per session of pick-up hockey, and most days there are some pretty good hockey players out. Plus, I play goalie so it's free for me!
How do you get involved on campus or in Guelph?
For a brief time I volunteered at CFRU, the campus radio station. It was awesome, they gave me a stack of CD's, told me to listen and I sorted out the CD's that would and would not fit into the CD library they have. I also did a fair amount of alphabetizing, while listening to new music. Also if I have time, I always try to volunteer and help out at any random events going on. I think the last one I helped with was the Science Olympics event that the university hosts during late spring.
What is your favourite way to procrastinate from studying?
I like to consider myself an organized procrastinator. I make a list and do the little things first. Stuff like cleaning up the house, doing smaller assignments or getting groceries. The important things don't necessarily get done right away, but in the end I was still productive and everything gets done in due time.
Where is your favourite spot to hang out/eat on campus?
I love to eat breakfast in Creelman. I go all the time to get breakfast before my 8:30 a.m. classes. Food is good and Def Leppard is always playing in the morning for some reason. I also enjoy during the non-winter months going for a walk in the Arboretum. Until I found them all, I'd go and find the geocaches hidden there.
Do you have favourite spots in Guelph?
In the summer time, I loved going down the Boathouse. You can rent canoes/kayaks and explore down the river, there's a good ice cream place and a cool bridge to hangout on!
Share this page
Find related news by keyword
News Topics