Meet Joshua, Honours Agriculture Student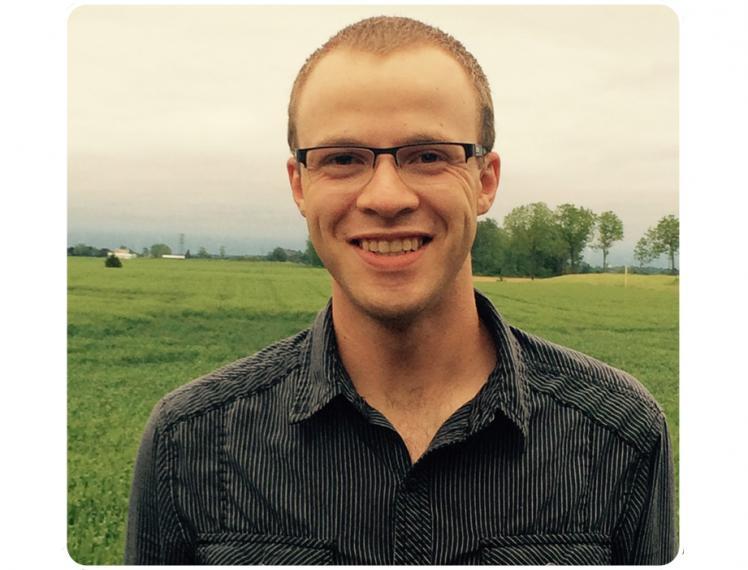 About Joshua Dreise
Program: Bachelor of Science in Agriculture - Honours
Hometown: Chatham, Ontario
Year of study: Third year
Joshua Dreise is very involved in the OAC. Class President for the upcoming year of the 2017 Stags and Co-President of the Poultry Club, Josh is recognized by many OAC students as a friendly and familiar face on campus. We recently caught up with Josh, who shared his experience as an OAC student.
---
What residence did you live in during first year?
I lived in Addington, in the agriculture cluster. Living in the cluster was probably my best decision during first year. Living on the same floor as fellow classmates helped us get to know each other quickly, but also having others in the same classes enabled us to be able to work together to accomplish our projects and homework. If I didn't know how to do something, chances were there was someone a few doors down that did, and vice versa.
What do you like best about your program?
One of the best things about the Bachelor of Science in Agriculture - Honours program is the option to choose the direction you want your education to go in. I think this is one of the best aspects of this program; it offers the opportunity for a well-rounded education in crops, animals and business/economics. I believe this will benefit me greatly in my career after graduation.
Do you have a favourite class or professor?
My favourite class was AGR*2320, Soils in Agroecosystems, which was taught by Prof. John Lauzon. This was one of my favourite classes for several reasons. First, I find the topic of soils, soil profiles and nutrient movement within the soil to be very interesting. Prof. Lauzon did an excellent job of relating class topics back to the agricultural industry, and made what we were learning relevant. Also, for our final project we had the opportunity to go out into a field, dig some holes and analyze our own soil profiles based on what we were learning in class.
What is your plan after graduation?
After I graduate I will probably work toward becoming a Certified Crop Advisor, while working on the family farm after hours. Eventually, I would like to move back and work full time on the family farm.
How are you keeping busy this summer?
This summer I am working at Agris Co-operative at the Tupperville branch as the Customer Service Manger. My duties include meeting the customer's needs by providing them with fertilizer, seed and chemicals, in addition to scouting their fields for proper pest control and timing for fungicide treatments.
What are your favourite events and activities on campus?
Some of my favourite events on campus include attending various meetings and trips organized by clubs within the OAC, such as the Poultry Club and the Soil and Crop Club. I find these clubs provide an additional learning experience that is relevant to the day to day activities in the work place that sometimes are missed in classroom settings.
How do you get involved on campus or in Guelph?
I am involved in class government and for the 2015-2016 year I will be the President of the 2017 Stags. The Stags are very involved in the OAC and are always down to have a good time! Look for us in our eggplant purple leather jackets and our red spring jackets. I am also involved in the University of Guelph Poultry Club, which I will be the Co-President of for the 2015-2016 year. The poultry club looks to have guest speakers from the industry give a presentation every other week. We also host bus tours to various places of interest in the industry including, but not limited to, feed mills, production barns and processing facilities.
What is your favourite way to procrastinate from studying?
My favourite way to procrastinate from studying is to either play ping-pong against one of my roommates, or to visit a friend's house and hang out there.
Where is your favourite spot to hang out on campus?
I cannot say I have one favourite spot to hang out on campus, but the Aggie lounge in Johnston Hall or the Tim Horton's above the Bookstore are some of my favourite places to go. My favourite place to eat on campus is definitely hands down, Creelman Hall at the 100 Mile Grill.
Share this page
Find related news by keyword
News Topics