Meet Laura, FARE Student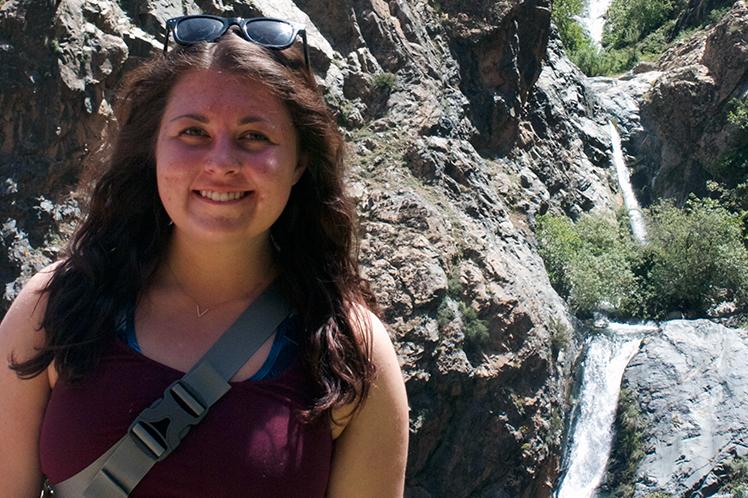 About Laura Stortz
Laura Stortz is a passionate individual with a wide variety of interests. Since coming to Guelph and the OAC, enrolling in the Food, Agriculture and Resource Economics program (FARE), Laura has been has presented with many opportunities to pursue her interests and become involved with causes she is passionate about.
Program: Bachelor of Arts - Food, Agricultural and Resource Economics (FARE)
Year of Study: Second Year
Hometown: Waterloo, Ontario
---
Why did you decide to come to the OAC/Guelph?
I was looking for programs that would allow me to pursue food security and resource studies and Guelph's program was the most comprehensive. The OAC has so many traditions and when I went on a campus tour it felt like the right place for me to be. The University of Guelph isn't too big or too small; it has a great atmosphere and I love the campus.
What do you like best about your program?
I like being able to know everyone in my year and being able to know the professors. It's a small program, which has allowed me to be able to easily get information and we even have mixers every few months to get to know one another. We have a lounge in our building where my friends and I would go to study before class and finish up work. The program is unique to the University because it gives me more freedom and options with my studies than other programs that I had looked into. The FARE program is like a small community and when I have a problem in a class I can always find someone to help me with it.
Do you have a favourite class or professor?
This past year my favourite class was FARE 1400, Economics of the Agri-Food System. I didn't grow up on a farm and this course was a great introduction to the complex world of food production. It allowed me to apply economics to real life, both within food production and the effects of production. Alfons Weersink was a great professor because he went the extra distance to make sure that all students understood the difficult content. He even facilitated a 'farm-buddy system' for farming and non-farming students to share ideas.
What residence did you live in during first year?
I lived in Dundas, East Residence in Eco House.
What is your plan after graduation?
I will likely pursue a master's degree in the realm of sustainability, food security and economics. Afterwards, I'd really like to get a job working to improve the sustainability and security of food throughout the world.
How are you keeping busy this summer?
This summer I will be working at the Guelph Turfgrass Institute doing maintenance for the facility and researchers there. I'll also continue working at David's Tea where I help customers find their perfect tea.
What are your favourite events or activities on campus?
I really liked the Intercultural Awareness week. There were a lot of events going on throughout campus like concerts and cooking lessons. I love going to the Bullring on open mic nights; it's a great way to see friends and see amazing talent. During exams there are always activities going on in the library.
How do you get involved on campus or in Guelph?
I joined Oxfam during my first week and I'm so happy I got involved. It opened my eyes to so many issues and we put on a lot of drives this past year to help raise awareness for women's rights, poverty and injustice. We had a panel of speakers talk about women in politics, a night of planting and painting pots, an open mic night at the Bullring, and a documentary night. I also joined "The Straw Hat", which is a student-run agri-food journal aimed to educate consumers about food, its origins, and trends. This year I am hoping to write an article about Guelph's local food movement. This summer and fall I'm hoping to be more involved in the Guelph community as there are so many great events being run all the time at different coffee shops, the farmers' market, and community centers.
What is your favourite way to procrastinate from studying?
I love hanging out with friends, going to get coffee, or watching Netflix.
Where is your favourite spot to hang out on campus?
I love hanging out at the Bullring or outside on Johnston green in warmer weather! Creelman's has the best food and I love the Nature's Best counter because it always has something new.
Do you have favourite spots in Guelph?
I love going to the Cornerstone downtown; they have the best coffee. Going to the farmers' market, shopping downtown, and going to the park by the river are all great ways to spend a Saturday.
Share this page
Find related news by keyword
News Topics