Meet Lucy, FAB Student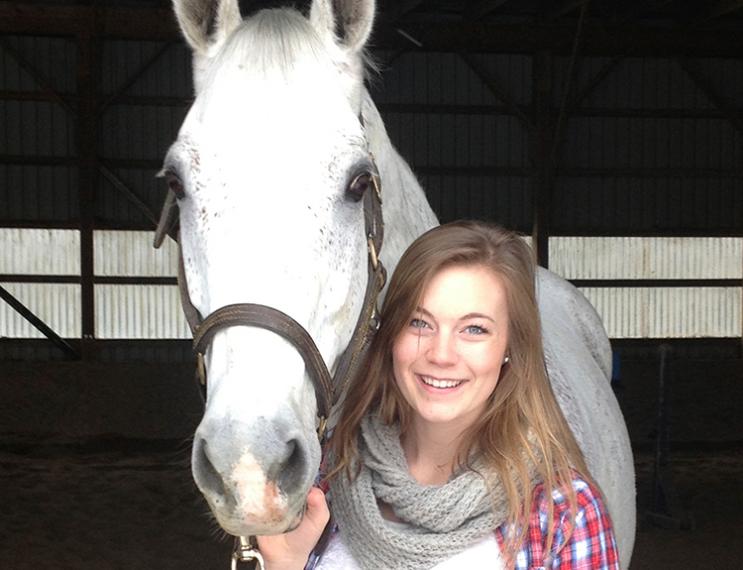 About Lucy Pronk
As a passionate equestrian, coming to the University of Guelph was the obvious choice for Lucy. Now in the third year of her Food and Agricultural Business (FAB) degree, Lucy maintains her involvement in the equine industry through clubs offered by the University.
Program: Bachelor of Commerce - Food and Agricultural Business
Year of study: Third year
Hometown: Beaverton, Ontario
---
Why did you decide to come to the University of Guelph?
I was originally attracted to the city of Guelph and the school as a whole. I visited the campus before accepting my offer of admission and I loved the atmosphere. Guelph has all the convenience of a big city without losing the feel of a small town. Being surrounded by farmland also appealed to me because I wanted to move my horses to a stable near campus so I could continue to ride during the school year. I started first year in the Bachelor of Arts in International Development program and was taking economics courses as electives. My interest in the agricultural industry grew and when I combined that with the practicality of a commerce degree, I knew that the Bachelor of Commerce - Food and Agricultural Business (FAB) program would be a great fit.
What residence did you live in during first year?
I lived in Lennox-Addington - Addy 3!
What do you like best about your program?
My favourite part of the FAB program is that the small size of the program makes relationship building easy. I also love how specialized it is. The agricultural industry will always be growing and important; we graduate with a very unique degree that helps us to stand out in the workforce.
Do you have a favourite class or professor?
So far I've enjoyed every FARE course that I've taken. They are less theory and more application, which makes them interesting and relevant. My favourite professor is Prof. Michael Batu, he taught one of my hardest courses this year (ECON 2770) but his sense of humour and lecture style made it entertaining and easy for me to understand.
What is your plan after graduation?
After graduation I'd like to pursue a career in the equine industry and combine my love of the sport with my knowledge of the agricultural industry.
How are you keeping busy this summer?
I have a summer job at Wayfarer Insurance. This job has been great for giving me experience in an office setting. I have worked in multiple departments ranging from accounting to claims. My jobs so far have included invoicing, reception, data entry and personal assistance. Working in an office environment has helped prepare me for a career in business.
What are your favourite events and activities on campus?
I love frosh week and homecoming because the University of Guelph community gets the opportunity to come together and show off their school spirit before the stress of studying kicks in.
How do you get involved on campus or in Guelph?
I am pretty heavily involved in the equestrian community on campus. I'm on the executive committee for the Equestrian Club and I am assistant captain of the Guelph IHSA Hunt-Seat team. Guelph's reputation attracts many like-minded horse people, which is great for networking and learning about other parts of the industry.
What is your favourite way to procrastinate from studying?
I usually procrastinate by spending the day at the barn with my horses or binge watching Netflix.
Where is your favourite spot to hang out on campus?
My favourite place on campus is The Bullring, it has such a cool atmosphere and the food is the best! Plus, all their food is locally sourced.
Do you have favourite spots in Guelph?
My favourite place is the Guelph Lake Conservation Area. It's great for walking and has the best view in the city!
Share this page
Find related news by keyword
News Topics