Meet MacKenzie, Animal Biology Student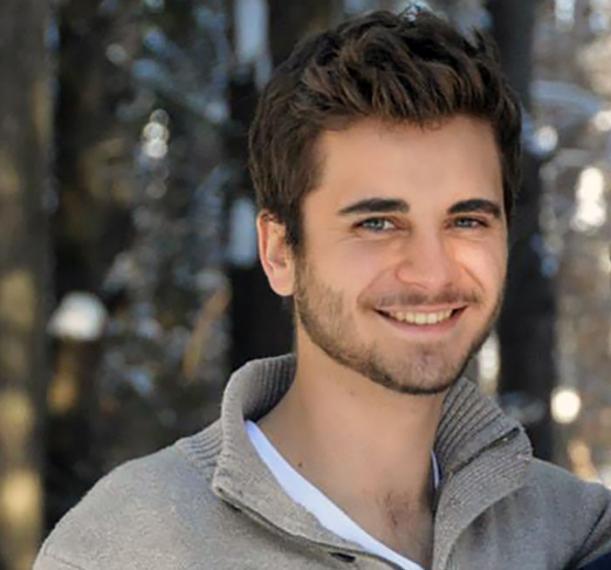 About MacKenzie Bourgoin
MacKenzie Bourgoin was always passionate about animals. Now in his third year of the Bachelor of Science - Animal Biology program, MacKenzie has immersed himself in his program, and can often be found in the Summerlee Science Complex chatting with other Animal Biology majors who share his same passion for animals. After graduation, MacKenzie hopes to pursue a career in veterinary medicine.
Program: Bachelor of Science - Animal Biology
Year of study: Third year
Hometown: White Lake, Ontario
---
Why did you decide to come to the University of Guelph?
When I was first applying to university, I really had no idea where I wanted to go. There were so many options and all of the universities I looked at had things that caught my interest. I also had no idea what exactly I wanted to study, whether it be biology or engineering, so the decision on where I wanted to go was even more difficult. I planned on taking tours of all of the universities that I had an interest in attending, and Guelph being the furthest place from home was the first place I went to see. I went on my tour and at the end I knew that this was the place I wanted to be. They showed me the beautiful campus and I could tell from my tour just how proud all of the students were to be at Guelph. I bought my Guelph sweater at the end of the tour, cancelled my tours at the other universities and accepted my offer here.
What do you like best about your program?
One of my favourite things about my program is the fact that I am studying something that I am passionate about and surrounded by people with similar interests. I really like how everyone in the program has similar goals and mindsets; it makes finding people to study with really easy. We are a pretty tight knit community with the same love for animals. The program is pretty large and it's nice to recognize the majority of the people in my classes; it's always comforting having familiar faces in larger classes.
Do you have a favourite class or professor?
My favourite class up to this point would have to be ANSC 2340, Structures of Farm Animals, taught by one of my favourite professors, Prof. Ira Mandell. This course was the first anatomy class that I took and it definitely solidified my interest in animal sciences. It was a difficult course that looked into the anatomy of farm animals in relation to meat production, and I can honestly say I have never put as much effort into a class as I did for this one. Prof. Mandell is always willing to help and went over tough and important concepts multiple times to make sure that we caught all of the important information.
What is your plan after graduation?
It's incredibly cliché to say, being an animal biology student at Guelph, but I would like to attend the Ontario Veterinary College and become a veterinarian. When I was younger I was always passionate about animals and growing up I had an interest in biology, so veterinary medicine is definitely something that has peaked my interest.
How are you keeping busy this summer?
I am currently employed at McGregor's Produce, which is a local farm. The farm has been running since 1856 and they grow a variety of berries and vegetables. I was pleasantly surprised to find out that two of the people that I work for are OAC alumni; I love how you can find fellow Gryphons everywhere. I was hired for a sales position, so I am responsible for running my own produce stand. During the time leading up to opening the stand I also help with planting and other field maintenance tasks.
How do you get involved on campus or in Guelph?
I was the social coordinator for East Residence Interhall Council. In this role I served as the organizer and coordinator of events in East Residence and around campus. Being a part of Interhall was definitely one of my highlights of first year as I was able to meet many new people and get involved in ways that I never knew possible. The people who are involved with Interhall are student leaders; people who are role models to other students and who are a familiar face if students need someone to go to, so it was nice to be a part of an organization with such a reputation. I am also an Orientation Leader for O-week. In this role I am responsible for communication between a group of orientation volunteers during orientation week and the orientation team. I help students move in and also help with faculty specific events that are run.
Where is your favourite spot to hang out on campus?
My favourite place to be on campus is the Summerlee Science Complex. It's one of the best places to study on campus or to kill some time between classes. I like that there are big tables so it is easy to get together with a group of people. It's pretty central to everything on campus to so it's a perfect escape between classes. My favourite place to eat on campus would have to be Creelman Hall. The food there is unbelievably good. There are always new things to try and there is something for even the pickiest eater, like myself. It's the best place to go and have a meal that's better than even mama could make.
Do you have favourite spots in Guelph?
One of my favourite restaurants in Guelph is Angel's Diner downtown. There is no better meal than a Sunday brunch at Angel's. It's easy enough to get to by bus, so it makes it dangerously convenient. The diner is set up like your typical diner and the staff are always efficient and the food always comes quickly.
Share this page
Find related news by keyword
News Topics