Meet Simon, Food Science Student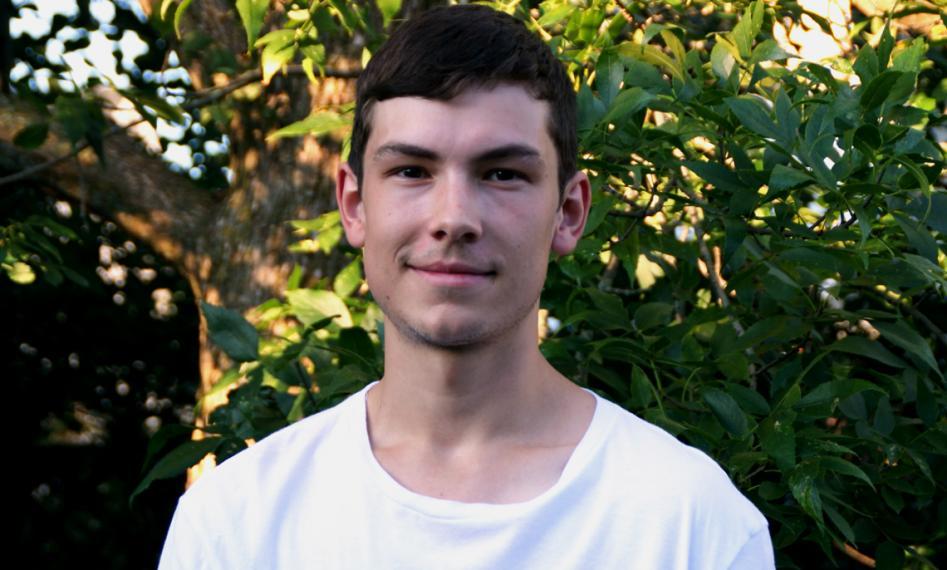 About Simon Bissonnette
Program: Bachelor of Science - Food Science (Co-op)
Hometown: Georgetown, Ontario
Year of study: Third year
Food science wasn't initially the plan for Simon Bissonnette, now a third year student at the University of Guelph. However, after touring the Guelph campus and learning about the Bachelor of Science – Food Science program, his plans immediately changed. Outside of the classroom, Simon enjoys partaking in all things food, from attending hot chocolate fundraisers to making milkshakes for the annual College Royal Open House.
---
Why did you decide to come to the University of Guelph?
As I looked at different universities during my final years of high school, I eventually found my way to Guelph. Although the university didn't offer the exact program I wanted initially, when I stepped into the Food Science building my plans changed completely. After watching a short presentation on the program given by Prof. Doug Goff, I quickly enquired for more details. I applied as soon as I got home and a few weeks later accepted my offer. Two years later I am still very happy with the somewhat impulsive decision I made, as the OAC, the university and the city of Guelph have given me the opportunity to grow as a person.
What residence did you live in during first year?
Since I live so close to Guelph, I actually stayed at home and commuted from Georgetown. At the beginning it was very difficult to get up for early classes and I would dread the drive back at the end of the day. Over time however, I optimized my route to reduce my distance yet still catch some nice scenery. In second year, I also carpooled with another student which was nice as I had someone to talk to and we could save on gas and parking. I am still hoping to eventually apply to become a Residence Assistant as a way to become more involved and meet new people.
What do you like best about your program?
What I like most about my program is the completeness of the education, as Guelph is a leader in food science. The Food Product Development project in the last year of my program prepares students to create our own products and market them effectively. The knowledge and experience, as well as the memories, enables exploration of the food science field, and enrollment in a degree from the OAC gives students and graduates a variety of employment options.
Do you have a favourite class or professor?
It's hard to pick a favourite class, as they were all so different in content and teaching style, but my favourite professor would have to be Prof. Steve Gismondi. I first encountered Prof. Gismondi in my first year calculus class and I was beyond impressed by his passion for math. Throughout the semester he made what should have been a hard class bearable, and I was not worried when I had to take Calculus II with him. When a teacher is able to have a good time with the students, yet still provide a strong learning experience, it is a win-win situation for everyone.
What is your plan after graduation?
My plan after graduation is not set in stone just yet; I am hoping to get hired right away, but if that doesn't pan out I hope to travel the world. Having already visited various countries, my eagerness to see more of our planet is growing every day. And who knows, maybe along the way I'll find a job too! Essentially, after graduation my main plan is to live life and enjoy it to the fullest.
How are you keeping busy this summer?
I am very busy with two jobs, one of which is at Baskin Robbins in Georgetown and the other is a four-month co-op position at Sweet Temptations Cupcakery in Guelph. Besides working, I like to cycle and spend time with friends and family.
What are your favourite events and activities on campus?
I would have to say my favourite events are the ones that involve food, which is somewhat common at the university and within OAC. There are various BBQs held during the hotter months and countless coffee or hot chocolate fundraisers run by Raithby House during the winter. Walking through the UC there are always different vendors setup and sometimes even bigger events in the Peter Clark Hall.
How do you get involved on campus or in Guelph?
I try to attend as many events as I can, and am also a member of the Food Science Club. During second year I was involved in meetings and the ice cream production for the milkshakes during College Royal. This coming year I will be the clothing coordinator to ensure the Food Science apparel tradition lives on.
What is your favourite way to procrastinate from studying?
This one is easy! The internet. There are endless distractions and it is a portal to the rest of the world. Apart from the typical social media like Facebook, Twitter and Instagram, I enjoy watching independent news networks such as VICE and food-related programs on Netflix.
Where is your favourite spot to hang out on campus?
My favourite spot to hang out on campus has to be Creelman Hall, again for the food, but also for the dining hall. The larger tables open up room for conversation. Often after a long class in War Memorial Hall, my friends and I meet at Creelman's for some lunch or a quick snack and catch up with one another.
Do you have any favourite spots in Guelph?
I enjoy downtown Guelph quite a bit as the restaurant scene is fantastic and some of the old architecture is preserved. Just walking around downtown is enough to entertain me whether its day or night. In the end, maybe I don't have any favourite spots in Guelph, because my favourite spot is Guelph itself.
Share this page
Find related news by keyword
News Topics