Meet Travis, PhD Student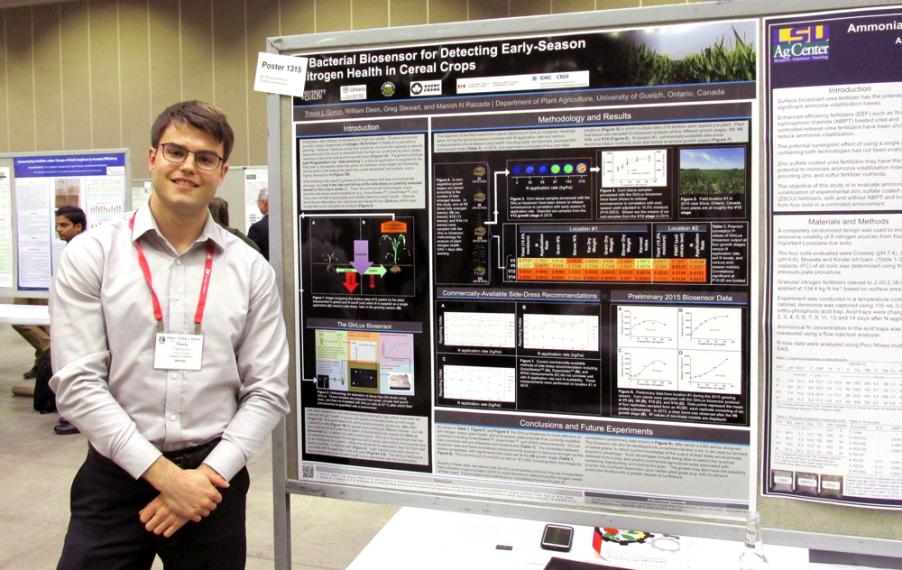 About Travis Goron
Growing up in the tomato capital of Canada, Travis Goron was always surrounded by agriculture. Naturally interested in science, he completed an undergraduate degree in molecular biology and genetics at the University of Guelph. Now he's coupling his agricultural roots and passion for science by completing a PhD in Plant Agriculture.
Program: PhD in Plant Agriculture
Year of Study: Third Year
Hometown: Leamington, Ontario
---
What did you complete your undergraduate in?
I was born near Leamington, Ontario, the tomato capital of Canada. Although I didn't grow up farming, I was raised in a very rural, agricultural community and crop production was all around me. Science began to interest me during elementary school. This fascination grew throughout my time in high school, and I was particularly impressed by molecular biology. I was really drawn to the idea that some of the very smallest things in life, like an organism's genes, can have the biggest impacts in biological systems. Because of this I decided to do my bachelor's degree in Molecular Biology and Genetics here at the University of Guelph, a school known for excelling in the life sciences. During my undergraduate degree, I had the opportunity to work on a research project in the lab of Dr. Steven Rothstein, which was my first practical introduction to the world of crop plant molecular biology, specifically the role of miRNAs in nutrient stress.
Why did you choose Guelph / OAC for your graduate studies?
I chose the OAC for my graduate studies because I wanted to carry the small bit of experience I received in crop molecular biology during my undergrad into a program that would be more applicable to the real-world challenges of producing enough food for the world's growing population. During the final year of my undergrad, I took a plant molecular biology course with Prof. Manish Raizada. I was intrigued by his research agenda of using techniques in molecular and microbial biology to help subsistence farmers in developing nations. I thought his lab would be a good fit for furthering my experiences, and I approached him about completing a graduate degree in his lab.
Tell us about the research you are working on and why it is important.
My PhD thesis research involves the design and optimization of whole cell biosensors to determine the nitrogen health of crop plants. This is an exciting and rapidly expanding field that I'm proud to be a part of. I hope that this research might be used for better nitrogen fertilization management strategies, which can benefit farmers around the world economically and also help lower levels of environmental nitrate contamination. I also work with an interesting cereal crop plant called finger millet, which is highly valued by farmers in poorer nations (especially in parts of Africa and Asia), due to its high nitrogen and water use efficiency. This crop is under-studied, and I hope that I can do my part to help the scientific community better understand what makes it grow so well in harsh environments.
What do you like best about your program?
What I like best about our program is the broad range of research focuses. In the Department of Plant Agriculture, different research groups work on everything from weed science, to horticulture, crop rotations, cereal crops, legumes, and molecular biology, among many other disciplines. In any given day you might attend lectures as wide-ranging in topic as different tillage techniques, to the genetic sequence in a crop plant, which gives it resistance to disease. It really helps you to develop as a scientist, and get an appreciation for the "big picture" of agriculture. It's especially great for someone like me who came from a purely molecular biology background with zero knowledge of agronomy, or any of the more applied aspects of agricultural science.
What tips would you share to undergraduate students who are thinking about graduate studies?
I would say that undergrads should start talking to professors about graduate studies as soon as possible. It never hurts to sit down with a prof and talk about their research, their lab and where you might potentially fit in. Volunteering in a lab is also extremely helpful! There is always something that needs to be done, even if you can only spare an hour or two per week. You'll be exposed to what goes on in an actual research program, which is something that you don't really learn in most undergrad programs.
What do you enjoy about the City of Guelph?
I'm from a small community, so I enjoy the fact that Guelph has all the convenience of a large town, but still has a distinctly rural feel.
What are your plans for the future?
Although my aspirations seem to change every week, most days I see myself continuing the path I'm on now - using techniques in molecular biology and plant physiology to help subsistence and small-holder farmers. There are several international organizations (including ICRISAT, CIMMYT, IRRI, among others) that share this research focus. Perhaps after graduation I may have the opportunity to work with one of these research groups to gain international exposure and knowledge of "real-world" applications. However, no matter where I end up, as long as I can stay within my chosen field I will be happy!
Share this page
Find related news by keyword
News Topics