Prof's Research Featured at National Museum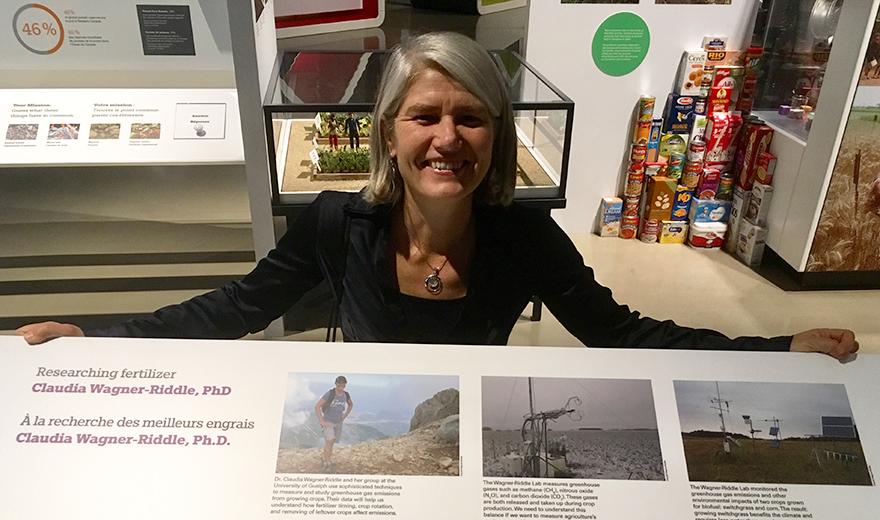 The research of Claudia Wagner-Riddle, environmental sciences professor, is being showcased at the new Canadian Science and Technology Museum in Ottawa. 
The interactive exhibition titled, From Earth to Us, showcases how we transform natural resources to meet our growing demands and the impact these actions have on Earth. It delivers topics ranging from mining, water resources, climate change and soil.
Wagner-Riddle's work with Fertilizer Canada on the 4R Nutrient Stewardship program to assist farmers in sustainably applying fertilizer, while reducing the environmental impact, is featured. 
 "They've done a really great effort for the ease of understanding and showing things like the 4Rs in a fun and interactive way," says Wagner-Riddle. 
The right source, the right rate, the right time and the right place are the driving forces behind the "4R" program. Wagner-Riddle is a part of a Canadian network that investigates these 4Rs. 
Her research team is looking at timing of fertilizers to reduce nitrate leaching and greenhouse gas emission. Farmers fertilize their crops to result in better yields, but fertilization can result in major losses into the environment. Wagner-Riddle's research is looking to decrease these losses.
Wagner-Riddle says it's a nice feeling knowing her research and the University of Guelph are being showcased in an exhibit that thousands will see. 
"This is a great opportunity to communicate to the public," shares Wagner-Riddle. "Typically the general public doesn't have much of an idea about fertilizer, especially what happens to it and the measurements that are being done". 
"It may only be one museum buts it's in the Nation's capital; it's a place that many people will go through, which makes it important".
For information on the exhibit can be found here: https://ingeniumcanada.org/scitech/whats-on/exhibition-from-earth-to-us.php 
Share this page
News Topics