A Recap of the OAC Cross Campus Graduate Student Conference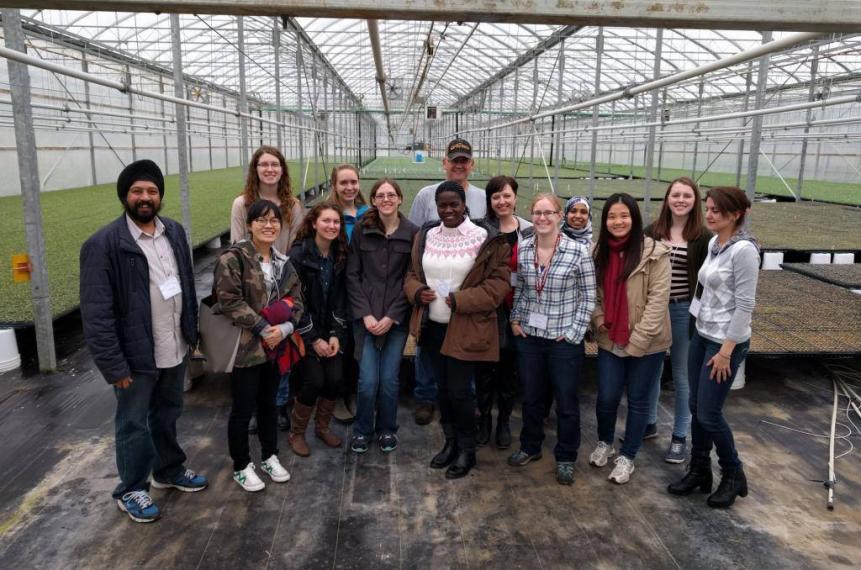 On Thursday, March 30th, the OAC Cross Campus Conference, hosted by the OAC Graduate Student Council, brought together 23 graduate students to encourage networking across OAC's two campuses. This was the first of what will hopefully become an annual event.
The event was held at the University of Guelph Ridgetown Campus in Ridgetown, ON. Many Guelph campus students were motivated to attend because they had never been to the Ridgetown Campus and were interested in learning about the variety of research being conducted there.
"The OAC Cross Campus Conference was an excellent opportunity for graduate students to experience elements of agriculture that are beyond the scope of their own field of research," shares Stricker. "Participants found the event to be both educational and a fun break from their studies. The professional development workshops available also sparked many students' interest."
Guelph students arrived at the Ridgetown Campus by bus, where they were greeted by Ridgetown graduate students and invited to take part in an interactive seminar on stress management. Students were taught how to recognize signs of burn-out and given tools such as breathing exercises to relieve stress. After this session, students broke into smaller groups and spent the rest of the morning in professional development workshops.
Students then attended two workshops from a variety of options: resume writing, presentation tips, interview skills, an introduction to SAS University Edition, how to write a literature review, and effectively managing data. "The morning sessions were packed with great advice for graduate students and presented by experts in their fields," reflects Coon.
In the Research Rescue workshop led by Jacqueline Kreller-Vanderkooy, students learned how to efficiently conduct a search for relevant articles and what resources the University Library has to offer for graduate students.
The Data Management workshop hosted by Carol Perry, focused on data preservation, sharing, and organization, which is vital information for anyone in the early stages of research. The workshop included tips for properly organizing the collection of data and options for long-term storage of information.
In the resume-building workshop led by Heather Powell Sidu, from the University's Career Services, students focused on practical tips to develop and improve students' resume or CV. "This workshop provided professional guidance for students pursuing careers in both an academic and industry setting," explains O'Shea. "This was an interactive, hands-on session enabling students to follow along with their own resume."
Lucia Costanzo, a data analyst from Guelph's research and Library team, hosted a workshop on the statistical program SAS University Edition. This workshop provided a tutorial on the basic skills necessary for using SAS, which is commonly utilized by graduate students for analyzing sets of data. This was a small, interactive workshop in a computer lab and allowed students to follow along with a sample data set at the instruction and guidance of an expert.
Lezlie Cunningham, the Career Centre Coordinator at Ridgetown Campus, led a workshop called "Interview to get the job you want", which provided key interview tips and tricks that can be used by any of the participants. "It delivered an overview of what employers are looking for in an ideal candidate, as well as how to sell oneself and really ace a job interview," explains Woolcott. "Students all received great advice for going above and beyond general expectations."
The presentation skills workshop was a must-attend event for new grad students covering everything from slide layout, targeting a particular audience, and dealing with the dreaded question period. The group dynamic allowed for students to engage in a shared learning environment, each adding their own unique experiences and suggestions to the conversation.
After lunch, students split into two groups to experience one of two industry tours. One group toured Lakeview Greenhouses & Farm while the other half toured Glenn Seed Co., which is an independent corn breeding company. At Lakeview Greenhouses & Farm, students learned about how vegetables and fruits make it to the dinner plate. Students learned how the owner has created a niche market through helping farmers get a head start by growing their plants indoors in the off-season.
"The sheer volume of transplants that are shipped out of this greenhouse every year and the distance they travel before reaching the farmers' fields was very impressive," says Coon. "The owner has clearly worked very hard to amass such a far-reaching clientele base and it shows that agriculture isn't just all about the end-product; it's about the people too."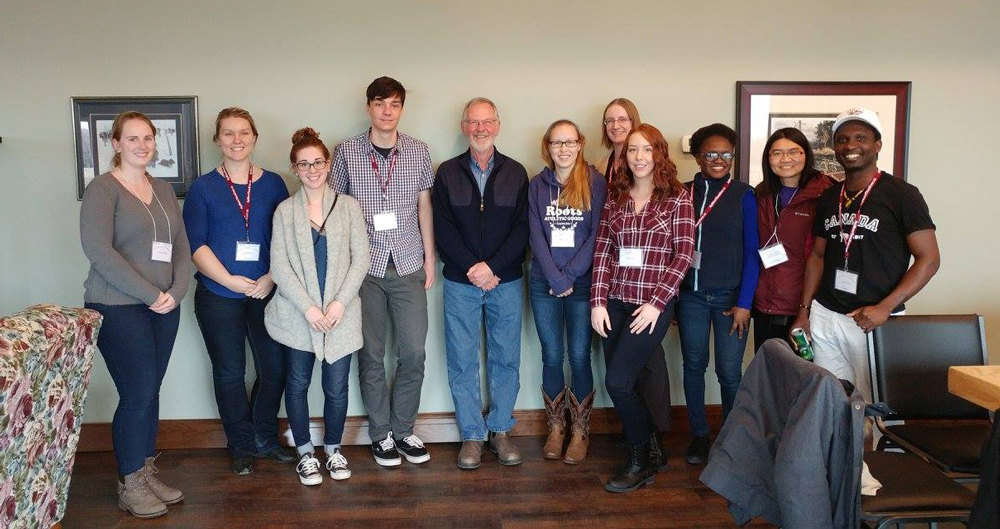 At Glenn Seed Co., students were introduced to Dr. Francis Glenn, the president and founder of the company. Glenn Seed is a family owned and operated corn breeding and foundation seed company that is nestled among fruit farms on the north shore of Lake Erie near Blenheim, Ontario, Canada. The company breeds, researches and develops parent corn inbred lines for use by seed companies who produce hybrid corn for sale to farmers. Students learned about the differences between silage and grain corn, and the importance of high quality silage, which is the foundation of success for a dairy operation.
"As this event evolves and grows, it will only get better," shares Stricker. "If you are a graduate student and find yourself available next year, we would strongly encourage you to attend."
The conference was sponsored by the OAC Richards Learning Trust, the Gordon Nixon Leadership Award, the Student Federation of the OAC, and the OAC Alumni Association. Donations for door prizes were received from the School of Environmental Sciences, the Department of Plant Agriculture, the OAC Dean's Office, and Ridgetown Campus.
Share this page
News Topics