Ridgetown Campus Class of 2020 Managed Adversity to Cross the Finish Line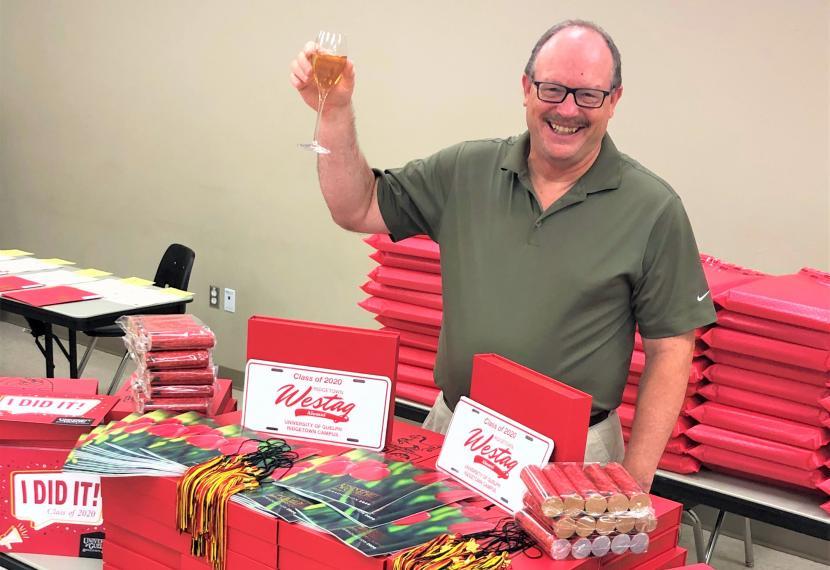 The Class of 2020 at the University of Guelph, Ridgetown Campus has much to celebrate.  In a year of uncertainty and change, 235 new graduates managed significant challenges in the final weeks of their Ridgetown experience to successful graduate this summer. 
"This class has been an honour to get to know, and I strongly believe they will make us proud as they enter the industry-related workforces they have chosen to pursue," says, Ken McEwan, Campus Director. "This group of students were required to adapt to an alternative delivery of classes, and I'm proud to say they made it to the finish line together." 
"We are excited for each of these new graduates and are thrilled to have them join our alumni family," he adds.
The campus has sent all graduates a special "Congratulations in a Box" package to help them and their families celebrate this very important milestone. The planned June 5, 2020 Graduation Ceremony was cancelled due to COVID-19. 
In addition to receiving their graduation parchment and program, the package included a congratulatory video message featuring the graduation guest speaker, the Class of 2020 valedictorian and administration and academic leaders. 
Graduation guest speaker, alumnus Brad Chandler, is CEO of Hensall Co-op in Exeter. His message to graduates included advice on the importance of learning to be an active listener and working in a team spirit when reviewing new ideas and strategies with colleagues. He also stressed the importance of building good relationships in all aspects of their career, home, and community life.
The Class of 2020 valedictorian, Robbie Jackson, an agriculture diploma graduate, was excited to have the chance to address classmates virtually. Robbie shared memories, as well as a message of appreciation to the teaching staff and families for their important roles. Robbie is currently working on his family's dairy farm near Thamesford, ON, with plans to travel and work abroad when it becomes safe to do so.
"I wish each of these Ridgetown Campus graduates much success in their future lives and careers," says Prof. Rene Van Acker, Dean of the Ontario Agricultural College. "I also want to thank the parents, friends, and teaching staff for the important roles they played in the students' academic journeys, particularly in the last few weeks of their final semester." 
"It's also important to thank our generous donors for their continued support of our students," Van Acker adds. 
Through the Graduation Awards Program, the campus was able to distribute close to $35,000 across 50 graduation award opportunities. Award recipients were selected for their achievements in academics, leadership and student life involvement. 
Share this page
News Topics