Soup Startup Offers Convenience in a Jar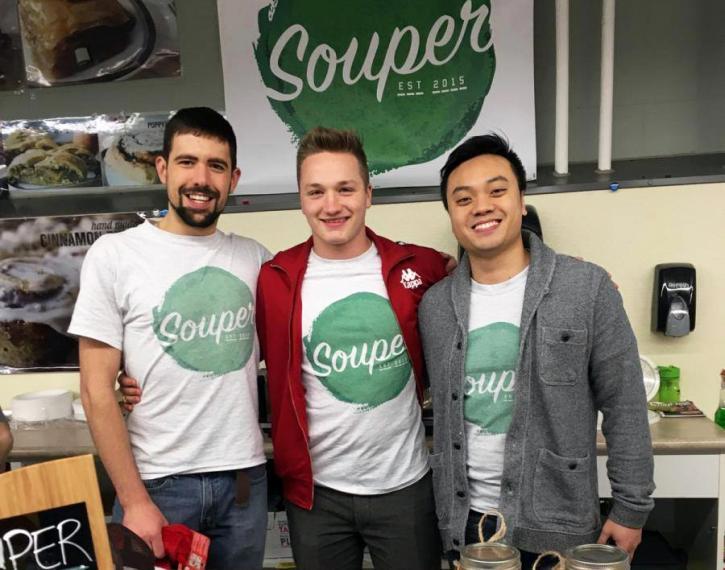 Convenience food comes in many forms, from frozen dinners to take-out, but a group of entrepreneurial U of G students are hoping to entice hungry consumers with their own take on delivery: soup.
Food science students Brandon Guild and Allan Mai founded Souper, a startup that delivers soup to your door.
Together with U of G student Dylan Robertson, they began creating their own soup recipes in 2015. After testing their soups on friends and family, says Guild, "We learned that there are some people out there who are really crazy about soup."
If you're one of those soup fans, Souper will be at the Guelph Farmers' Market in April. "Everyone who tastes it wants it," he says of the free samples they give out at the market.
The recipes are inspired by the students' culinary backgrounds. "Some of them are twists on what we ate growing up," says Mai, who attended the culinary program at George Brown College before coming to U of G to study food science. "Our soups take on different cultural profiles," adds Guild.
Souper offers a variety of vegetable and meat-based soups and also includes vegan options. The menu changes every week, featuring everything from Asian-inspired miso and chana masala to North American favourites such as gumbo and turkey noodle. Many of the ingredients come from local vendors in Guelph.
The biggest challenge the students faced in starting their own business was finding an affordable kitchen space. They chose a co-op kitchen in Hamilton called the Kitchen Collective, where they produce about 40 litres of soup in a typical week, or up to 100 litres for catering.
They credit their startup's success to the mentorship and funding they received through the Hub, an entrepreneurship program at U of G's Centre for Business and Student Entrepreneurship. Their business pitch won over a panel of judges with samples of their soup. "It was an extremely good decision to bring some soup to our presentation," says Guild. "It definitely didn't hurt."
Having a food science background helped them ace their food inspections by the City of Hamilton, he adds. They also have a catering licence.
The demand for ready-to-eat meals is growing as busy professionals spend more time at work, leaving less time to prepare meals at home.
Souper makes all of its soups from scratch and delivers them to Guelph. All orders received before Saturday at noon will be delivered anywhere in Guelph on Sunday or Monday.
"Tasting is believing," says Guild. "Our soups are really unique. You're not going to go to a restaurant and find our soups."
Share this page
News Topics