Students place fourth at national marketing competition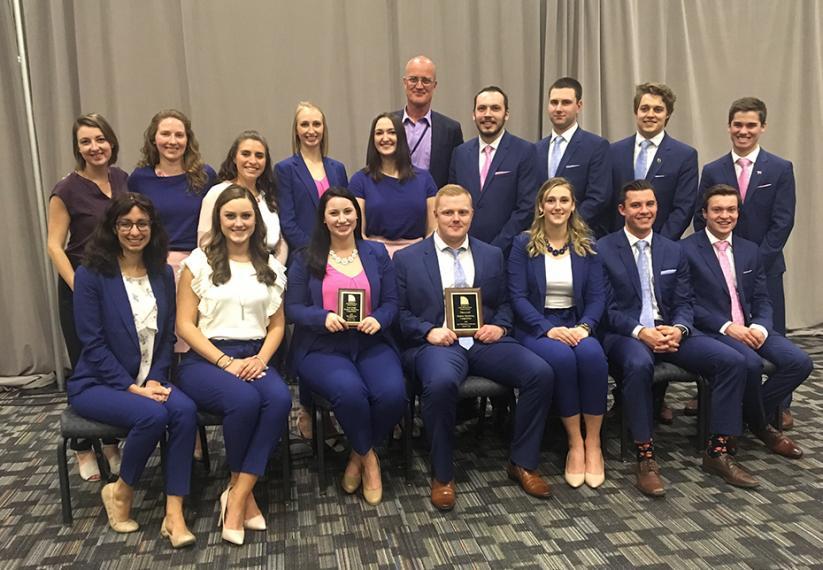 The University of Guelph's Canadian Agri-Marketing Association (CAMA) Student Chapter placed fourth overall in the 2019 National Agri-Marketing Association (NAMA) Student Marketing Competition held April 10 and 11 in Kansas City. 
The team had 15 students involved with this year's project to market a prospective product the team named Blooming Bites. With the full permission and support of Freeman Herbs, a potted herb company located in Beamsville, ON, the team spent the last several months conducting market research, writing the marketing plan, and developing a presentation on potted edible flowers.
"It's inspiring to see the dedication and creativity of these students.  I'm very proud of the success they had but especially of the work they did to get there," says Prof. Mike Von Massow, faculty advisor to the CAMA Student Chapter. "While it's great to do well in the competition, I think the process is such a good example of experiential learning.  The students find a product and build the whole launch plan including distribution, pricing, marketing, promotion, and financials."
This year's team included:
Isabelle Aicklen (Honours Agriculture)
Allison Bailey (Honours Agriculture)
Evan Chaffe (Food and Agricultural Business) 
Tyler Cronin (Food and Agricultural Business) 
Tyler Dietrich (Food and Agricultural Business) 
Logan Emiry (Honours Agriculture) 
Faith Fullerton (Food and Agricultural Business) 
Laura Fullerton, President (Food and Agricultural Business) 
Erika Jakubec (Food and Agricultural Business) 
Michelle Ragany (Leadership and Organizational Management)
Bryce Ribey (Crop, Horticulture and Turfgrass Sciences)
Mitchell Rice (Food and Agricultural Business)
Tim Shuh (Food and Agricultural Business)
Marsha Schaap (Food and Agricultural Business)
Megan Wright (Food and Agricultural Business)
Share this page
News Topics