Sunflowers Sprout in Ontario Classrooms
Miniature sunflowers have been sprouting in high school classrooms all over Ontario thanks to the Ontario Agriculture College's (OAC) liaison program.
The Alfalfa Tea Experiment is a classroom lesson plan designed to teach high school students about plant growth. Students compare the use of organic (alfalfa tea) and synthetic fertilizers to help understand the scientific process of conducting an experiment.
The project runs for twelve weeks with a lesson plan designed by Rodger Tschanz, a greenhouse technician in the Department of Plant Agriculture.
"This experiment was envisioned as being an entry point for the students into the world of experimental design, experimental method and critical thinking where the students can reflect upon how environmental inputs can greatly affect the experimental outcome," explains Tschanz.
Rodger teamed up with the OAC liaison staff to administer and promote the program. "The experiment has been an excellent way to get students interested in plant science. Introducing an interactive educational tool such as this in high school class rooms helps students discover their interests and contributes to their decisions regarding post-secondary education," shares the OAC Liaison Officer, Karen Nelson.
This spring over 50 classes and hundreds of students across nine different school boards are participating in the experiment. Registered classes receive an information package containing their sunflower seeds, instructions and discussion questions. Starting on Monday, March 23rd students planted their own seeds and are currently making observations on the height, growth rate and colour of each plant in the three treatment groups. Students will also discuss the advantages and disadvantages of different fertilizers and what factors may alter results in their experiment. The experiment wraps up on Friday June 12th.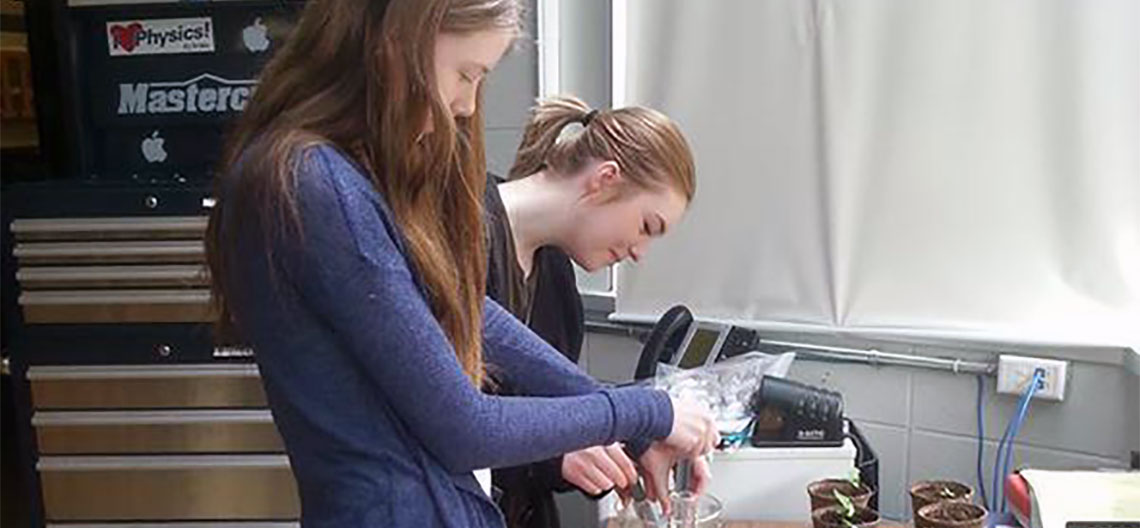 Teachers correspond with OAC liaison staff during the experiment and receive feedback from Rodger regarding their scientific and plant related questions. Participating classes also have the opportunity to compare their results with each other midway through the project and after final results are recorded.
"It is truly an engaging activity for students," shares Jen Ashby, a biology and science teacher at Lord Dorchester Secondary School in North Dorchester, Ontario. "Every day students come in eager to check their plants and water if necessary. Having the students record the data has been a good experience as they are learning about plant parts and growth."
This year social media sharing has been introduced under the hashtag #OACalfalfa. Participants are encouraged to share their photos, class discussions and feedback on Twitter.
"It is heartening to see the increased adoption of this experiment throughout Ontario as science teachers become of aware of this opportunity," shares Tschanz. "A special thanks goes to the OAC liaison office for both promoting this project and supporting its implementation. Obviously the hard work has paid off."
Share this page
News Topics