U of G Researchers Unearthing Methods to Boost Agricultural Soils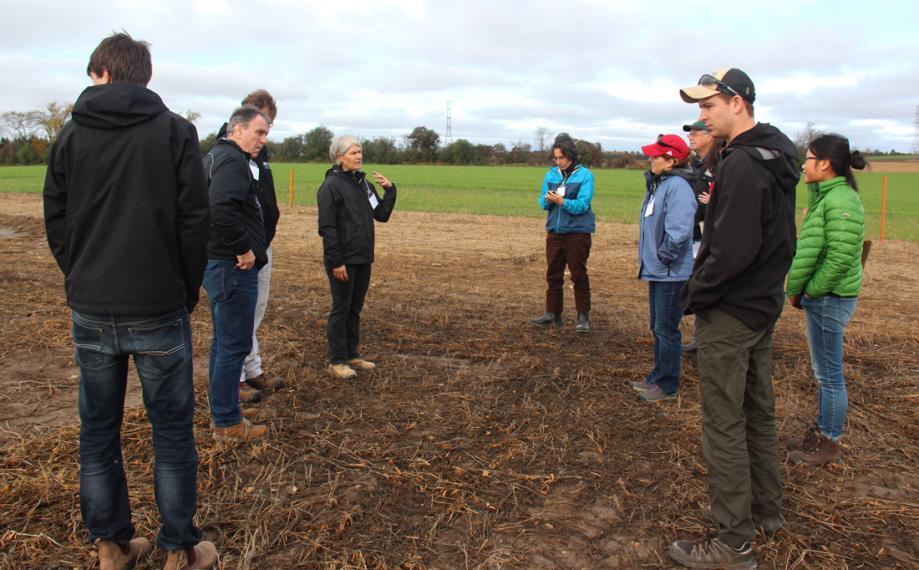 University of Guelph environmental science researchers are leading the charge on studies to improve Ontario's agricultural soil health; a foundation of all life.
Researchers, with the support of the Ontario Ministry of Agriculture, Food and Rural Affairs (OMAFRA), have dug into a number of projects that will help farmers and society in many areas, including cropping systems that could improve soil health, increase producers' profit margins, possibly mitigate climate change and provide other environmental benefits.
Professor Claudia Wagner-Riddle, lead researcher on a long-term soil health-monitoring project that began in May, says there's an environmental benefit if producers can have the same productivity using fewer inputs. Furthermore, soils with improved organic matter have better water retention and infiltration leading to reduced water use for crop production.
The project utilizes 18 lysimeter cylinders for soil monitoring; the $2 million infrastructure funded by the Canadian Foundation for Innovation and the Ministry of Research, Innovation and Science is the only setup of its kind in North America.
"That may be quite beneficial if we have more drought episodes" similar to the summer, she notes.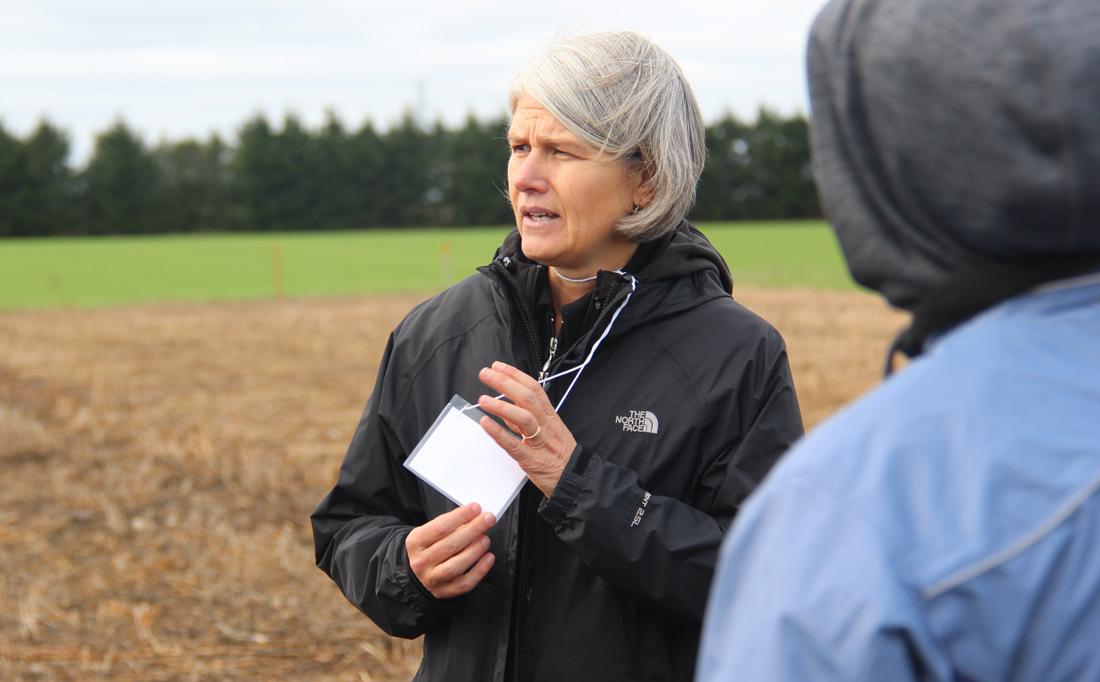 Associate professor Laura Van Eerd says she's participating in six different soil health projects as lead researcher for some and collaborator on others. Part of Van Eerd's work involves studying two commercially available soil health tests, the Haney and Cornell.
"I want to know if they can pick out differences in our different cropping systems," an indicator the tests are working, she explains. She's also studying whether the differences are meaningful.
The food production system is based on soil, Van Eerd notes. "Maintaining a healthy and productive soil results in crops, and therefore life itself."
Other work Van Eerd is focused on includes an understanding of nitrogen and soil carbon dynamics.
"We're trying to understand what systems have the potential to store more carbon and from there that could go into relating the soil organic carbon to what growers can do to improve soil health," she notes.
Van Eerd also says her eight-year experiments studying cover crop usage compared not using them is showing improved profit margins for growers.
"We see slight yield boosts with the cover crop than without it," she explains, noting the crops used in her experiments are: oats, rye, cereal, oilseed radish, peas, vetch and hairy vetch.
Kate Congreves, post-doctoral research fellow, says the soil health project she's part of looks at how soil ecosystem services influence and are influenced by farming practices. For example, how will a crop rotation of corn followed by two years of soybeans influence soil ecosystem services compared to using a more diversified rotation (corn, soybeans, winter wheat) along with cover crops and inter-row cropping?
She'll be moving to an assistant professor position at the University of Saskatchewan in February but will stay involved in the University of Guelph project located at the Elora research station.
Wagner-Riddle says, "With additional diversity and carbon input into soils, we know soil health is promoted." Specifically, diversified crop rotation systems have the potential to increase crop productivity, contribute to better water filtration, greenhouse gas storage, and microbial diversity in soil organic matter.
Researchers are working to quantify the improvement in soil ecosystem services, which are the benefits derived from soils, under the diversified rotation.
Soil health research helps in understanding climate change
Carbon dioxide is a greenhouse gas that is associated with climate change. If researchers, through their soil health studies, can determine which cropping systems provide more long-term storage of carbon, then the agricultural industry's contribution to the carbon cycle could be quantified and "perhaps one could extend that to climate change," says Van Eerd.
In the soil health-monitoring project, Congreves says chambers on top of the lysimeters can measure greenhouse gases, such as carbon dioxide and nitrous oxide, enabling researchers to determine how much is being released through different cropping systems.
That will help contribute to a better understanding of greenhouse gas emissions, she notes.
And, if researchers can gain a better understanding of soils' ability to store carbon and provide other ecosystem services that will "lead to an environmental benefit," she explains.
Researchers use lysimeters to study soil health
Congreves says each of the 18 lysimeters for the soil monitoring project contain undisturbed soil, have a diameter of one metre, a vertical height of 1.5 metres and are buried underground. A unique element to the project is there are two different soil types – sandy loam and loam – on the same site that researchers can study. That "hasn't been done before," she explains.
At five depths, sensors in each lysimeter take soil measurements of:
Gases
The amount of water moving through and what's in the water
Moisture
Temperature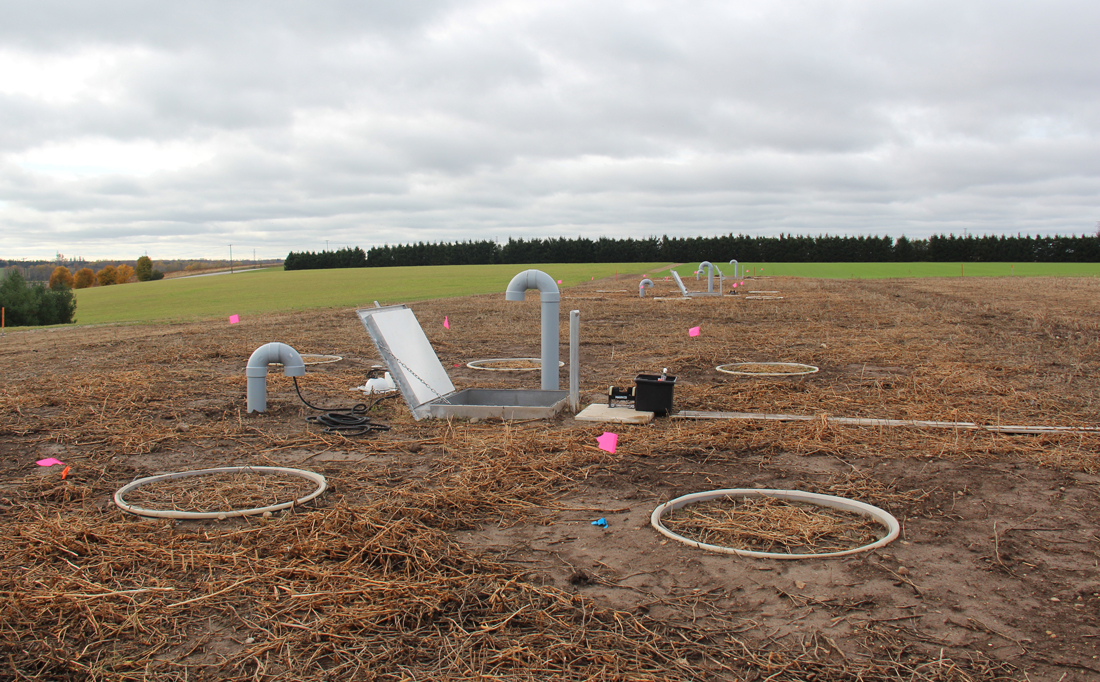 Society increases focus on soil health
Wagner-Riddle says a focus on soil health among researchers is not new, only now there's awareness among the general public "that soils are really important."
According to Ontario Environmental Commissioner Dianne Saxe's technical report on soil health released Nov. 15, Putting Soil Health First: A Climate-Smart Idea for Ontario, healthy soils can mitigate and adapt to climate change. Furthermore, farmers' yields are increased when crops are grown in healthy soils and producers need fewer nutrients and pesticides, thereby increasing farm profits. Society benefits too as poor soils have a reduced ability to absorb and hold water and nutrients, compared to healthy soils, and are more prone to drying out faster in droughts, become flooded and are susceptible to erosion in heavy rain.
During the past 30 years, Ontario's agricultural soils have suffered serious organic matter losses, according to Saxe's report. However the soil's organic matter can be rebuilt by better farming practices.
OMAFRA - U of G partnership benefits research
The university's long-standing partnership with the Ontario Ministry of Agriculture, Food and Rural Affairs plays an important role in providing funding for soil health research. The agreement provides other benefits too.
Van Eerd says for her work, the partnership provides matching funding from commodity and industry groups.
She also collaborates with ministry specialists. "They work to translate knowledge and extend my research results to growers."
Congreves says, "It's absolutely critical to have OMAFRA on board." The partnership directly funds the long-term soil health-monitoring project.
Wagner-Riddle says the partnership also enables researchers to have a place, the Elora research station, to put the lysimeter equipment.
Funding for the lysimeter research is provided by the OMAFRA – U of G Partnership, Canadian Foundation for Innovation, Ontario Ministry of Research, Innovation and Science, Grain Farmers of Ontario, and the Ontario Soil and Crop Improvement Association.
Share this page
Find related news by keyword
News Topics