U of G student teams win again at the Northeastern Collegiate Weed Contest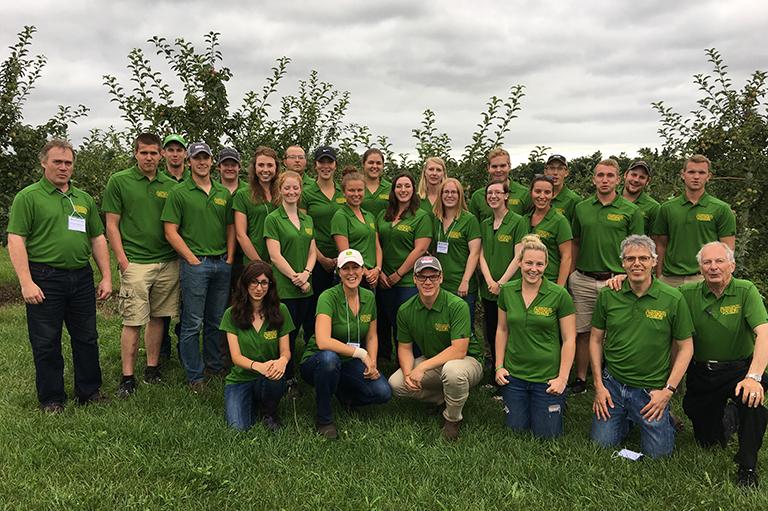 Teams of undergrad and graduate students from the University of Guelph competed and placed well at the North Eastern Weed Science Society's Northeastern Collegiate Weed Contest on July 25 at the ACDS Research Station in North Rose, NY.
Following the success of past years, two undergraduate teams placed first (Todd Frey, Alex Sanders, Peter Buys and Brett Hilker) and second (Anniken Young, Julie French, Anita Rastapkevicius and Emily Priester). In the individual undergraduate category, Alex Sanders placed first and Todd Frey placed third.
In the graduate team category, the U of G team of Meghan Grguric, Brittany Hedges, Elizabeth Buck and Lauren Benoit took second place. In the individual competition, Brendan Metzger won second and Elizabeth Buck achieved the highest result in weed identification.
 "I am very proud of our students. They worked very hard since our first meeting in April and deserve all the credit," said Darren Robinson, plant agriculture professor at Ridgetown Campus who coached the teams.
The U of G students competed against teams from Cornell, Ohio State, North Carolina State, Virginia Tech and Penn State on their skills in weed species identification, herbicide injury diagnostic, farmer problem resolution and sprayer calibration.
"While the weather conditions that day weren't ideal, the students took it in stride and their spirit never waned. All the hard work paid off, as they performed very well," said François Tardif, coach and plant agriculture professor.
The coaches also expressed their gratitude to Meghan Grguric, Peter Smith and Mike Cowbrough for their help during the training sessions, and to their sponsors: Grain Farmers of Ontario, Bayer Crop Science, Nufarm, Valent, Syngenta, FMC, Dow AgroSciences, BASF, Monsanto and DuPont. 
2017 OAC Weeds Team: back row: Darren Robinson, Peter Buys, Ben Morgan, Brett Hilker, Johnathan Slack, Julie French, Todd Frey, Anita Rastapkevicius, Andrea Smith, Tessa de Boer, Kyle Smith, Alex Sanders, and Gerrit Schober; middle row: Katie Trottier, Lauren Benoit, Emily Priester, Elizabeth Buck, Anniken Young, Brittany Hedges, Brendan Metzger, and David Westerveld; front row: Allison Bailey, Meghan Grguric, Mackenzie Mahon, Sydney Wardell, François Tardif and Ken Mackenzie.  
Share this page
News Topics