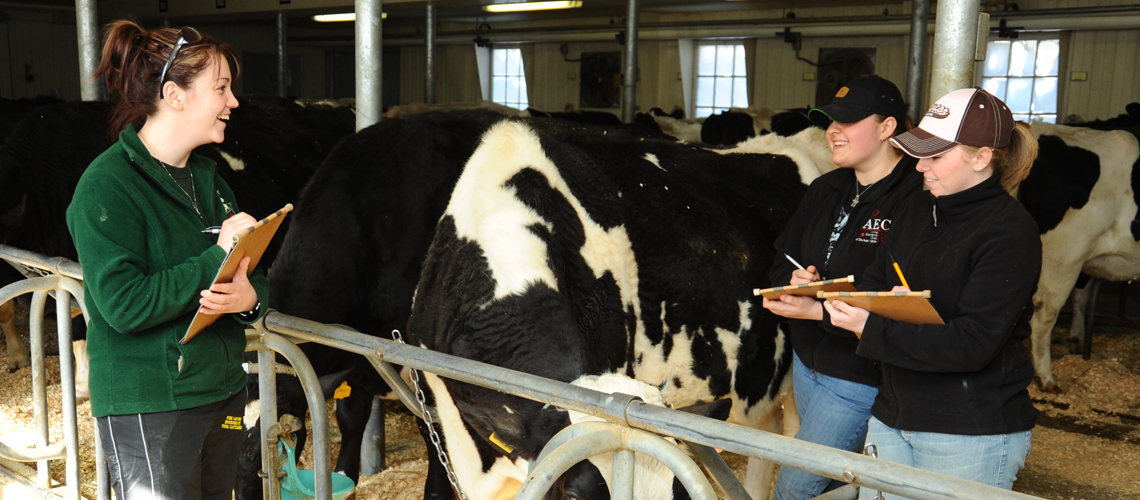 Modern animal agriculture aims to produce quality products in efficient and humane animal production systems. In the Animal Science major of the Bachelor of Science in Agriculture [1] degree program, you will learn how environment affects productivity, how physiology affects reproduction, and how to improve food quality, production and performance through animal breeding and good nutrition. You will also study animal behaviour, housing and management systems that promote farm animal welfare, and learn how meat scientists develop tasty and nutritious products. This program is offered and administered by the Department of Animal Biosciences [2].
Admission Requirements
Ontario students applying to the Bachelor of Science in Agriculture - Animal Science program require 4U English; 4U Advanced Functions; two of three 4U high school science courses ( ie.: biology, chemistry and physics); two additional 4U or 4M courses. *Applicants who lack either biology or chemistry will be required to take a replacement course in semester one.
Full information on admissions requirements can be found in the Undergraduate Calendar. [3]
How to Apply [4]
Sample First Year Courses
Semester 1
Introduction to the Agri-Food Systems
Biology of Plants & Animals in Managed Ecosystems
General Chemistry I
Elements of Calculus I
Semester 2
Agroecology
Introduction to Molecular and Cellular Biology
General Chemistry II
Economics of the Agri-Food System
Full course descriptions and a listing of second, third and fourth year courses, check out the Undergraduate Calendar [5].
Life as an Animal Science Student
Sometimes the best way to learn about a program is through meeting a current student. Read about student experiences through the following student profiles:
Career Opportunities
Livestock nutritionist
Life science professional
Marketing coordinator
Vet pharmaceutical sales representative