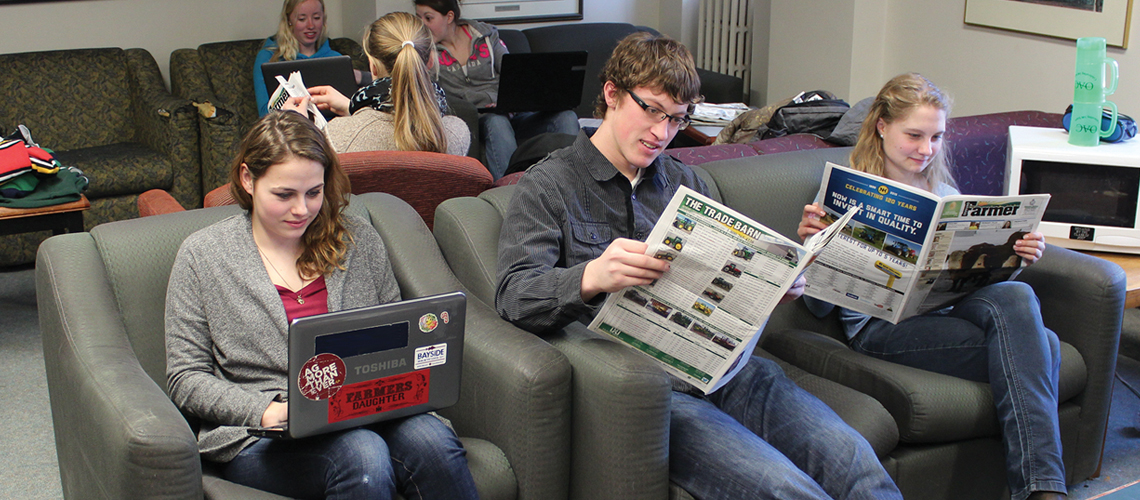 If you want breadth and flexibility in your studies, the Honours Agriculture major of the Bachelor of Science in Agriculture [1] degree program may be for you. You'll take a core curriculum of agriculture and food-related courses and with the help of your advisor, choose courses to prepare you for the career of your choice. You'll be able to integrate courses from a number of disciplines. You can choose to specialize or keep your program flexible.
Admission Requirements
Ontario students applying to the Bachelor of Science in Agriculture - Honours Agriculture program require 4U English; Advanced Functions; two courses from 4U Biology, Chemistry and Physics; two additional 4U or 4M courses. Students who are lacking a specific 4U subject requirement but who have a high overall academic standing are encouraged to apply for admission.
Full information on admissions requirements can be found in the Undergraduate Calendar. [2]
How to Apply [3]
Sample First Year Courses
Semester 1
Introduction to the Agri-Food Systems
Biology of Plants & Animals in Managed Ecosystems
General Chemistry I
Elements of Calculus I
Semester 2
Agroecology
Introduction to Molecular and Cellular Biology
General Chemistry II
Economics of the Agri-Food System
Full course descriptions and a listing of second, third and fourth year courses, can be found in the Undergraduate Calendar [4].
Life as an Honours Ag Student
Sometimes the best way to learn about a program is through meeting a current student. Read about student experiences through the following student profiles:
Career Opportunities
Agriculture consultant
Educator
Government regulator/advisor
Agriculture journalist
Meet our Alumni
Say hello to Daniel, a graduate of the honours agriculture program and brewmaster of MacKinnon Brothers Brewing Company.