Written by:
Emma Harris, OAC student, Class of 2017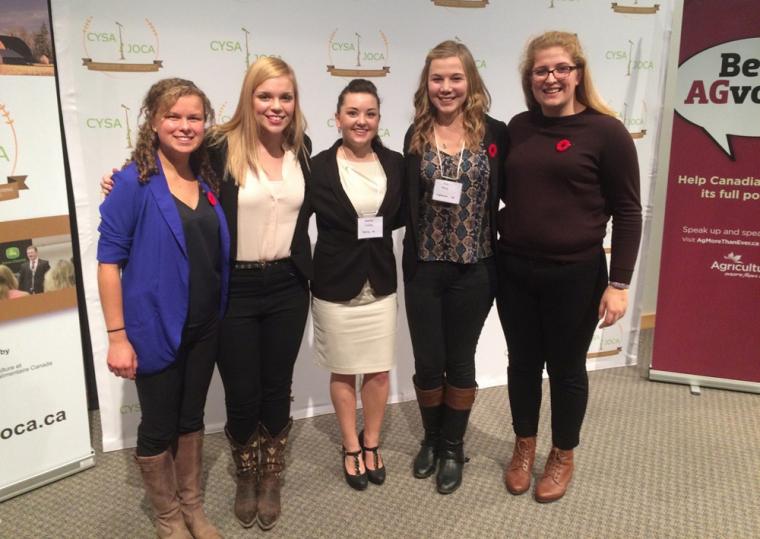 The Royal Agricultural Winter Fair (RAWF) was in town in November, which meant that participants from all over the country were showing off their best. Whether it was livestock shows, crop competitions, or other contests during the fair, it was an exciting time of friendly competition, and many students from the Ontario Agricultural College (OAC) of the University of Guelph were participating. For the most part, these students took part in the livestock and horse shows, but for a few OAC students, their chance to shine was in a different capacity.
On Saturday, November 10th, speakers from all over Canada came together at the RAWF to compete in the Canadian Young Speakers for Agriculture (CYSA) competition. The speaking competition, in its 31st year, encourages youth from age 11-24 to speak up and speak out for agriculture.
Entrants are given five topics to choose from, and must speak for 5-7 minutes on their chosen topic. They are judged by a panel and marked on their speech content, speaking skills and overall presentation. In the senior competition, for speakers aged 16-24, six finalists are chosen to speak in the finals.
This year, six OAC students spoke at the CYSA competition in the senior category: Deanna Ringelberg, Vanessa Crowley, Niki Alsop and Emma Harris, who are in their third year, and Lauren Benoit and Constance Dagnon, who are in fourth year. Although these students did not move on to the finals, each student presented an original speech and represented OAC well.
They were joined by OAC alumnae Ashley Knapton and Courtney O'Neill, who were both MCs at the event. Both are past winners of the competition. Knapton, a 2013 graduate, won the competition last year, and O'Neill, a 2015 graduate, was second runner-up in the 2013 competition. Owen Roberts, who works in the University of Gueph's Office of Research, was also on hand to help share in the MC duties at this year's competition.
Though each speech presented at the competition was an original entry, there seemed to be two main themes for the day: climate change and connecting with the public. The former topic was presented in various ways, and is a pressing issue in today's world. The speeches addressing climate change were well researched and presented some great ideas on how the agricultural world will have to adapt to changing climate conditions in the future.
The other main topic touched upon by speakers was connecting with the public and specifically those who are not involved in agriculture. Many speakers highlighted that primary producers need to be the ones to answer consumer questions and explain agricultural practices.
The CYSA speaking competition is an excellent platform for youth from all over Canada to share their ideas about agriculture and the University of Guelph and OAC, in particular, were very well represented at CYSA and the RAWF.
The Canadian Young Speakers for Agriculture Competition is held every year at the Royal, for youth ages 11-24.