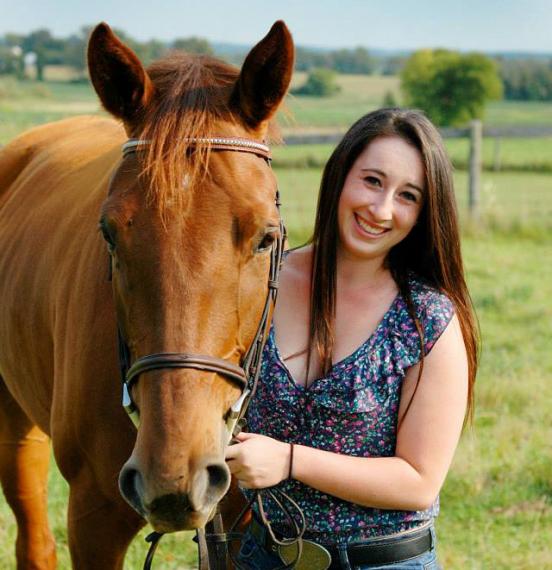 About Rachel Goodman
For Rachel Goodman, a fourth year Bachelor of Bio-Resource Management Student (BRRM), Equine Management [1] student, no university spoke to her equine passion quite like the University of Guelph. Since enrolling in the BBRM Equine Management program, Rachel has strengthened her passion for both the equine industry and the University of Guelph through her involvement in the BBRM student council and countless hours spent in the barns with her horse. Rachel also volunteers with liaison programs at the university to encourage more students to find their place and passion at Guelph.
Program: Bachelor of Bio-Resource Management – Equine Management (BBRM) [1]
Year of Study: Fourth Year
Hometown: Mount Albert, Ontario
---
Why did you decide to come the University of Guelph / OAC?
I found out about the BBRM program at the Royal Agricultural Winter Fair when I was in high school and fell in love. I was really attracted to the focus on agriculture, specifically equine, offered by the program. Since then I have volunteered every year at the Royal to help people find their own path, hopefully at Guelph!
What do you like best about your program?
I really love that this program offers such a nice balance of hands-on experience and academic learning. The two aspects really complement each other to provide students like myself with a well-rounded education. I feel that my hands-on experience and academic learning have provided me with the right balance of skills to enter the work force right after graduation.
Do you have a favourite class or professor?
My favorite classes have been focused on anatomy and physiology of agricultural species. Agricultural Animal Physiology with Prof. Bedecarrots has been my favorite class so far. This class was a combination of both labs and lectures. The labs were my favorite part because we had much closer contact with the professor and had many opportunities to ask questions. We also had the opportunity to do dissections, which is always a huge bonus.
What is your favourite way to procrastinate from studying?
My favorite way to kill time is to go the barn and ride my horse! I have been very lucky that I have been able to bring my horse to school with me every year. If I'm not at the barn, I enjoy spending time with my classmates playing board games or cards.
What is your plan after graduation?
After graduation I will be applying to the Canadian Memorial Chiropractic College. I hope to become a specialized large animal chiropractor in the future and focus my work on helping both the horse and the rider.
What is your favourite spot to hang out on campus?
I don't spend too much free time on campus as I live within walking distance, but when I am on campus I like to go to Booster Juice or the library to study or read.
How do you get involved on campus or in Guelph?
I am involved on campus as a member of the BBRM student council. I joined student council in my first year and I found that council was a great way to meet more even people on campus. It has been really great getting to know younger years in the equine major, as well as some of the environmental major students.
Do you have any favourite spots in Guelph?
I like to go to the Stone Road Mall, or to get some fresh air I enjoy heading down to the river to go fishing or just go for a walk. The Stampede Ranch is always fun spot to hang out on a night that I have free time!