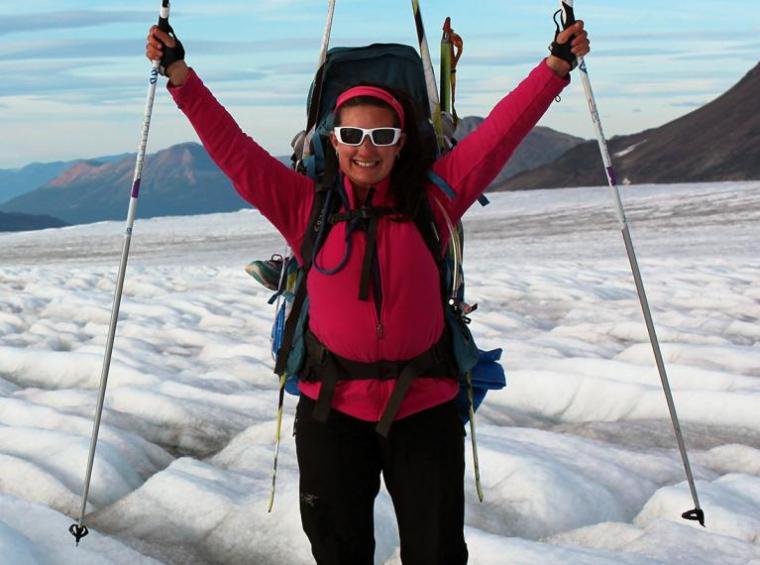 About Laurissa Christie
In her four years at the University of Guelph, Laurissa Christie, has taken advantage of all the wonderful opportunities offered as part of the university experience. From studying glaciers in Alaska to learning about agriculture in the American Midwest, Laurissa has no regrets about choosing to become an "enviro aggie" at the University of Guelph. When not travelling, Laurissa keeps busy on campus through her involvement in a multitude of clubs, including the Student Federation of the Ontario Agricultural College (SFOAC) and the Environmental Sciences Student Executive (ESSE).
Program: Bachelor of Science in Environmental Sciences - Environmental Sciences [1]
Year of Study: Fourth Year
Hometown: Tara, Ontario
---
Why did you decide to come the University of Guelph / OAC?
I remember sitting on my living room floor about a week before I had to accept an offer to university. I laid out all of the acceptance letters and thought about where I wanted to spend the next four years of my life. I was the most excited to learn I had been accepted to Guelph and I knew the school had a great environmental science program. I also grew up on a farm in rural Midwestern Ontario, so naturally I was attracted to the sense of home that the OAC would bring to me! I knew Guelph would be a great choice both academically and personally. I am so excited that I chose to be a gryphon and an "enviro aggie"! 
What residence did you live in during first year?
Lennox-Addington 10 – The penthouse! Residence was a great opportunity to meet new people. There was always someone to talk to, grab some food with and study with! 
What do you like best about your program?
I love the flexibility that the B.Sc. Environmental Science program offers and the ability I have to take advantage of a variety of opportunities like courses in agriculture to studying glaciers in Alaska with the Juneau Icefield Research Program. Within the program itself there are plenty of opportunities for fieldwork and hands on learning, which makes our program unique; I have personally benefited from gaining work experience in the co-op program.   I think what I really love most about my program is having classmates who have become wonderful friends and with whom I will work alongside in the future.
Do you have a favourite class or professor?
There are so many terrific professors and classes at Guelph that it is hard to pick a favourite! However, I think the Midwest Crop Tour with Prof. Swanson has been my favourite class so far. I loved spending two weeks with my classmates as we travelled and learned about American agriculture! It was a great way to start my final year at Guelph. I also really enjoyed Aquatic Environments with Profs. McCann and McMeans. They are both engaging and wonderful professors. 
What is your favourite way to procrastinate from studying?
Catching up with friends and attempting to organize my room. I also love to look up future travel destinations! 
What is your plan after graduation?
In the future, I hope to work on a thesis-based master's focusing on climate change, the polar regions, aquatics or agriculture. I also plan on doing a lot of travelling and backpacking. Afterwards, I would love to work in education and help bridge the gap between my two passions: the environment and agriculture. 
What are your favourite events and activities on campus?
My favourite event of all time is College Royal's "Super Thursday". It is so much fun to throw pies at your friends, get a little messy and unwind! I also really enjoy the OAC Goodtimes Banquet and the Environmental Sciences Symposium [2]!
What is your favourite spot to hang out on campus?
I can usually be found hanging out in the Environmental Sciences Student Executive (ESSE) lounge working on homework between classes or in the Science Complex studying in the natural lighting! If I am in need of a snack, I love going to the newly renovated Creelman Hall! 
How do you get involved on campus or in Guelph?
I've been involved in a variety of activities on campus, some of which include the Student Federation of Ontario Agricultural College (SFOAC), Environmental Sciences Student Executive (ESSE), Ontario Agricultural College 2016 Class Executive, College Royal, Environmental Sciences Symposium, Senate, Board of Undergraduate Studies, square dancing, Junior Farmers, figure skating club, Environmental Sciences Symposium and intramural soccer.  I think that these experiences have made my time at Guelph memorable and have provided me the opportunity to generate friendships and memories that will last a lifetime! I am a firm believer that you should never let your schooling get in the way of your education! I encourage everyone to get involved in the gryphon community in any way they can.
Do you have any favourite spots in Guelph?
I love Guelph because there are a lot of great restaurants (with terrific patios) and parks to enjoy. I really like going for runs along the Speed River or walking through the Arboretum to escape the hustle and bustle of the city.