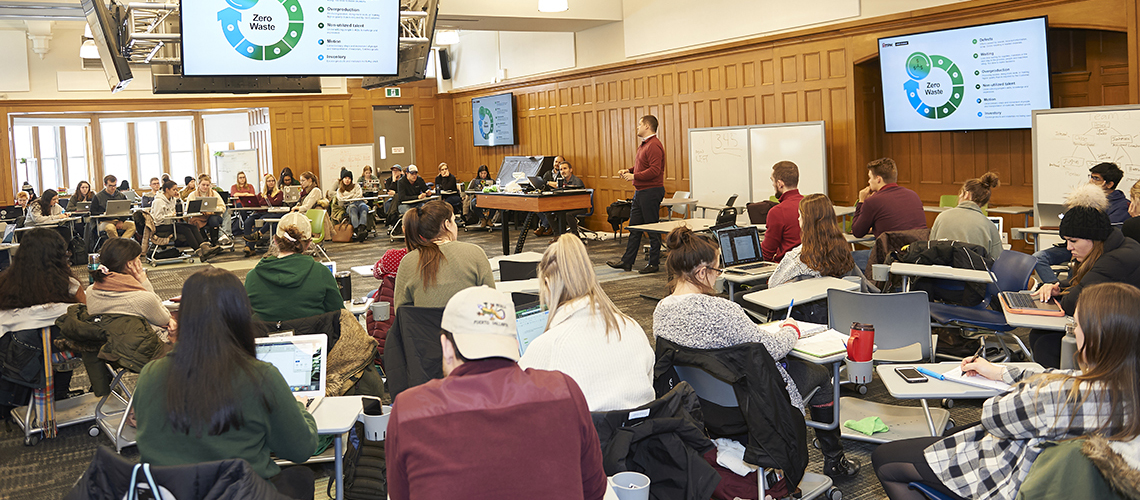 Food, agriculture and environment resources are all vital and complex parts of the Canadian economy, and require educated individuals to help manage and guide their use. OAC offers a range of degrees that enable business and economics students to acquire a specialization by providing engaging opportunities for students to tackle global food and sustainability issues, while developing their analytical and entrepreneurial skills. Students graduate fully prepared for a variety of careers in the agribusiness industry including sales, marketing, consulting, law and international development.
Food & Agricultural Business
Undergraduate Programs
Graduate Programs
Environmental Business
Undergraduate Programs
What Students are Saying
"I was looking for programs that would allow me to pursue food security and resource studies and Guelph's program was the most comprehensive. The OAC has so many traditions and when I went on a campus tour it felt like the right place for me to be. The University of Guelph isn't too big or too small; it has a great atmosphere and I love the campus. " - Laura, food, agriculture and resource economics student
Reasons to Choose U of G
Join a dynamic industry.
Careers in business & economics are in demand. Our graduates become leaders in the sector and are well-equipped for flexible career options.
Learn more [8]
Learn beyond the classroom.
Experiential learning opportunities are at the core of U of G and OAC. You'll take what you've learned in class and apply it to real life experiences!
Learn more [9]
Access funding support.
OAC offers a range of scholarships, bursaries, awards and travel grants. In 2019, 433 student awards were given out totaling over $1.5 million!
Learn more [10]