Rachael Coon is a Master's student in the Department of Animal Biosciences. Working with her advisor, Dr. Trevor DeVries, Rachael's research focuses on understanding the feeding behaviour of dairy cows and applying that understanding to improving the cow's health. Learn what a typical day is like for Rachael by clicking through the arrows below.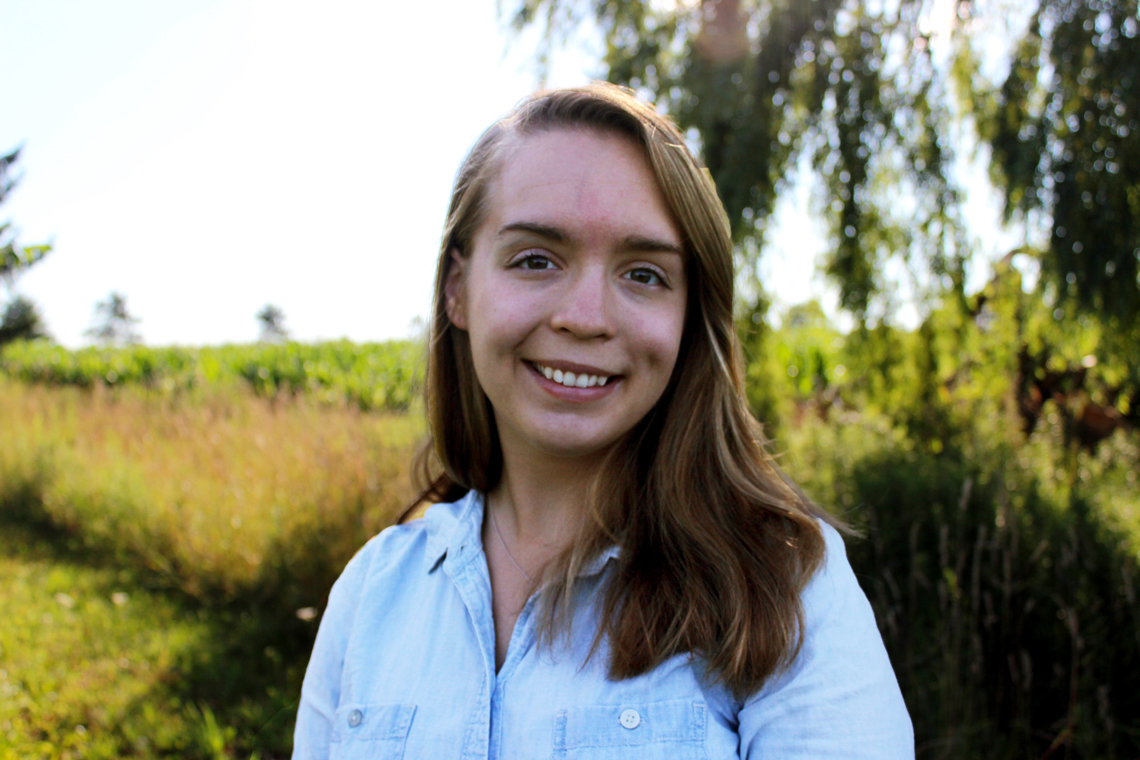 9:00 a.m.
My morning starts with a scenic 30-minute commute to school from Rockwood. I arrive at my lab in the Department of Animal Biosciences building ready to tackle emails, data entry, and writing assignments for the graduate courses I'm enrolled in. I find I focus best in the morning, so I try to get the less-exciting or unpleasant work out of the way first thing when my mind is fresh and focused.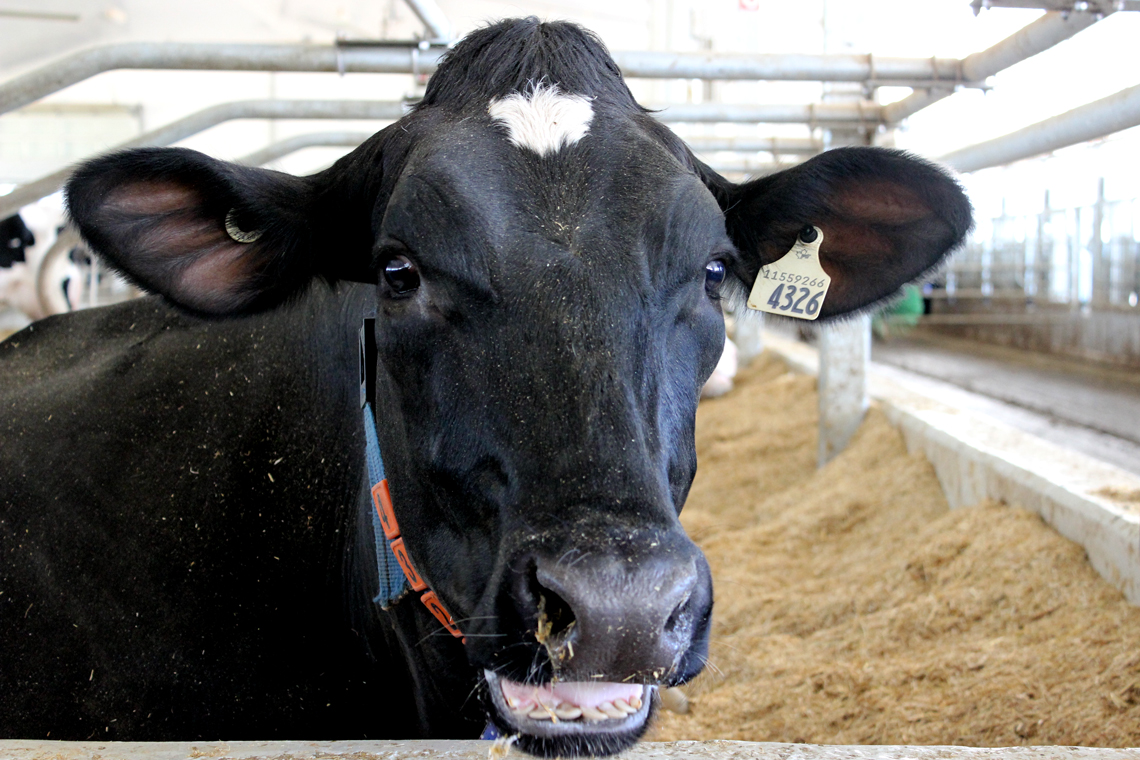 10:00 a.m.
Later in the morning I head to the university's new dairy barn, the Livestock Research Innovation Centre – Elora Dairy facility. Much of my time is spent here where I research dairy nutrition and feeding behaviour. I conduct my own research trial using cows just like this lovely girl! Cows are gentle, cautious creatures and working with them is the best part of my day.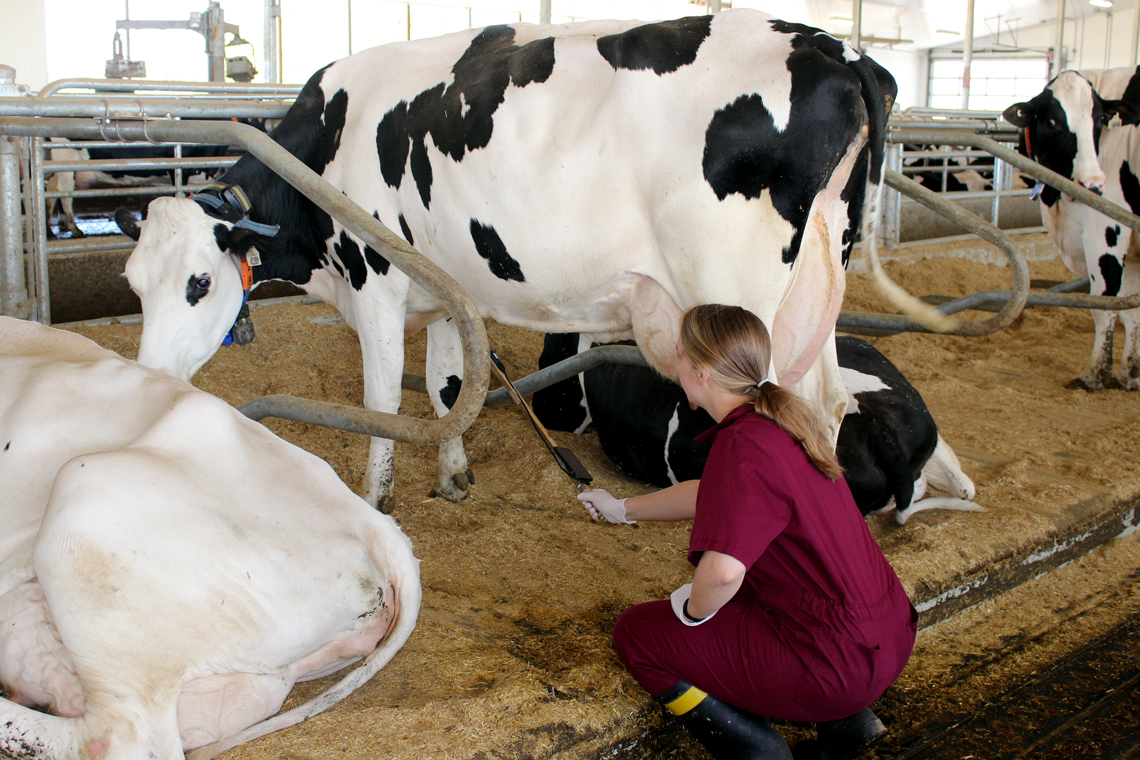 11:00 a.m.
I am studying how feeding behaviour affects the health of a dairy cow in the weeks following calving. After they give birth, cows are vulnerable to disease because they need so much energy to produce milk. This demand for energy affects what cows choose to eat and how much. The cows in my research trial have wireless devices in their rumens, which transmit data about rumen pH and temperature to the scanner I'm holding. Here I am scanning a cow to connect with the device in order to download the data. This data will help me determine what effect a cow's diet has on the rumen and whether she is healthy or sick.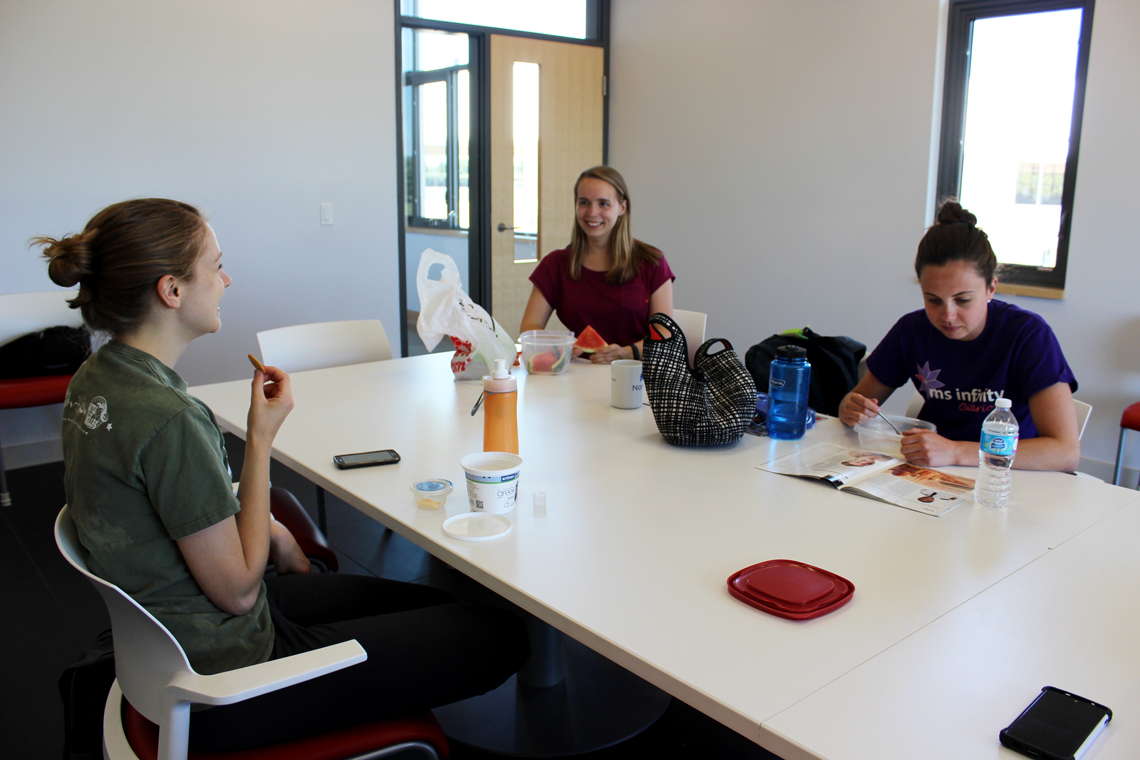 12:30 p.m.
Lunch time! The new barn has a bright and spacious dining area, so there's lots of room to relax and hang out with summer research assistants from my lab. There's even a patio dining set outside so we can sit out in the sun on the nicer days.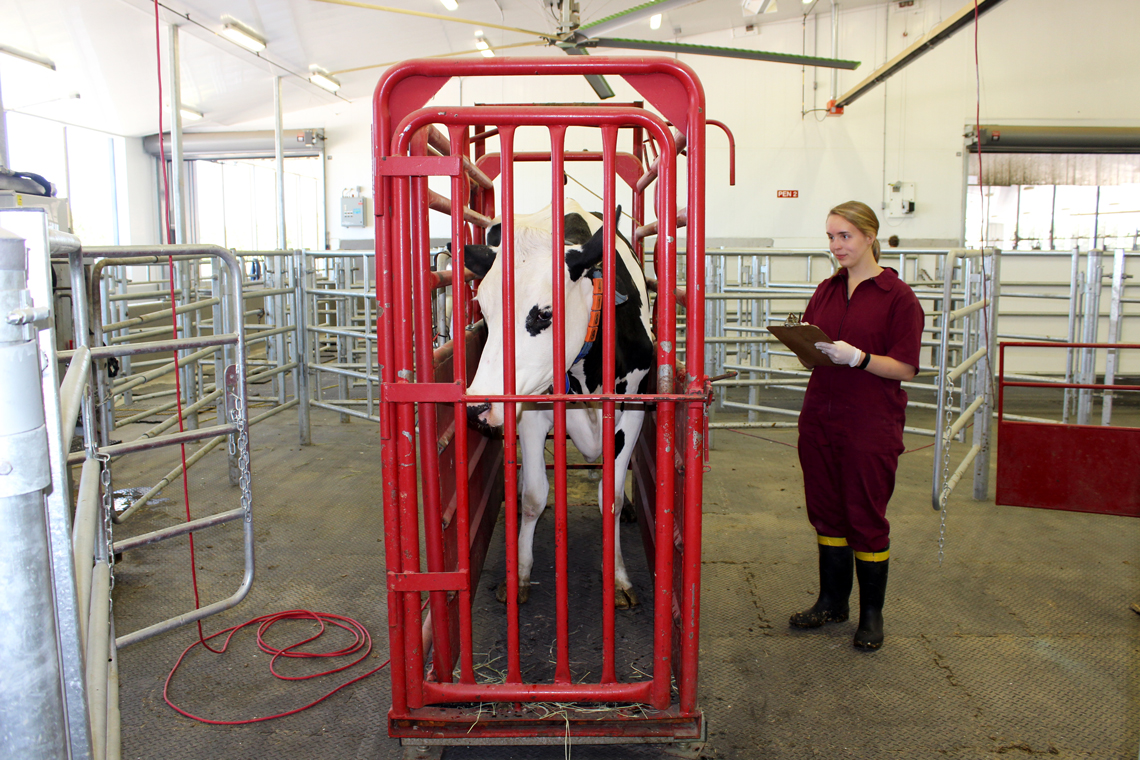 1:00 p.m.
After lunch it's back to business. I weigh cows biweekly on this scale to better understand how the diets we feed them affect their body weight and condition. Fluctuations in weight are normal over a lactation period, but significant changes can be a symptom of illness. Sometimes it's challenging to persuade a cow to enter the scale, but once they realize that all they have to do is stand still, they're quite cooperative.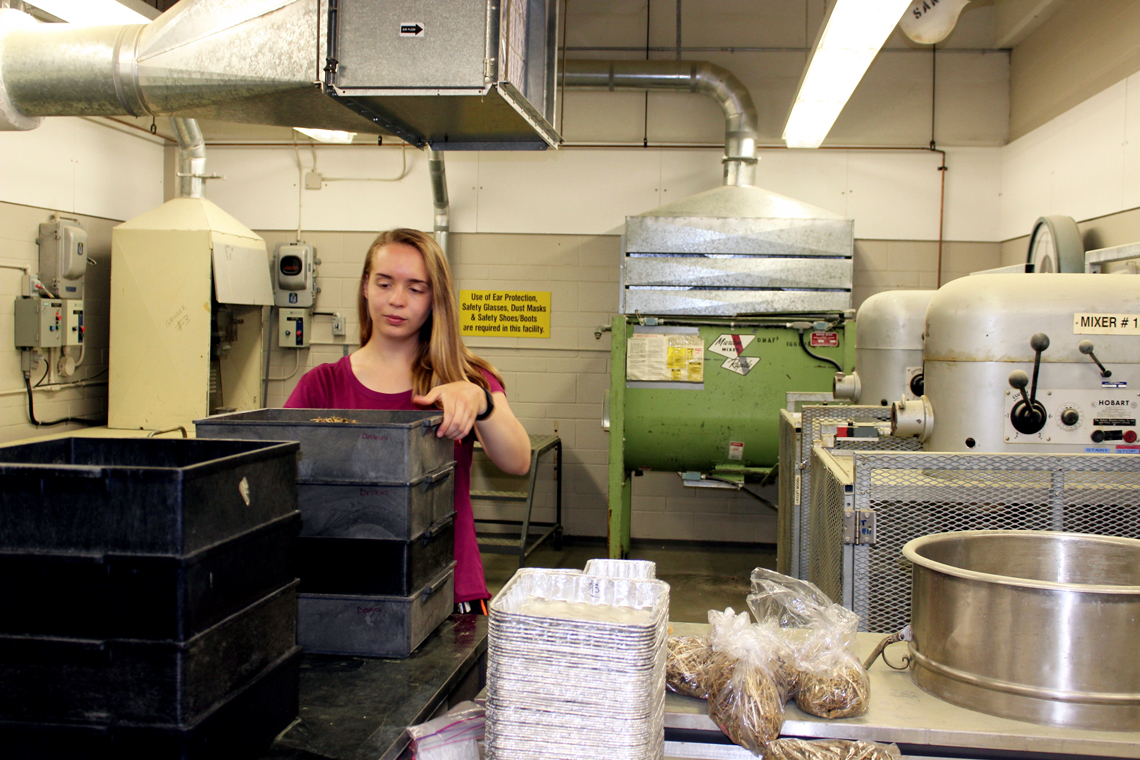 2:00 p.m.
While at the barn I take samples of the feed the cows eat and then I process them back at the lab later in the afternoon. Here, I am shaking samples to separate them by particle size. Next I weigh the samples and put them in an oven to dry for 48 hours. Once I remove the samples from the oven and weigh them again, I can determine their original dry matter content as well as their distribution by particle size. Knowing the dry matter content of the feed tells me exactly what percentage of the original weight is water and what is feed. Separating a ration by particle size shows me what components of the feed a cow ate, whether it's the longer particles (typically straw, haylage, and corn silage) or the finer particles (pellets and grain).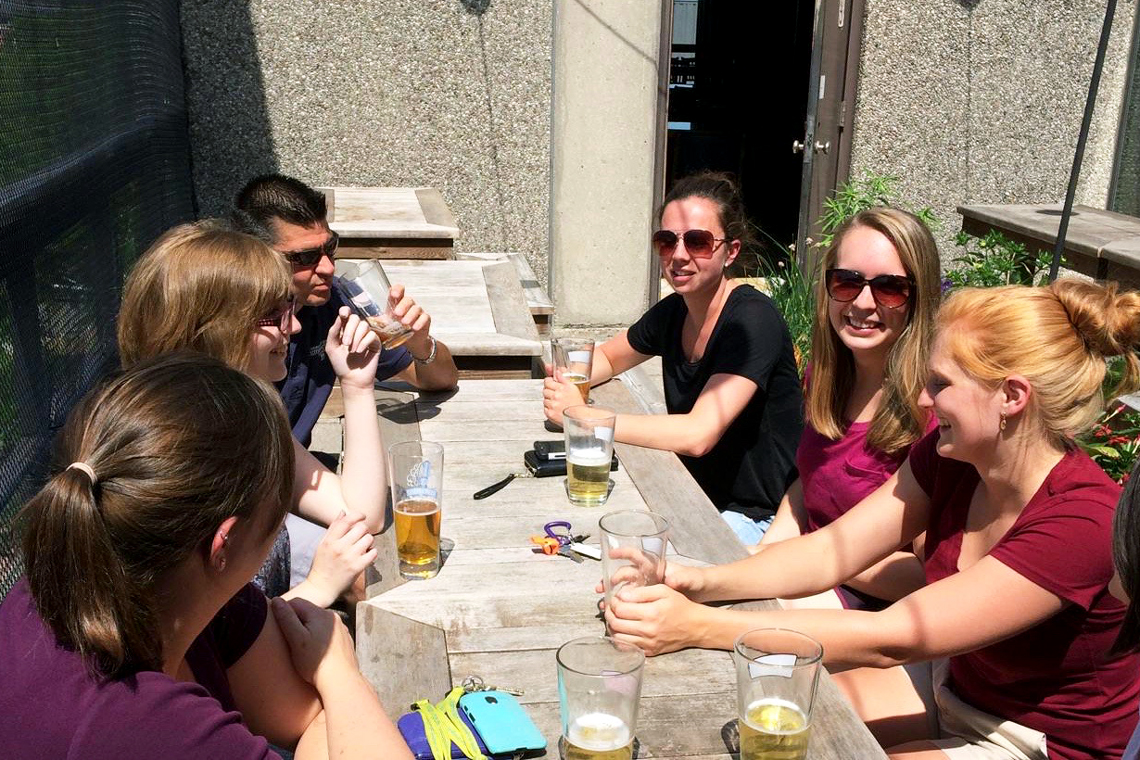 3:00 p.m.
Once a week during the late afternoon, all of the graduate students and summer research assistants meet with our advisor, Dr. Trevor DeVries. Usually lab meetings are serious business with upcoming conferences and publications to discuss. However, today is special because we are celebrating recent successes in our lab and we're spending the afternoon on the patio at the Grad Lounge. The perfect way to end the work day! Once the meeting is finished, I can head home and spend the evening hanging out with my dog or practicing with my band.