Zach Telfer is a master's student in the School of Environmental Science. Zach conducts much of his research at the University of Guelph's Muck Crops Research Station, where he focuses on improving management of carrot weevil, a major pest in carrot production. View a typical day for Zach by clicking through the arrows below.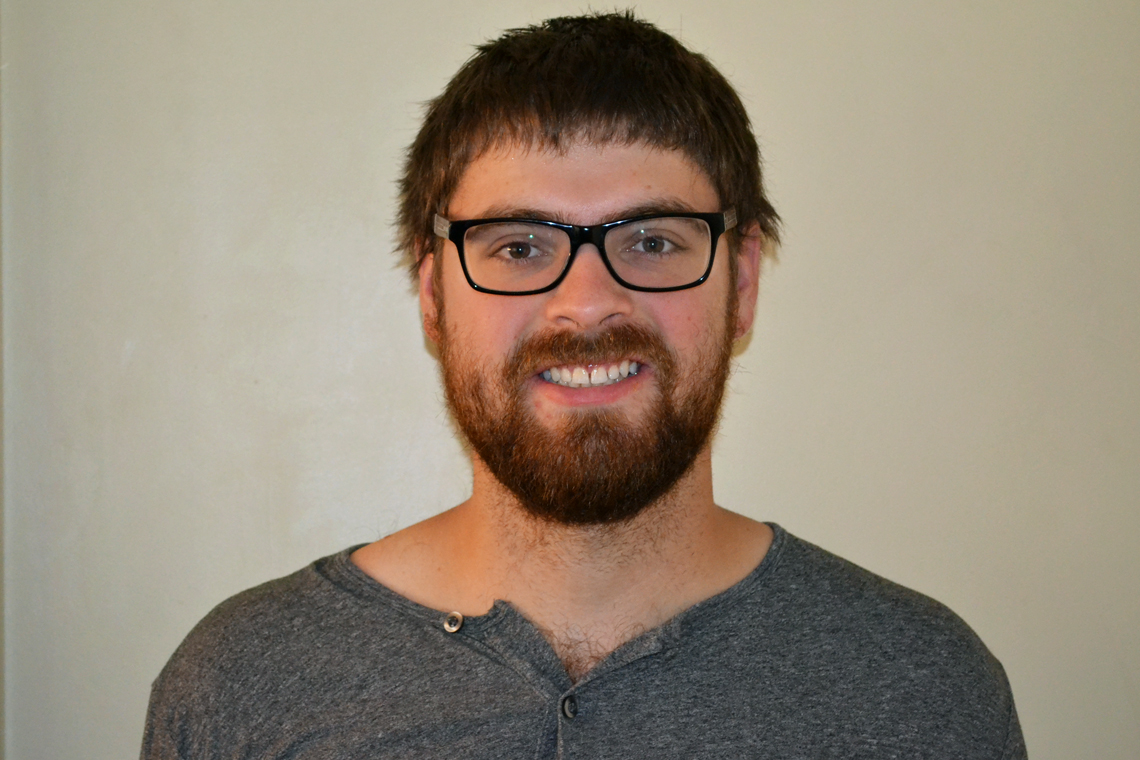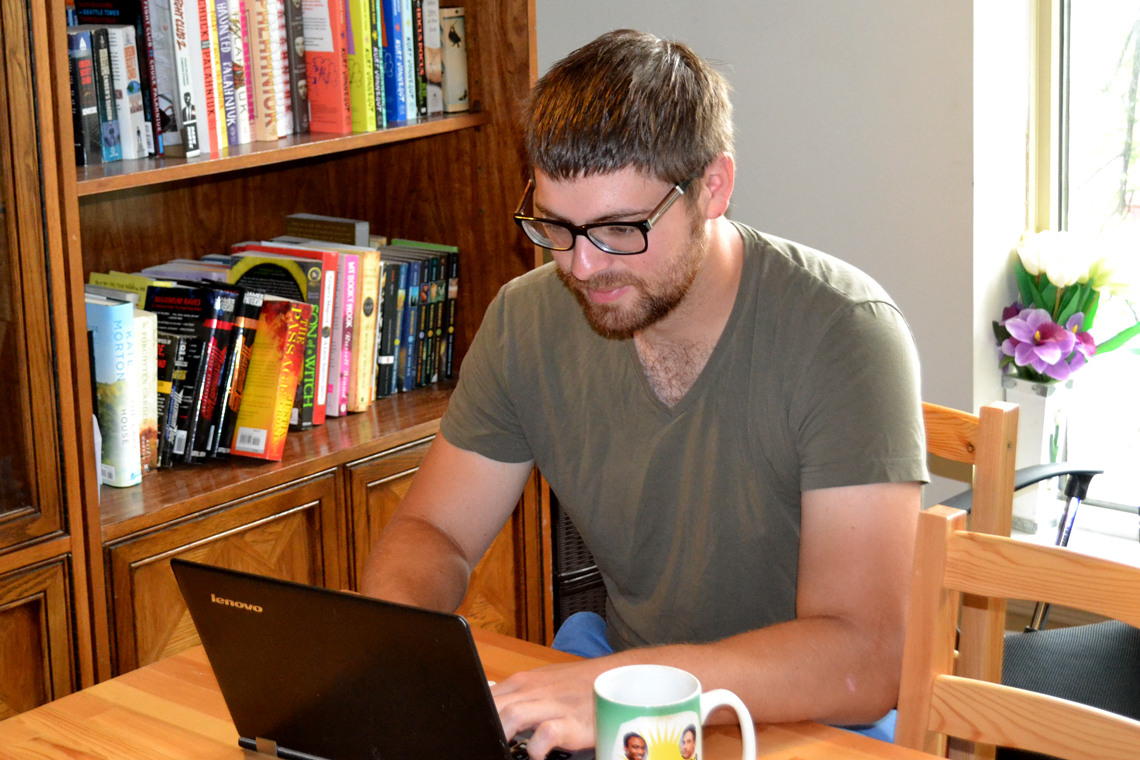 6:30 a.m.
Most mornings, I start my day off with a big cup of coffee! I check my e-mail to make sure I'm up to date on everything going on with my research and department affairs, and then I catch the bus from downtown to head to school. From campus, I'll get a laboratory vehicle to head to my field research trials.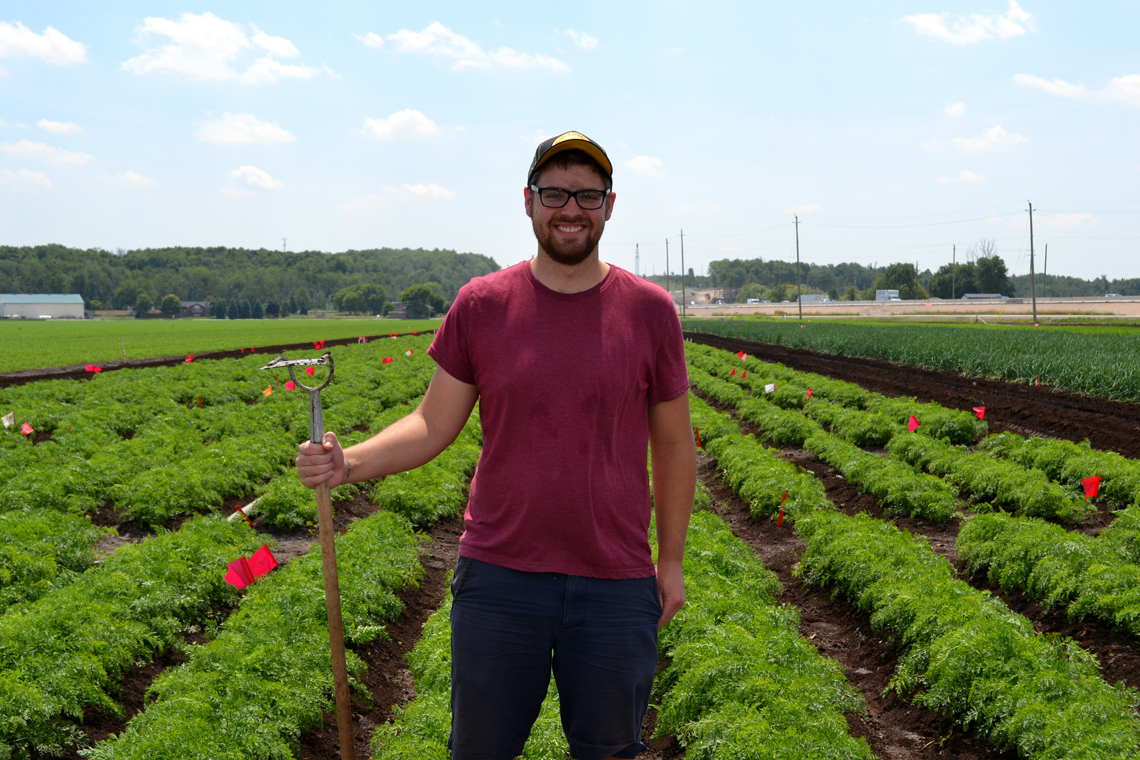 9:00 a.m.
In the summer, my morning continues with an hour and a half drive to the Holland Marsh, where I am conducting my field research at the Muck Crops Research Station. My research focuses on improving the management of carrot weevil, a major insect pest in carrot production. My field trials mostly examine different types of chemical control for carrot weevil, but I am also sampling local farms for potential natural enemies. These trials require constant monitoring to evaluate the presence and abundance of carrot weevil pests in the plots, as well as continual maintenance to keep the plots weed-free! Most research station trips require a few hours of weeding.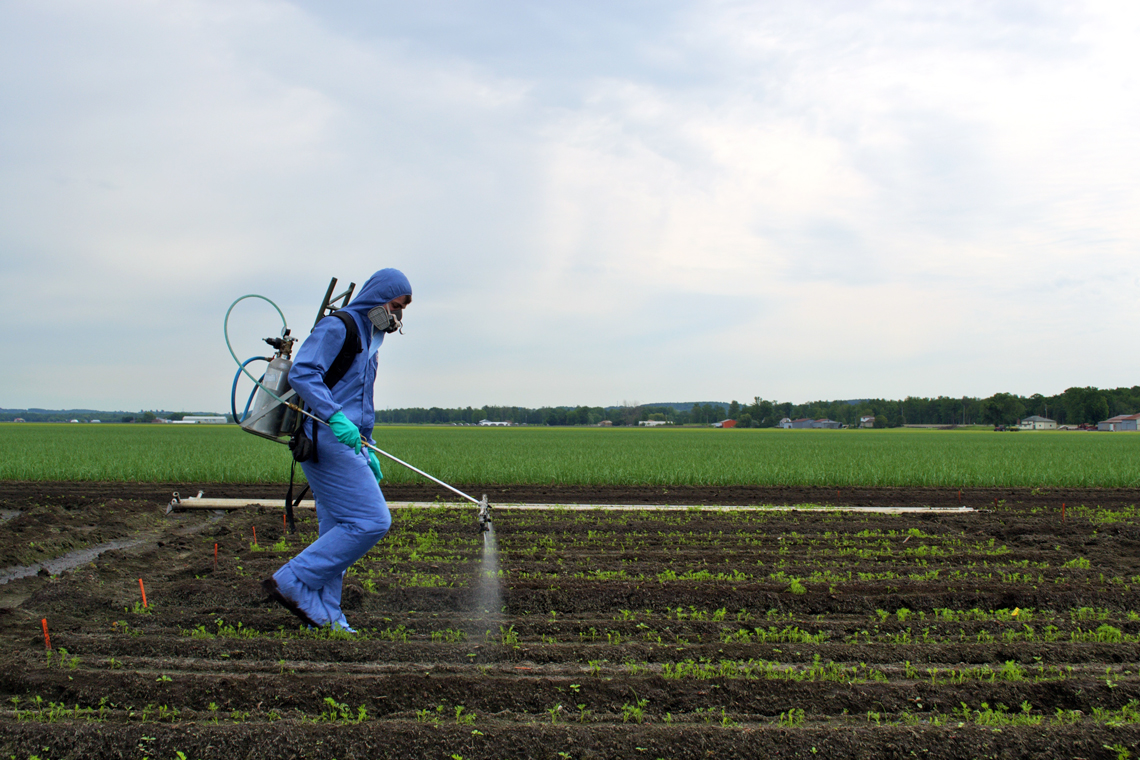 11:00 a.m.
Sometimes, high carrot weevil activity is observed in my field trials. In this case, the second half of my morning is spent mixing and applying various pesticides for my research. As this is the basis of my research project, these applications are one of the most important activities I perform over the summer. Currently, it appears the primary pesticide the carrot producers are using to control carrot weevil may no longer be working; an effective alternative is needed soon. Uncontrolled, the carrot weevil can damage over 40 per cent of carrots in a producer's field!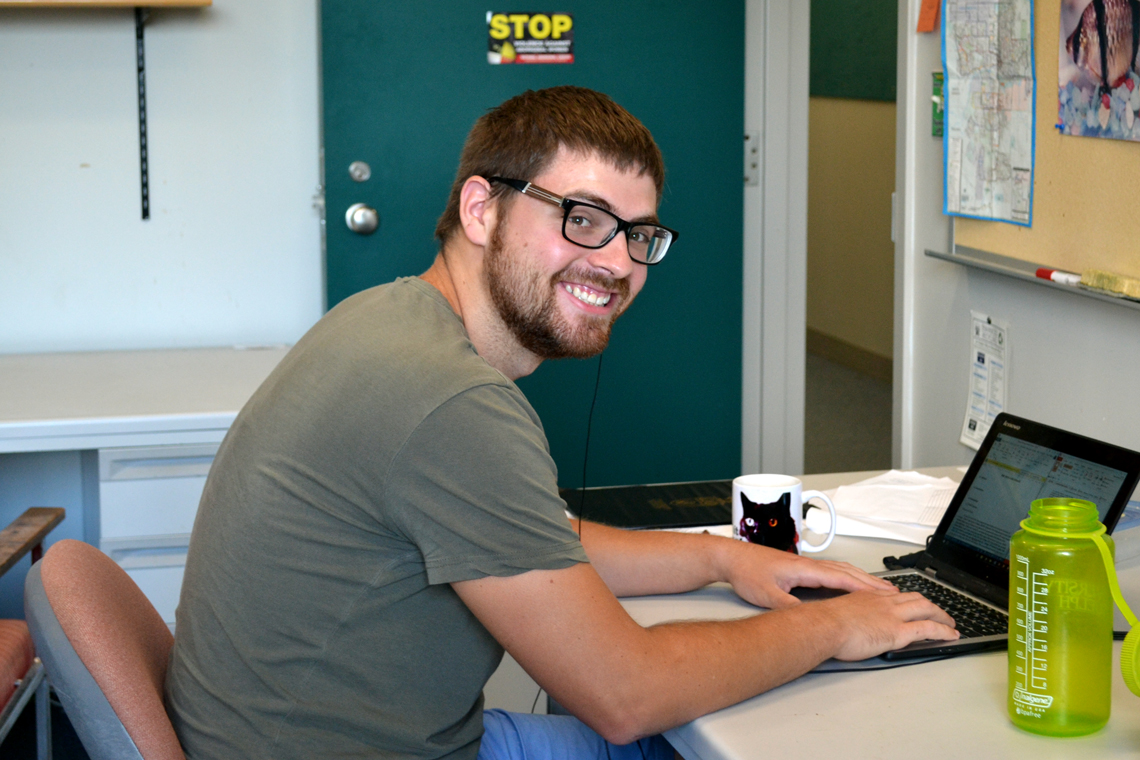 1:00 p.m.
Back in Guelph in the afternoon, I take a quick lunch in my office as I get ready to continue writing my thesis. My thesis is separated into five chapters, and each chapter will be between 10-25 pages. Before I started, a thesis seemed like an enormous project, but there is actually a lot of writing you can do as you are performing your research. As I'm nearing the end of my degree, it's important to find some time every day to continue to write and edit various chapters of my thesis. Occasionally, I'll do some extra research to round out some points in the introduction or conclusion.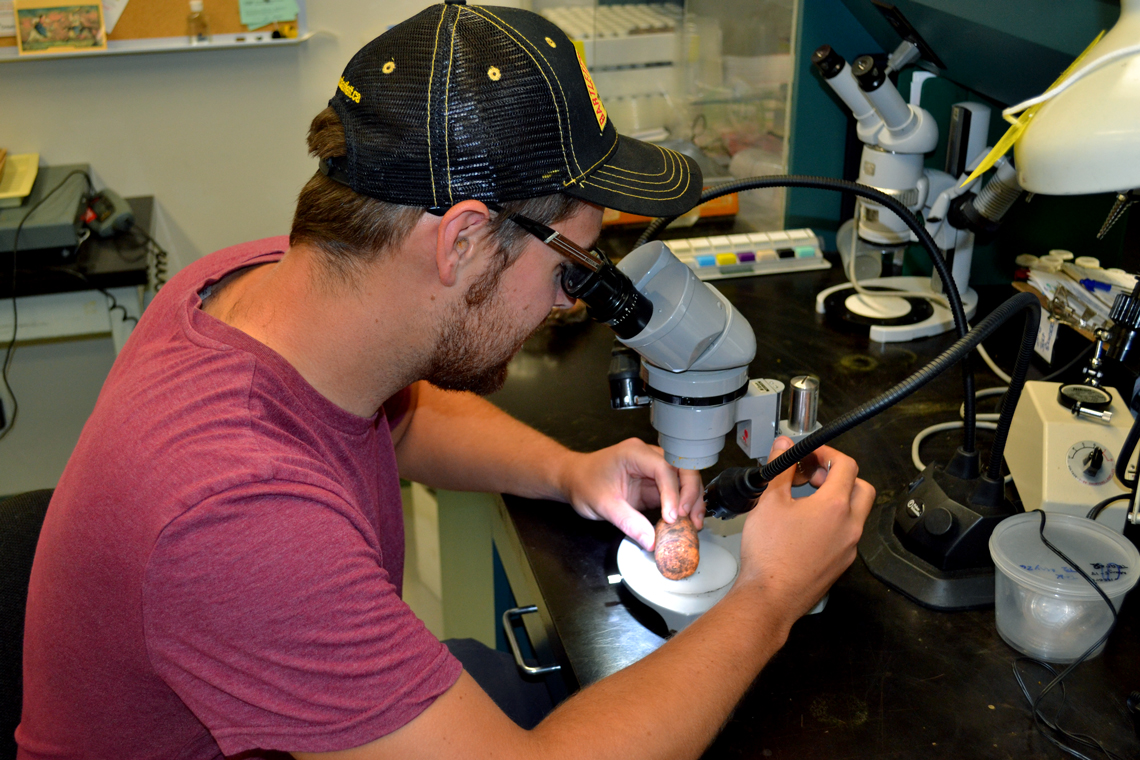 4:00 p.m.
Before heading home, I continue my work in the lab for a couple of hours. The work varies from day to day. One common activity is counting carrot weevil eggs from bait traps that I have placed in my research trials. This is to measure how active the pests are. I also use this time to identify the other insects I've collected in the Holland Marsh to see if there are any natural carrot weevil enemies present. So far, I have found six different species that are enemies of the carrot weevil! Most are beetles that prey upon carrot weevil adults or eggs, but I have found one species of parasitic wasp – Anaphes listronotii – that lays its eggs inside carrot weevil eggs, parasitizing them for their own offspring.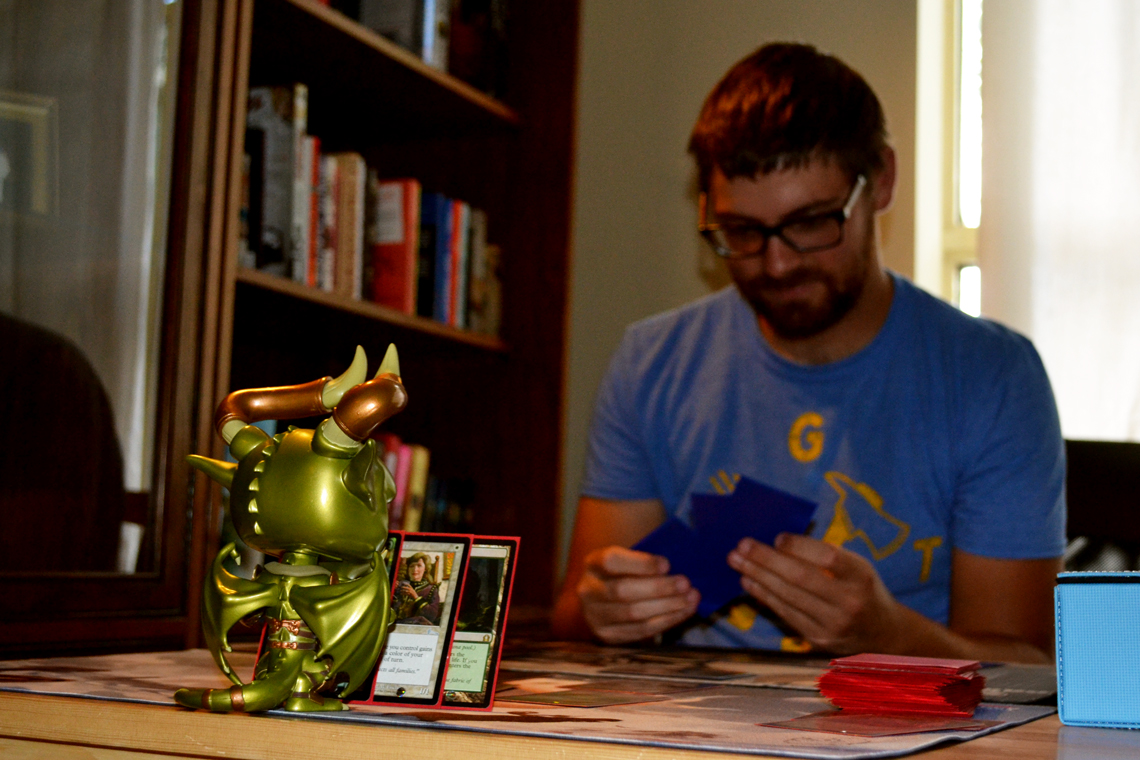 7:30 p.m.
One of my favourite hobbies is playing Magic the Gathering, so I'll often play at home or at the Dragon, a local card and comic book store in the area, after I've gotten home and eaten dinner. Magic the Gathering is a collectible card game that revolves around building unique decks and playing them against people. I really enjoy the critical thought required for deck building and playing; the game can be very complex as there is a huge variety of different strategies and thousands of cards that can potentially be played!